Nestled below the dramatic granite hillside of south-west Mahé, yet with direct access to the turquoise waters of Petite Anse, the Three Bedroom Royal Suite at Four Seasons Resort Seychelles has re-launched after a renovation. Inspired by the Resort's surrounding lush greenery and famous beach, the facelift and enhancements offer an elevated connection to Mother Nature, allowing guests to truly experience laidback island-style living.
Now the latest accommodation category available to book, the three level suite comprises three ensuite bedrooms connected to the main living areas via tropically lined outdoor pathways, while panoramic Indian Ocean views are offered from the upper living room, 20 metre (66 foot) private infinity pool, primary bedroom and bathroom and expansive poolside terrace. In addition, the suite features an open plan lounge and study, a fully serviced outdoor dining and lounge pavilion as well as a private gym fully fitted with Technogym equipment all just steps away from the beach.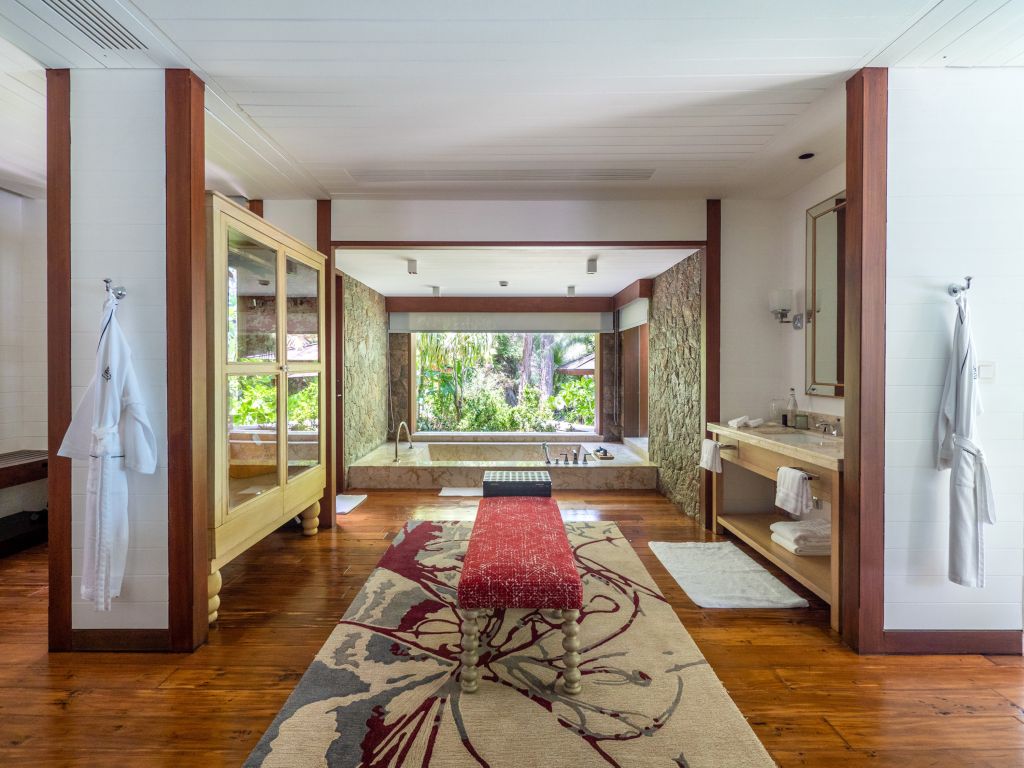 Inheriting from a previous design narrative built around an affluent Creole French lady, the interior renovation of the Three Bedroom Royal Suite takes on the design direction of introducing an updated touch while still paying homage to the heritage.
The Three Bedroom Royal Suite was designed by ECO-ID, a Singapore-based architecture and interior design firm that was also responsible for the architecture and interior design of the Resort's sister property, Four Seasons Resort Seychelles at Desroches Island. "We wanted to elevate our suite experiences and ensure that nature and spaciousness were at the core of this renovation. Our Resort is fortunate to be situated on one of the best beaches on the island and this expansion allows for beachside living ideal for big groups and families with panoramic views of Petite Anse boast from all areas," says Renan Astolpho, General Manager.
Guests of this suite will feel their connection to nature down to the new furniture, which features natural materials and warm colours, with accents of red, that blend with the surroundings. Set among grand granite rocks, the suite's newly added lounging areas inspire friends and families to exchange conversation and bond while the easy beach access and private sun beds provide a sense of ultimate luxury.
Accommodating up to six adults and three children, rates for the Three Bedroom Royal Suite start from EUR 14,000 per night.