The Bolder has become one of Norway's most remarkable places to stay with three new cabins designed by architect firm Snøhetta are now ready to offer guests an experience of nature that is far beyond the ordinary.
The first two lodges, called The Bolder Skylodge, have been a massive success. What developed from the slightly wild brainchild of printer and founder Tom B. Norland soon became known as one of the most remarkable places to stay in Norway. The meeting between unique architecture and nature was the starting point for further developing the project The Bolder Starlodge.
Experience shows that 80% of the guests so far have been couples, so the new lodges only have one double bed. They are designed as high-quality accommodation for people who want to enjoy nature, the views and each other. Two of the lodges are located right on the edge, which gives guests a unique sense of hovering in, and being at one with, nature and the elements. These lodges are unique.
The architects at Snøhetta rented a motorhome for several days in order to really get a sense of the place and devise a project that respects the landscape and shows consideration for mother nature.
There is real quality in every last detail. Everything has been carefully considered, from the choice of kitchen knives to the type of wood used for the furniture. Everything oozes quality, with brands that include Vipp, Expo Nova and Eikund. When you sit in the chair on the first floor and rest your legs on the small pouffe, you feel like you never want to get up again. The unique comfort combined with the atmosphere in the room let your mind wander. You can cook what you fancy, eat breakfast around the small table with four chairs, or just relax.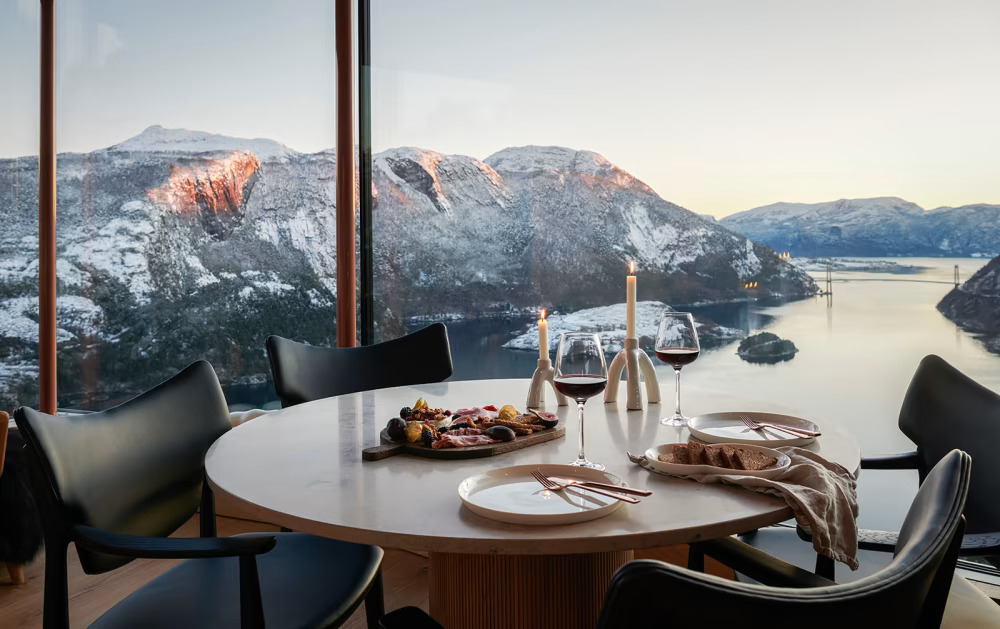 Lysefjord or Lysefjorden is a fjord located in the Ryfylke area in Rogaland county in southwestern Norway. The 42-kilometre long fjord lies in the municipalities of Strand and Sandnes, about 25 kilometres east of the city of Stavanger.