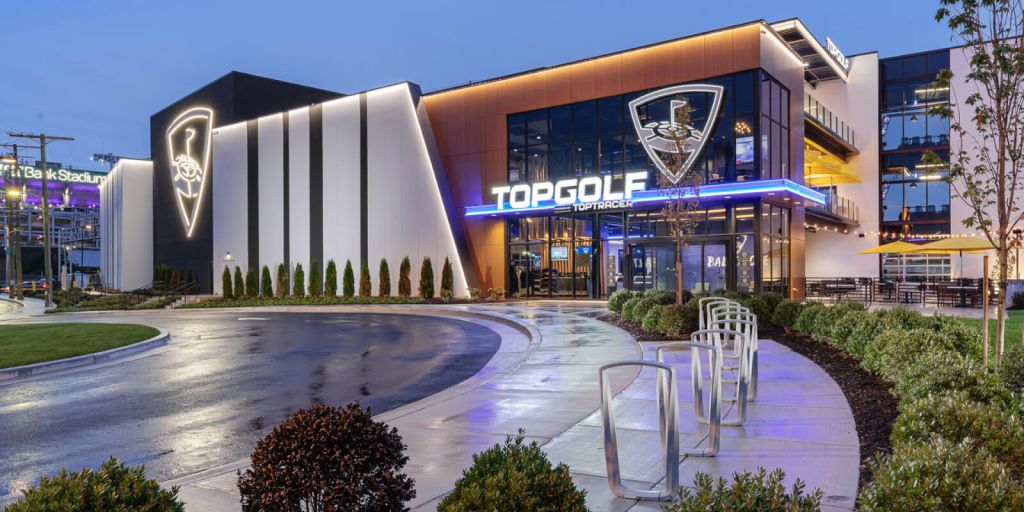 The long wait for Topgolf Baltimore has come to an end as the business was opened in October 2022. Topgolf Baltimore has been under construction since May 2021. The three-level, 65,000 sq. ft. building on 6.5 acres is located on Ridgely's Cove of the Patapsco River. The building fronts Warner St. and the driving range moves east to west and ends at the Light Rail bridge.
Topgolf Baltimore is a sports entertainment venue located in Baltimore, Maryland. It features a large driving range with targets, as well as a variety of other games and activities. The venue has a fully-stocked bar and restaurant, offering a selection of food and drinks. It is open year-round and is suitable for all ages. In addition to the driving range, Topgolf Baltimore also offers private event spaces, golf lessons, and corporate team building activities. It is located at 6625 South Eisenman Road in Baltimore, Maryland.
Topgolf Baltimore is open 10am to 11pm on Sunday to Thursday and 10am to 12pm on Fridays and Saturdays.
Topgolf is a golf driving range game with electronically tracked golfballs and automatically scored drives that started in 2000 and grew to become a multinational sports entertainment company. Headquartered in Dallas, Texas, it has locations in the United States, United Kingdom, Australia, Germany, Mexico and the United Arab Emirates. In October 2020, publicly traded Callaway Golf announced it was acquiring Topgolf, with the merger completed in March 2021. TopGolf locations in Australia are run by a joint venture of Topgolf International (3.7%) and Village Roadshow Theme Parks. In Canada, a joint venture with Cineplex Entertainment was established to operate locations there, but was abandoned by Cineplex in 2020.
Topgolf will bring its technology-enabled experience to Midtown St. Louis with a new venue, expected to open in late 2023.