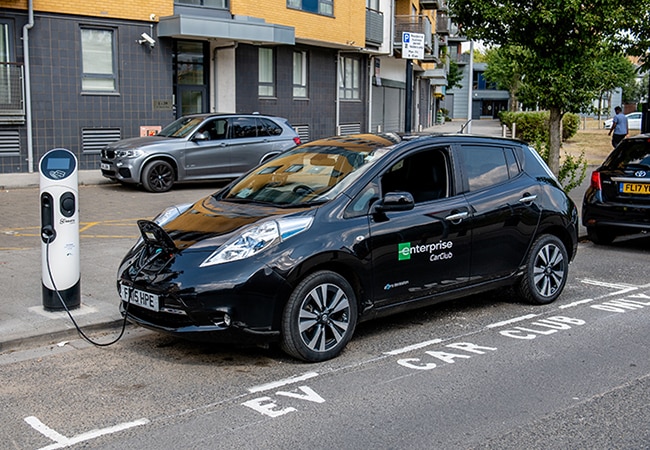 A third of car owners who have joined a car club have got rid of at least one vehicle since joining, with more than two-thirds (68%) of those disposed cars being at least five years old, according to a new survey.
Removing older, less fuel-efficient and higher-emission cars from the road contributes to reducing CO2 levels and also cuts congestion.
Car club usage among car owners also leads to an uplift in the use of electric vehicles, as well as public transport and active travel.
The new research of more than 4,000 Enterprise Car Club members across the United Kingdom was carried out by shared transport charity CoMoUK.
The study showed that half (51%) of car club users also own a vehicle – but that car club membership gave them access to a range of vehicles to fit different needs, such as a one-off need for a van to move furniture.
Almost half of vehicle owners (43%) say they use a car club because it fits their lifestyle, while around a quarter (23%) needed a back-up or second vehicle in addition to their private car. A similar number (22%) said they joined to save money on motoring costs, while 19% said they wanted to reduce their environmental footprint.
The survey also revealed that car club members are increasingly likely to use active travel – a key goal of local authorities: 30% of members said they'd reduced their journeys in a private car, 18% said they now walked more, which is higher than the national average, and 10% cycled more often.
It highlighted that a quarter (25%) of car club members had already tried an EV and nearly eight out of 10 (78%) were happy with the driving and charging experience.
"Encouraging car owners to try a car club could be vital in encouraging the behaviour shift needed to achieve the UK's decarbonization targets," Enterprise Car Club Managing Director Dan Gursel said.
"Expanding the number of car club vehicles can help local authorities to reduce the number of miles people travel by car and also the number of vehicles they own.
"It could be a very useful ally for those local authorities introducing low-emission or clean air zones, especially as renting from a car club is also a cost-effective and convenient way for people to try out EV motoring.
"Car clubs help increase the use of EVs in the UK. A car club allows people who can't afford to buy or lease a new electric car to drive one. They also give people who aren't sure if an EV will suit their lifestyle the opportunity to try one."
Car clubs also help drivers save money while ensuring access to a vehicle. Nearly three-quarters (72%) said that membership of a car club saved them money when compared to owning or leasing their own car, while 62% said that they drove less overall since joining the club.
The research also highlighted that cars remain a vital transport component for many journeys, and more than half of members (57%) said that they could use the service to travel to places they'd not otherwise be able to access.
"Expanding car club availability in communities across the UK could help to ease the growing cost of living pressure that's affecting so many people. This is because the cost of fuel is included and users only pay for the number of miles they have driven. The cars come with a fuel card if the driver needs to top up on fuel," Gursel continued.
"It also ensures access to appropriate mobility when people really need to use a car. Many people in the UK still need a vehicle, but more and more are happy to rely on being able to easily access one via a car club. Easy, convenient access to a car wherever and whenever you need one, 24/7, means you don't need to maintain your own. After all, many people have their own vehicle just sitting parked for most of the time."