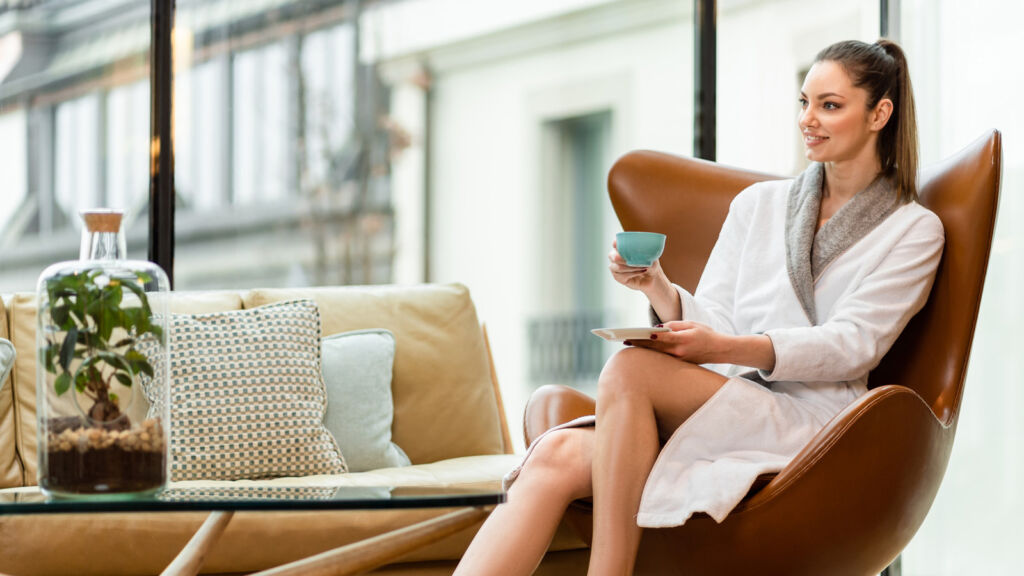 Spa Mont Blanc at Four Seasons Hotel des Bergues Geneva offers a range of cutting-edge personalised treatments that use natural cosmetic lines, helping to restore balance, pursue personal wellness and well-being, and combat a variety of conditions, from anxiety to weight loss. The Spa prides itself on its in-depth personalised approach to beauty and anti-ageing, with brands and treatments carefully selected for their exceptional, immediately visible results.
Guests can now book two new Spa experiences:
Iyashi Dôme
Iyashi Dôme is a Japanese infrared sauna experience designed to help eliminate toxins, tone the body and reduce muscular pain. The technology takes inspiration from Suna Rhoyo, an ancient Japanese practice that sees people bury themselves in volcanic sand near hot springs to induce sweating, thereby expelling toxins. The Iyashi Dôme aims to imitate this ancient practice with a gentle, non-invasive yet powerful technique that uses infrared rays to penetrate the skin, raising internal temperature and causing the body to sweat.
Studies show that users can burn up to 600 calories, with a 30-minute session shown to equate to a 20 kilometre (12 mile) walk. As well as eliminating toxins and helping the slimming process, the technology helps rejuvenate the skin and slow the ageing process. The Dôme also aids muscle relaxation and recovery, making it the perfect solution for sports women and men.
The Iyashi Dôme can be combined with tailor-made fitness programs, especially before the session, or with detoxifying salt treatments that facilitate the elimination of excess water in the body.
Haute Couture by Dr Burgener
Haute Couture is a bespoke program that allows guests to create their own skincare program, choosing from a range of personalised services, including skin analysis, facial treatments, a personalised cosmetic line, and personalised nutritional supplements following heavy metal testing. The program features ultra-personalised service and treatments designed to target individual skin concerns.
A one-to-one consultation is carried out in Spa Mont Blanc's dedicated Haute Couture space, with a detailed skin evaluation sent to the aesthetic medical clinic Lausanne B-mediC, where medical professionals assess the individual's skin condition and produce a personalised skincare regimen. Guests can choose to have a bespoke cosmetic line of skincare products created by skincare professionals at the Dr Burgener Laboratory. Products include creams, masks, serums, eye and lip contour, make-up remover and cleanser. A sample of the client's hair can also be sent to the laboratory for a full screening of minerals, trace elements and heavy metals. Following a detailed analysis, guests are given personalised nutritional supplements tailored to their needs.
At the Spa, experienced therapists carry out personalised Haute Couture facials designed to target problem areas. Offering visible, long-standing results, the facials are shown to reduce wrinkles and improve firmness using advanced anti-ageing technologies, from diamond microdermabrasion to glycolic peels.
Spread out over the top three floors of the Hotel, Spa Mont Blanc is a haven of peace, with large windows commanding panoramic views of Geneva and the surrounding snow-capped mountains. The Spa has a hammam and steam, a heated indoor swimming pool and a vitality pool with water jets to help relieve tired and aching muscles while improving circulation and detoxifying the skin. The state-of-the-art fitness centre is equipped with the latest Technogym and Matrix equipment for cardiovascular and strength training.