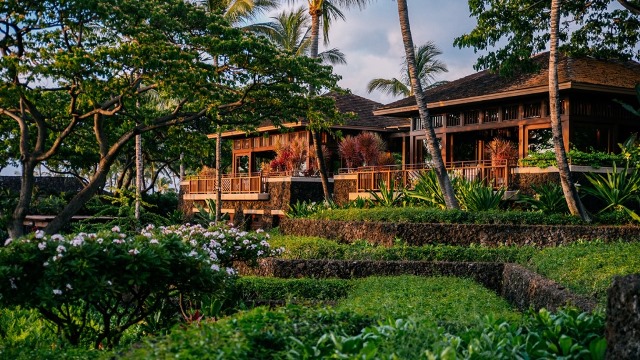 Four Seasons Resort Hualalai today announces the launch of its new on-site water bottling and filtration system, a zero-waste, locally-sourced water system utilizing reusable aluminum bottles for guests to enjoy throughout the duration of their stay. In collaboration with Boomerang Water, LLC, a leader in sustainable water filtration and bottling equipment, this new technology further strengthens the Resort's strong commitment to sustainable practices and environmental preservation, significantly reducing the use of single-use plastics throughout the Resort.
The Boomerang Bottling System is a patented micro-bottling technology that sources local Hawaiian water, removes all impurities and toxins, and bottles it in durable, fully recyclable aluminum bottles, produced in partnership with Ball Corp., that are sanitized, refilled, capped, and reused on-site. This eliminates shipping, packaging, and distribution centres, allowing Resort guests to enjoy fresh, local water the same day it is bottled. Boomerang's closed loop, zero-waste system goes beyond recycling, ultimately reducing carbon emissions by 95 percent per bottle.
"Our commitment to taking care of our island home by reducing our environmental impact is an integral element of Hualalai, and we are thrilled to debut the Boomerang Bottling System in an effort to further strengthen our mission to minimize waste and keep Hawaii clean," says Charlie Parker, Regional Vice President and General Manager, Four Seasons Resort Hualalai. "'Sustainability is a new word for a centuries-old way of life in Hawaii: Mālama Ka Honua (care for the earth). We are proud to empower both our Resort guests and employees to be more environmentally conscious in their everyday lives with this new offering."
To begin the Boomerang process, empty bottles are collected and inserted into the Boomerang Bottling System, where they are washed, sanitized and rinsed via an FDA-approved process. The bottles are then filled with fresh Hawaiian source water, one of Hawaii's most important natural resources, from Hualalai's on-site water processing plant and then additionally processed through Boomerang Water's six stage sub-micron ultra-filtration system that has been specifically designed for Hualalai. The bottles are then vacuum-sealed with recyclable steel caps for optimal preservation. The bottles are removed from the system and distributed to Resort guests, who can reuse the bottles during their stay by utilizing the 27 filling stations throughout the Resort, providing our guests with one of the most sustainable and finest quality bottled waters in the US market today. Empty bottles can be returned to marked stations, from where the filtration, sanitization, refilling and capping process restarts.
Boomerang is yet another addition to the comprehensive sustainability program at Four Seasons Resort Hualalai. Led by Director of Natural Resources David Chai, the department employs five marine biologists and is focused on programs incorporating traditional Hawaiian practices such as aquaculture and herb farms and pond reclamation, among research and preservation of fish and wildlife populations and the local ocean habitat, including a turtle tagging program. Further, the department has assisted with the creation of a marine reserve off the Resort's coast, implementing a no fishing zone to aid in the rejuvenation of marine life.
The Resort's Lake Pūnāwai was built in 2001 and since has been the recipient of an Environmental Protection Agency award. Chai's goal was to create an energy efficient, self-sustaining, and self-cleaning pond using phytoremediation – the treatment of environmental problems using plants. This serene, 3-million-gallon (11.4 million litre) man-made pond encompasses about two and a half acres (one hectare) and is 10 feet (3 metres) deep. With a gravel bottom, two floating islands of plants, and micro-organisms, the pond itself is a mini-ecosystem and stocked with several different species of marine life – awa (milkfish), 'ama'ama (mullet), moi (threadfin), kāh­ala (amberjack), 'ōpae (shrimp), and 'ōlepe (oysters) – all of which can be harvested for consumption via the Resort's on-site restaurants.
The Natural Resources department also maintains King's Pond – its distinctive, 1.8-million-gallon (6.8 million litre) swimmable aquarium. Born from the concepts of marine and ocean preservation and education, the semi salt-water pool is carved into lava rock, features a sand bottom and is home to more than 1,000 tropical fish. As part of the USD 100 million resort-wide renovation, the recently debuted Kumu Kai Marine Center at King's Pond features a touch tank and digital educational displays, allowing Chai and his team to expand the Resort's already robust marine life experiences. Guest experiences at King's Pond include a Private Fish and Eagle Ray Feeding, Tide Pool Tour, Jr. Marine Biologist Experience, Youth Ocean Exploration and more.
Additional environmentally-friendly practices include the use of refillable in-room bath amenities that use locally-sourced ingredients from Hawaii Island; the Clean the World program, recycling used soaps; the Green Linen Program, reducing water consumption by more than 7,000,000 gallons (26.5 million litres) annually; the Resort-wide recycling programs, including metal scraps, technological items, batteries, tires, cooking oil, refrigeration recycling (freon), cardboard, paper and glass; and the option for each guest to donate to local non-profit, Hawaiian Legacy Hardwoods, a native forest reforestation initiative.