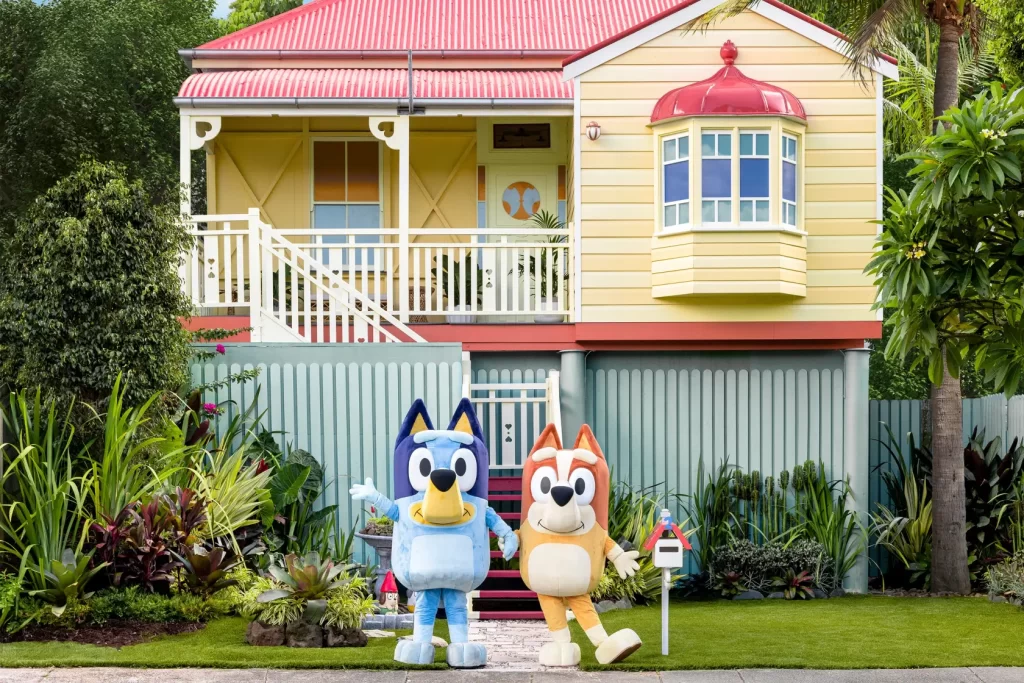 The iconic Heeler family home from hit Australian kids' show, Bluey, is being listed on Airbnb in Brisbane, Queensland, offering one lucky family the opportunity to live like the Heelers for the ultimate Bluey fan weekend.
Bluey is a global phenomenon that follows the adventures of Bluey – a lovable, inexhaustible six-year-old Blue Heeler dog – who lives with her Mum (Chilli), Dad (Bandit) and little sister Bingo. The show screens in over 60 countries and is beloved by both parents and kids for its heart, humor and relatable family moments.
Airbnb has partnered with BBC Studios, co-commissioner and global distributor of Bluey, on this one-of-a-kind experience.
Nestled on a quiet, tree-lined street in one of Brisbane's most picturesque neighborhoods – the city which has inspired the show's colorful backdrop – the house has been entirely customized to bring the cartoon experience to life, featuring quirky details Bluey fans will recognize from the Heeler family home in the show.
From the moment guests step on to the front lawn, they'll be transported to Bluey's imaginative world as they spot familiar touches like the red letterbox, bone-shaped chimney, and charming bay window.
Inside, the interior has been re-imagined with a breezy Mid-century aesthetic coupled with playful pops of color. The girls' playroom with its signature rainbow canopy, kiwi rug and numerous toys – including Bluey's beloved Chattermax toy and Magic Xylophone – is the ultimate setting for creative play and make believe.  
Kids can stay overnight in Bluey and Bingo's Bedroom, equipped with two single beds fitted with a custom stained-glass window feature, colorful hanging lanterns, cloud cushions and, of course, a hand-crafted watermelon rug. Once the putdown's done, and the kids are snuggled down with Bingo's Floppy and Grey Dancer toys, parents can retreat to Bandit and Chilli's airy and plant-filled Master Bedroom – complete with queen-sized bed, rattan furnishings and neutral hues.
The backyard is a verdant oasis for family games – like Horsey Ride and Keepy Uppy – with a BBQ, kids'-sized trampoline, Grannies' car, custom toadstool seats and bespoke dog garden gnomes. Yummy snacks can be found in the fully stocked fridge, including Bandit's famous duck cake.
The weekend getaway includes:
An exclusive behind the scenes tour of the Ludo Studio, where Bluey is created.
A Chinese takeaway feast in the lush backyard (don't forget the spring rolls!).
An afternoon decorating the Heeler's famous duck cake, where the whole family can test their culinary skills.
A puppet making craft session featuring Bluey's famous Bob Bilby character (a local Aussie marsupial).
This two-night stay*, for two adults and two children, will take place from Friday, February 18 to Sunday, February 20 for only AUD $20** (or AUD $10 dollarbucks a night!). All guests must be residents of Australia.