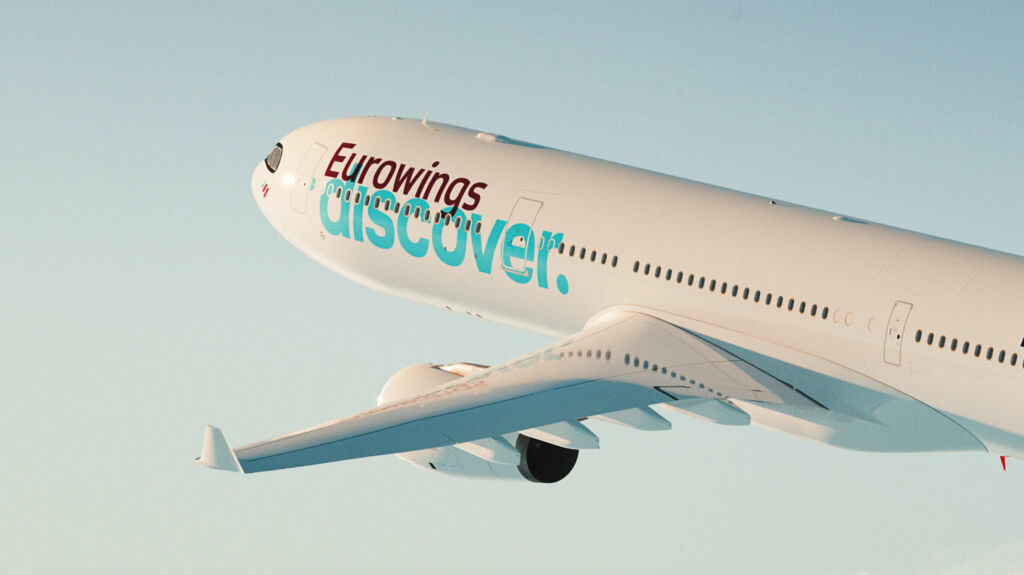 With a water salute welcome for the American flag-waving crew, Eurowings Discover landed its first U.S. flight at Tampa International Airport during sundown Thursday evening, introducing Lufthansa Group's new leisure airline to the country. TPA officials and representatives from Lufthansa Group and Eurowings Discover gathered at TPA to celebrate region's first direct service to the European Union since the pandemic began.
Eurowings Discover CEO and Lufthansa Group senior captain Wolfgang Raebiger was there to not only join in the celebration but to actually fly the airline's outbound passengers from Tampa to Frankfurt.
"Eurowings Discover provides quality, reliable service to the most beautiful destinations in the world," Raebiger said. "In addition to the Tampa flight, we will launch six additional destinations in the U.S. and Canada during 2022, including round-trip service from Fort Myers, FL to Frankfurt."
Florida is Lufthansa Group's most prolific U.S. market, with gateways including Miami and Orlando, and Fort Myers planned for 2022.
"Germans love Florida," said Silke Wobken, Lufthansa Group Senior Director Sales for USA East, who was also at TPA to celebrate.
Lufthansa Group's Eurowings Discover (4Y065 / LH4401) will depart Tampa at 7:20 p.m. and arrive in Frankfurt at 10:30 a.m. on Tuesdays, Thursdays, Fridays and Sundays on an Airbus A330-200. Flight 4Y064 / LH4400 departs Frankfurt, Germany at 12:40 p.m. and arrives at Tampa International Airport at 5:35 p.m.
Customers will benefit from the direct link to Lufthansa Group's Frankfurt hub, as well as a vast, worldwide network, including connections through Lufthansa, Austrian Airlines and SWISS, as well as code share flights with United Airlines and Air Canada. Furthermore, beginning on March 2, 2022, SWISS, operated by Edelweiss, will begin non-stop flights, two times per week, from Tampa to Zurich.
"The United States remains the most important market for the Lufthansa Group outside of our European bases, and we remain committed to the region as we map our recovery from the impacts of the pandemic," said Frank Naeve, Vice President of Passenger Airline Sales, The Americas, Lufthansa Group. "Tampa is now our 18th gateway in the U.S., and Florida has our largest footprint, with more Lufthansa Group gateways than any other state in the country. Florida's travelers benefit from the extensive network we offer and we continue to see strong travel demand in the region."
"Being the inaugural U.S. market for Eurowings Discover is a huge honor for us," says Tampa International Airport CEO Joe Lopano. "The resumption of nonstop flights to Frankfurt offers our travelers countless adventures in Europe and beyond, while infusing millions of tourism dollars into our region. We're thankful for our strong partnership with the Lufthansa Group and remain committed to supporting their growth in Tampa Bay." Lopano said.
Eurowings Discover will operate an Airbus A330-200 on the Tampa route. The aircraft features 22 Business Class seats, 17 Premium Economy seats and 231 Economy Class seats, of which 44 offer extra legroom.