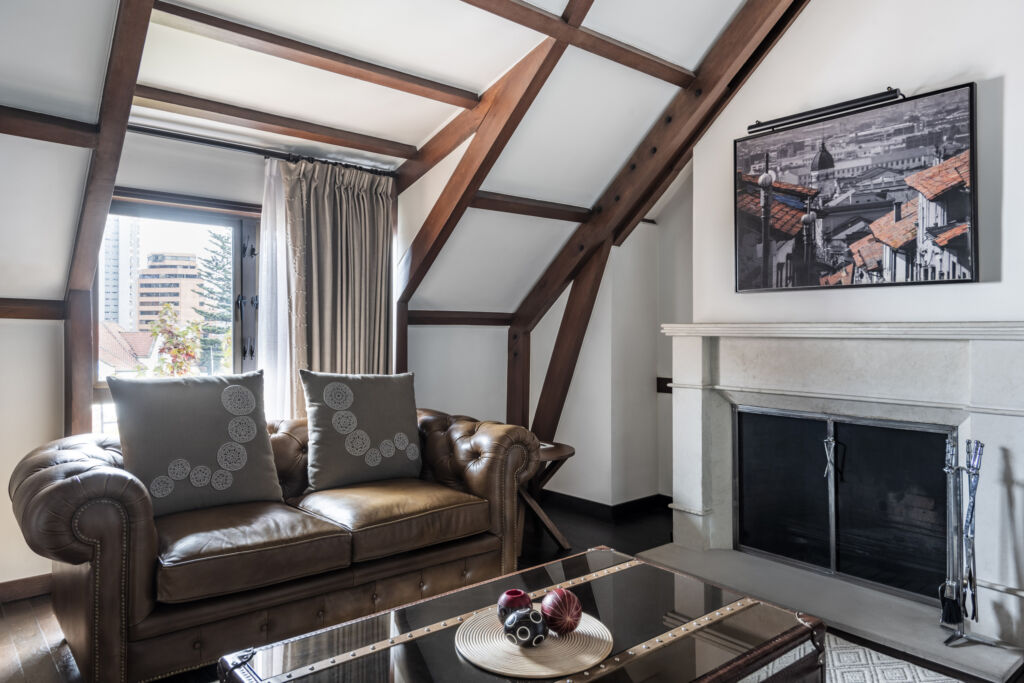 With the start of a new travel season comes change for the better for guests of Four Seasons Hotel Casa Medina Bogota. The luxury address in a landmark building in the heart of the financial district of the Colombian capital has upgraded its overnight experience with added features to select accommodations in three existing room categories, heightening the romance of travel and the intimacy of comfort without need for full renovations.
Take from a pick of guest rooms and suites enhanced with a wood-burning fireplace, beautifully framed with a mantle and outfitted with a screen and tools, and, in the case of one suite, the addition of a whirlpool and colonial design elements. The new features are offered in individual units within the Hotel's Grand Premier, Executive Suite, and One-Bedroom Suite categories, including:
Grand Premier King with Fireplace: Enjoy a cosy stay whatever the weather in Bogota with the romantic crackle and warmth of a wood-burning fireplace, adding an intimate feel to an already elegant accommodation. There is more beyond, with an oversized living area featuring a tufted leather sofa and handsome trunk-style furniture, and wood for the fireplace is on the house, of course. Like other rooms in the category, the Grand Premier King with Fireplace has a unique layout and is sized at 44 square metres (474 square feet).
Executive Suite with Fireplace: Take a step up with expanded space yet the same crackle and warmth with a wood-burning fireplace. The inviting atmosphere of the Executive Suite with Fireplace blends modern luxuries and striking décor elements including hand-carved wooden furnishings, tufted leather sofa, and easy chair, plus complimentary wood for the fireplace. All Executive Suites have unique layouts and are sized at 55 square metres (592 square feet), with views of the Hotel's inner courtyard or the street.
One-Bedroom Suite with Fireplace: Sporting two independent living areas, this fireplace suite showcases the rich architectural details found throughout Casa Medina, including the option of having balcony views to the inner courtyards or surrounding neighbourhood. Settle into the comfort of the period-style leather couch and easy chairs, rest a drink on a trunk-style coffee table, and watch the fireplace flame with complimentary wood provided by the Hotel. One Bedroom Suites with Fireplace are each individually designed and stretch 60 square metres (646 square feet), making them nice and roomy for parents travelling with a child, or even roomier for a couple on their own.
Colonial One Bedroom Suite: In a class by itself, the Colonial One Bedroom Suite – the largest One Bedroom Suite at Casa Medina – is decked out with a wood-burning fireplace, with complimentary wood as well as a spa-style whirlpool bath in its marble bathroom to help soothe away tensions of the day. With its colonial-style décor inspired by the Hotel around it – including handsome wooden beams stretching length-wise across the ceiling of the living area – this spacious suite epitomises architectural and historic elements that make Casa Medina a one-of-a-kind in Bogota. Like other One Bedroom Suites, the Colonial offers 60 square metres (646 square feet) of space.
Whatever the accommodation, all room categories within Casa Medina are designed to please with thoughtful touches and comforts in keeping with Four Seasons-style luxury. Premier Rooms, for instance, boast wooden desk and trunk-style coffee table, creating a welcoming, club-like atmosphere. Executive Suites have hand-carved wooden furnishings. And One Bedroom Suites are essentially pied-à-terres with some of the Hotel's most beautiful architectural details including a balcony with courtyard views on select rooms, period-style leather furniture, and distinctive dining and work areas.