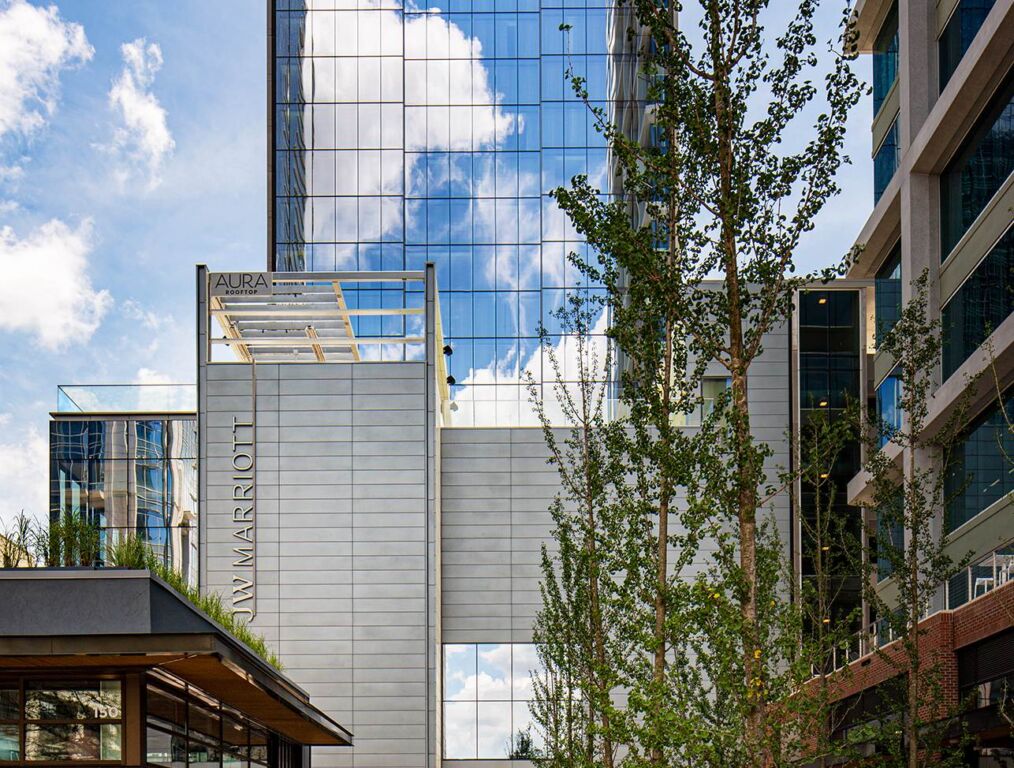 JW Marriott makes its debut today in North Carolina with the opening of JW Marriott Charlotte, located in the bustling Southern city's dynamic Uptown neighborhood. The 381-room luxury hotel, including 34 custom suites, offers discerning guests an urban retreat with inspired surroundings in which to relax and be present.
Stunning Design
Inspired by Queen Charlotte, the city's namesake, JW Marriott Charlotte draws inspiration from the sumptuous textiles of both her royal clothing and palaces, and marries them with the modern sensibility of the city. Ornate details, such as the flowing custom lobby chandelier that draws inspiration from the sumptuous patterns of the queen's royal clothing, are set against grand-scale architecture, which gives the overall aesthetic of the hotel a clean and modern form.
One of the most defining features of JW Marriott Charlotte is its use of natural light to promote a minimal and relaxing environment while also showcasing regal craftsmanship, finishes and details throughout.
All guest rooms and most of the hotel's 22,000 square feet of meeting space feature floor-to-ceiling windows, with city, stadium and vista views of greater Charlotte.
The 23-story building is a focal point of a new pedestrian-friendly public plaza and guests will have immediate access to diverse arts and culture, exciting sports and entertainment, convenient transportation, Bank of America Stadium and the renovated Charlotte Convention Center.
An Urban Retreat
Every aspect of JW Marriott Charlotte is designed with guests' well-being in mind. Guests of JW Marriott Charlotte are encouraged to take time for themselves and find a sense of balance through experiences that inspire, rejuvenate and leave them feeling whole.
The Spa by JW® offers holistic wellness amenities including six private treatment suites, a couples' treatment room and an Express Treatment pod for business travelers and others on-the-go. Guests also have access to indulgent and calming treatments including a Chill & Decompress Facial, Sweet Sugar Body Ritual, The Botanical Opulence Massage and Alluring Bay Manicures and Pedicures.
For those looking to keep up their fitness routine or enjoy a relaxing swim with sweeping city views, the hotel also features a 24-hour fitness center and open-air rooftop swimming pool with private cabanas featuring personalized food and drink service.
Inspired Culinary Creations
JW Marriott Charlotte embraces the brand's focus on authentic dining experiences that are gratifying and refined with three new concepts for guests and locals alike:
Dean's Italian Steakhouse – A classic American steakhouse with Italian expression set in a modern, rustic open space. Dean's features a show kitchen where guests can watch American Wagyu beef and other prime cuts – as well as authentic homemade pasta dishes – being prepared.
Caroline's Oyster Bar – A fanciful take on coastal seafood celebrating the neighborhood charm and fresh flavors of the North Carolina coast. The scene is set by a 360-degree centerpiece bar and 8-seat Carolina-style raw oyster bar.
Aura Rooftop – Hidden atop the fifth-floor, this lush botanical paradise includes a bar and pool serving up magnetic vibes and a regal tone. When night falls, the building's mirror-like exterior reflects the city back onto itself, creating a powerful aura, softened by lush greenery, similar to English gardens and conservatories. The menu features botanical craft cocktails, boutique wines and small bites.