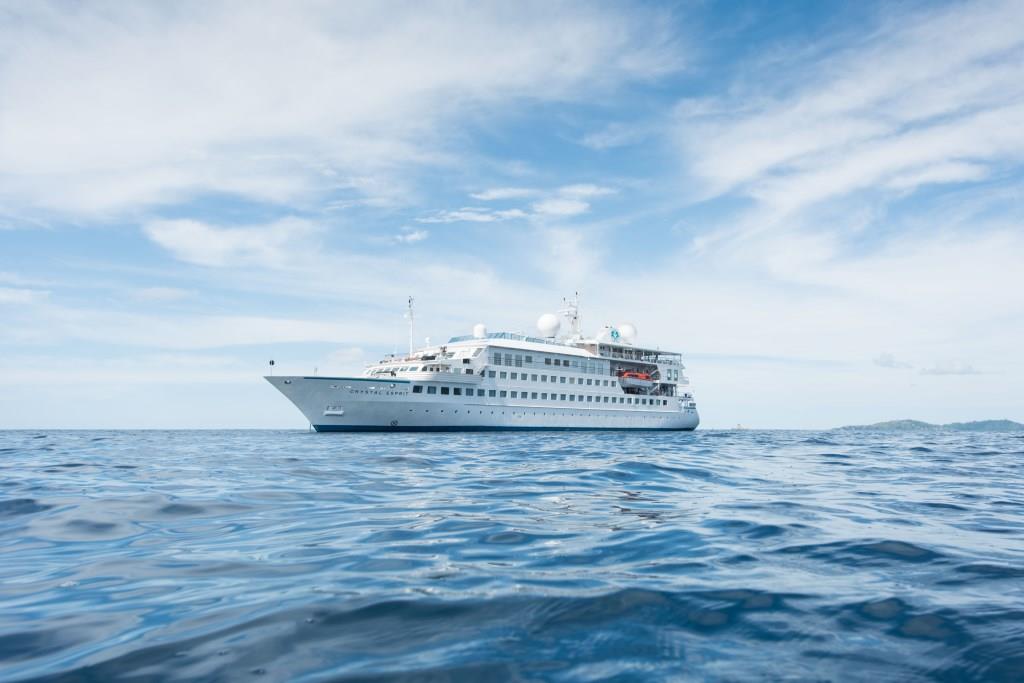 Crystal Expedition Cruises announced a nine-night Caribbean itinerary for new luxury expedition yacht Crystal Endeavor, featuring once-in-a-lifetime encounters on remote islands, calls in exclusive harbors typically only accessible to private yachts and sailboats, and the rare opportunity for U.S. travelers to embark from a close-to-home port and cruise aboard the state-of-the-art expedition yacht during her inaugural season.
The new nine-night voyage, Expedition Yachting: Caribbean Mystique, will sail from Miami to San Juan October 25 – November 3, 2021, calling on Great Exuma and Man of War Bay, Inagua Island, Bahamas; White Bay and Great Harbor (overnight) on Jost Van Dyke, and Norman Island in the British Virgin Islands; Gustavia, St. Barts; and Saba, Netherlands; concluding in San Juan, Puerto Rico. Reservations are now open for Expedition Yachting: Caribbean Mystique.
"This is a wonderful opportunity for U.S. travelers to experience Crystal Endeavor during her inaugural season from a port close to home and this new Caribbean itinerary is designed to offer just what luxury travelers are seeking – exclusive experiences and active outdoor pursuits in fascinating locales delivered with the greatest care and service," said Jack Anderson, president of Crystal. "Guests who have sailed onboard Crystal Endeavor since her launch in July are loving the expedition experience, both for the unique and remote destinations she can access, as well as the expansive public spaces, Michelin-inspired cuisine and unmatched one-to-one staff to guest ratio with every suite featuring Crystal's renowned butler service."
Calls in idyllic yachting havens and remote unspoiled isles of the Caribbean, highlighted by unique adventures including hiking the lush mountains of Saba and explorations in UNESCO-listed Inagua National Park where West Indian flamingos and a variety of bird life await travelers. Guests will also enjoy clear aquamarine waters, stunning sea caves, powder sand beaches, and volcanic isles as well as a host of activities from swimming, snorkeling, and diving, to hiking, birdwatching, Zodiac tours, sea kayaking and more.
"Because of the size of Crystal Endeavor, we are able to explore rare, off-the-beaten path destinations, for example on this voyage, Great Inagua has no natural harbor so cruise ships cannot call there, but Crystal Endeavor will position in Man of War Bay and launch Zodiacs from the ship's own marina," Anderson said. "Visiting these special places is a privilege we undertake with great responsibility and Crystal Endeavor has been designed with eco-friendly features including dynamic positioning that enables her to remain in place using GPS and thrusters rather than dropping anchor to protect delicate ocean reefs."
Swimming with the pigs of Major Cay is a favorite experience as well as a fantastic photo op off Great Exuma, where crystal-clear waters offer fantastic swimming, snorkeling and kayaking from the ship's marina. On Great Inagua, 45 percent of the island is devoted to Great Inagua National Park, a haven for bird species including West Indian flamingos, Bahama parrots, Inagua Woodstar hummingbirds, snowy and reddish egrets, tricolored herons, brown pelicans, roseate spoonbills and more.
Jost Van Dyke in the British Virgin Islands is beloved among the yachting set, known for beautiful beaches and island fun at the iconic Soggy Dollar Bar on White Bay and famous Foxy's Bar on Great Harbor. Norman Island boasts incredible snorkeling adventures including the coral gardens found at the famed Indians rock formations and sea caves teeming with darting fish, cup corals and colorful sponges. The island is also a launch point for excursions to Tortola and the Baths at Virgin Gorda.
The glamourous isle of St. Barts is home to 22 incredible beaches and features great shopping and dining, an array of watersports, and a gorgeous yacht-spangled harbor. From tide pools to cloud forests to 3,000-foot Mt. Scenery, Saba is a trove of natural wonders featuring 12 trails of varying intensity that showcase the island's stunning flora and provide incredible views. Encircled by a protected Marine Park, Saba is also one of the top diving sites in the world featuring underwater pinnacles and seamounts. San Juan delights with sunny beaches and cultural treasures including the colorful buildings and cobbled streets of Old San Juan and UNESCO-listed Historic Sites including the 16th century citadel of Castillo San Felipe del Morro.
Crystal is enticing travelers with compelling savings, reduced deposits and an extended final payment date to 60 days prior to first date of service, as well as other incentives. All-inclusive cruise fares for the new October 25th Expedition Yachting: Caribbean Mystique start at $13,999 per guest, including limited-time Book Now Savings of $3,000 and As You Wish shipboard credits of $300 per guest. Returning guests will enjoy double Crystal Society Savings of five percent, while new-to-Crystal guests will save 2.5 percent on their voyage, with solo fares starting at just 150 percent. Travelers with Future Cruise Credits and Future Cruise Payments may redeem them on these sailings.
The German-built 20,200 GRT Crystal Endeavor is the ninth ship in the award-winning cruise line's worldwide fleet and is the fastest and most powerful expedition ship in the industry. At 100 gross tons and 10,000 cubic feet per guest and a guest space ratio of more than 100, she has the largest space per guest of any ship at sea. Luxuriously designed to offer discerning travelers elegantly expansive private and public spaces, the ship accommodates just 200 guests in 100 well-appointed all-verandah, all-butler serviced suites, among the largest and most spacious in expedition cruising.
Throughout the ship, Crystal hallmarks accent guests' onboard experience: Michelin-inspired dining options including Umi Uma, the first and only Japanese restaurant on an expedition ship, fine Italian cuisine at Prego, 24-hour room service and optional Vintage Room experience; the only casino on an expedition yacht; and the full-service Crystal Life Salon & Spa with a state-of-the-art Fitness Center; as well as a wrap-around Promenade Deck, an iconic Crystal design element.
Featuring her own fleet of 18 Zodiacs and 14 sea kayaks, Crystal Endeavor is purpose built to offer a true expedition experience including a Polar Class 6 (PC6) classification that enables her to sail in Arctic and Antarctic regions. Exploration equipment aboard the ship includes a Remote Operated Vehicle (ROV) to view the sea at a 300-meter (almost 1,000 feet) depth and a Gimble long range camera mounted on the mast that can zoom in to view wildlife and scenery over a mile away.
The camera system shoots 4K video that streams directly on the HD TVs throughout the ship including public areas and guest suites, and on the large 65-inch screens in Palm Court, the 86-inch screens in the Expedition Lounge and on the Cove's video wall, with a massive 218-inch center screen and two 145-inch side screens. Camera operator control locations in the Palm Court and in the Expedition Lounge offer interactive activity between the camera operator and guests, who can point out sights they would like to see up close.
Crystal Endeavor has also been designed with a cadre of ecologically minded features, state-of-the-art technology and systems that demonstrate extreme care to navigate the oceans and waterways of the world in the most responsible manner possible. As part of its responsible cruising efforts, the company has equipped Crystal Endeavor to connect to shore power while in port, cleans exhaust emissions through a Selective Catalytic Reductant system and utilizes state-of-the-art FarSounder 1000 technology allowing the captain and bridge officers to detect sea life and underwater objects far in advance and navigate appropriately, with 3-D imaging of the terrain up to 1,000 meters ahead and 50 meters deep – just a few examples of the yacht's environmental best practices elements and the company's commitment to eco-friendly world exploration.