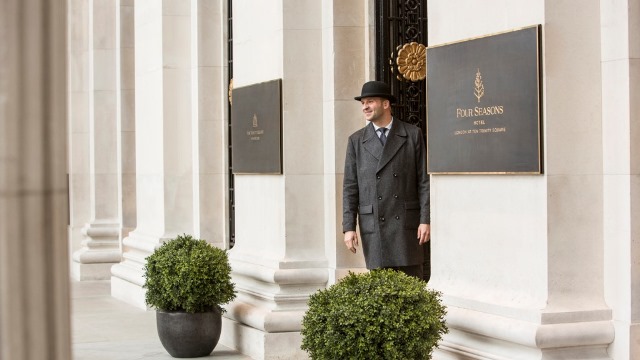 Rediscover the City and celebrate summer at Four Seasons Hotel London at Ten Trinity Square as it reopens its doors to guests this July. From extraordinary new culinary experiences and innovative cocktail menus to results-driven spa treatments, guests are invited to reconnect with family and friends and embrace everything that the City of London has to offer.
For guests looking to enjoy everything from a weekend break to a longer-term stay, the Hotel offers a variety of options from spacious guest rooms and character-filled suites to unique home-from-home style Residences. Guests can also benefit from the wide array of dining options and wellness facilities, all under one roof.
Dining
Rotunda Bar and Lounge
At heart of Four Seasons Hotel London at Ten Trinity Square, Rotunda Bar and Lounge reopens to guests for a la carte breakfast from 7:00 to 11:00 am daily, along with a menu of light meals and refreshments available throughout the day. In the evening, Rotunda Bar comes to life with new Head Bartender Nikos Tachmazis at the helm. Guests can enjoy an extensive list of creative cocktails, wine and spirits, along with live music on Friday and Saturday evenings.
The Crown Jewels Afternoon Tea will be available Friday to Sunday from 2:00 to 4:30 pm. Advanced booking is recommended by contacting [email protected].
Mei Ume
Mei Ume returns with authentic yet modern Chinese and Japanese cuisine from Head Chef Tony Truong, including an exciting new dim sum lunch menu. The menu includes traditional dim sum such as har gau and siu mai as well as more contemporary style dishes such as prawns wu gok.
Overseen by new Restaurant Manager Andras Bodor, the team is excited to reopen the doors and welcome guests from Tuesday – Thursday for lunch (12 NOON – 2PM) and dinner (6PM – 9:30PM).
La Dame de Pic London
Two Michelin-starred La Dame de Pic London, under the guidance of the most decorated female chef in the world Anne-Sophie Pic, continues to offer guests a dining experience to remember. New Chef de Cuisine Marc Mantovani worked closely with Anne-Sophie on the latest menu of seasonal dishes including the signature Berlingots with Baron Bigod cheese, watercress and smoked pine oil and Hereford beef fillet with aubergine, black garlic, yellow bourbon and bergamot. The restaurant is open on Saturday for lunch from 12:00 noon to 2:15 pm and Thursday to Saturday for dinner from 6:00 to 9:30 pm.
Spa
The Spa at Four Seasons Hotel London at Ten Trinity Square reopens a wider range of facilities to offer guests a sanctuary of wellness in the heart of the City. In addition to an extended list of treatments, the steam and sauna facilities will reopen and bookings will no longer be required for the fitness centre.
The Spa continues to offer a selection of new packages and experiences for guests to enjoy, from day passes and spa membership to private use of the pool. Newly created Private Poolside Suites are also available for booking. Advanced booking is required for the swimming pool. For additional information, guests should contact The Spa reception team at [email protected].
Ten Trinity Square Private Club
The City of London's finest private club for business, wine and culture continues to welcome members and guests staying in one of the Hotel's Residences, who are invited to experience all the Club has to offer during their stay.
Central to the Club's membership offering is an exceptional program of food and wine, from the unique Chateau Latour partnership to a fine dining menu curated by Anne-Sophie Pic. From September, the Club will also celebrate the relaunch of its series of exclusive events, private tastings and dining experiences.
The Ten Trinity Square Private Club is open Monday to Friday from 7:00 am to 11:00 pm.