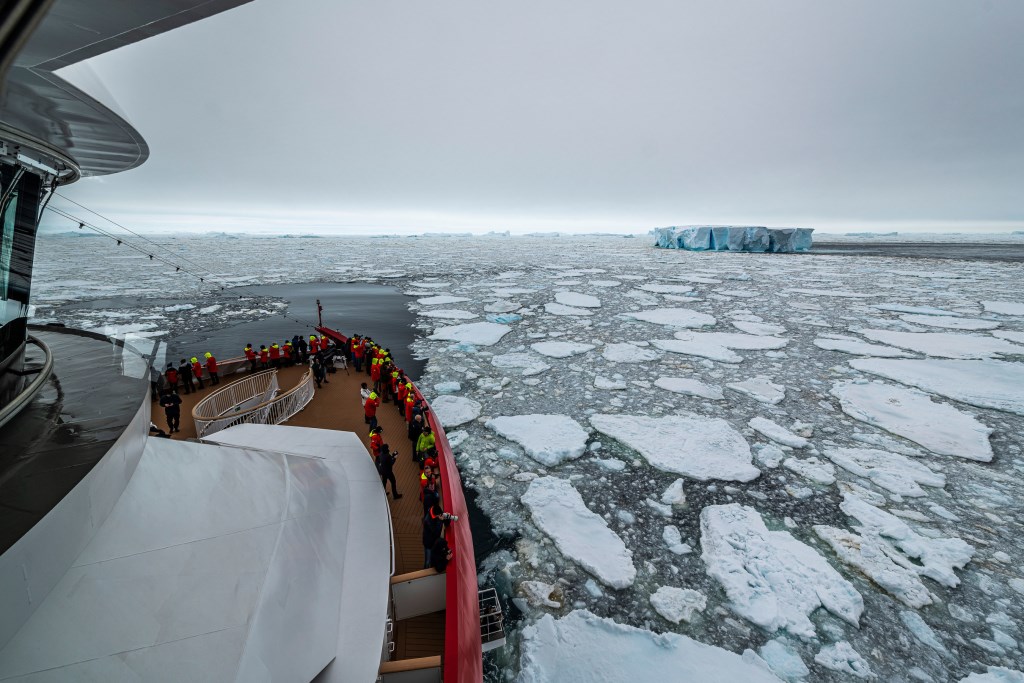 MS Roald Amundsen carries passengers to 70 Degrees South in the Antarctic region, the furthest south of any Hurtigruten expedition cruise ship in the company's 127-year history. (PRNewsfoto/Hurtigruten)
Hurtigruten Expeditions has unveiled an epic 93-day Pole to pole expedition cruise – exploring Alaska, the Northwest Passage, Greenland, the Caribbean, the Panama Canal, South America, and Antarctica in one monumental voyage.
August 8, 2022, marks the start of the epic 93-day adventure on board battery-hybrid powered MS Roald Amundsen. This is the first of two new pole-to-pole itineraries, with MS Fram setting sail for an epic 66-day expedition cruise from the Arctic to Antarctica a little over a month later.
The two new itineraries will encompass several bucket list destinations and experiences, including some of the world's most beautiful and remote places in Antarctica, Canada's Northwest Passage, the Chilean Fjords, and Greenland, as well as crossing through the Panama Canal.
The 93-day itinerary departs Vancouver on August 8, 2022 and will visit 11 countries – and Antarctica – before disembarking adventurous guests in Buenos Aires.
The expedition cruise will be with the MS Roald Amundsen, which is not only the world's first battery-hybrid powered cruise ship, but also fittingly named after the first explorer to successfully reach both the North and South poles, as well as the first person to navigate through the Northwest Passage, which he did in 1903.
The vast voyage includes the rarely visited Aleutian Islands along the Alaskan Peninsula and the deserted St. Matthew Island, the most isolated place in Alaska, before crossing the Artic Circle and heading through the fabled Northwest Passage to Greenland and Baffin Island.
Along the journey towards The South, unique stops include Belize and Nicaragua before the Panama Canal and exploring the majestic South American coastline.
The exclusive itinerary starts at $64,581 per person.
Hurtigruten Expeditions is also offering a 66-day long expedition option that visits seven countries between Edmonton, Canada, and Santiago de Chile, departing September 22, 2022.