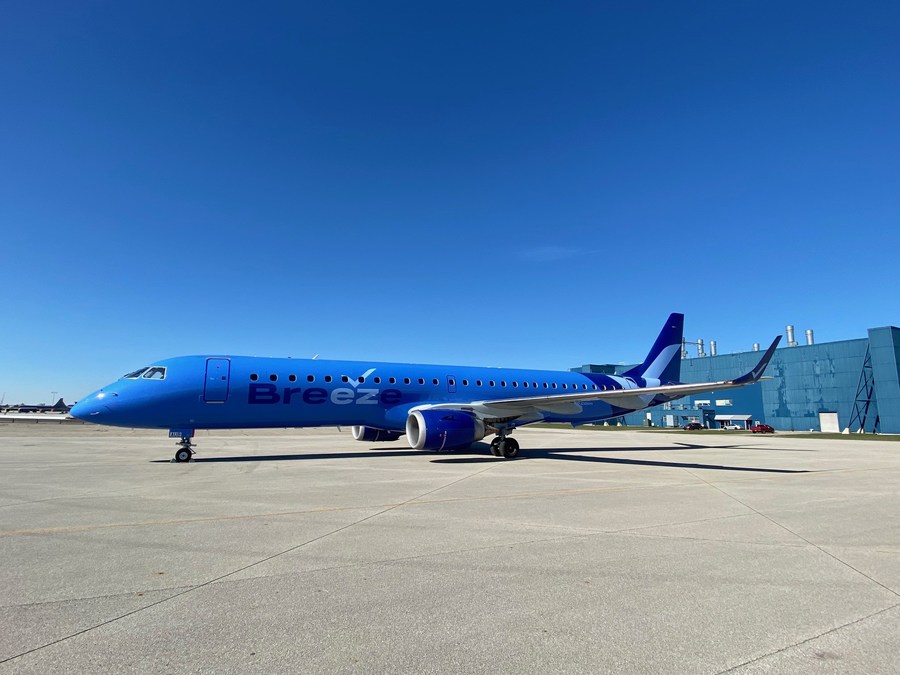 With blue balloons, a themed cake and a champagne christening, Breeze Airways launched its inaugural flight, nonstop to Charleston, from Tampa International Airport.
From now through the end of July, the airline plans to launch nine other new flights, six of which are currently unserved from Tampa inlcuding Oklahoma City, OK, Tulsa, OK, Norfolk, VA, Bentonville/Fayetteville, AR, Huntsville, AL and Akron, OH.
The new airline, founded by JetBlue co-founder, David Neeleman, joins the TPA family at a time when the Tampa Bay market is experiencing rapid growth in its recovery from the pandemic and travelers are eager to return to the skies. In the month of May alone, TPA saw a more than 626 percent increase in passenger volume from this month last year.
"I'm confident this airline will be successful, not only because I know David Neeleman's track record, but because of the faith I have in the Tampa Bay area," said Airport CEO, Joe Lopano.
The airline is offering fares starting at $39 one way and flights are bookable through www.flybreeze.com.

The Fleet
Breeze Airways will operate 13 single-class Embraer aircraft this summer, flying routes with an average flight length under two hours. The ten E-190 jets will be configured to seat 108 Guests while the three E195 aircraft will have 118 seats. Guests may choose from fares that include 'Nice' seats, or 'Nicer' seats with extra legroom. All Embraer aircraft will be a two-by-two seat configuration, so there are no middle seats.
Breeze will start taking delivery of 60 brand new Airbus A220 aircraft, beginning in October of this year and delivering at about one per month for five years. The A220 routes, which will be announced this Fall, all will be longer than two hours' flight time. The A220s will include a premium cabin, called 'Nicest' seating, in a two-by-two configuration at the front of the plane. The remainder of the aircraft will feature a two-by-three seat configuration.
Frontier Airlines today officially marked the opening of its new crew base at Tampa International Airport (TPA).