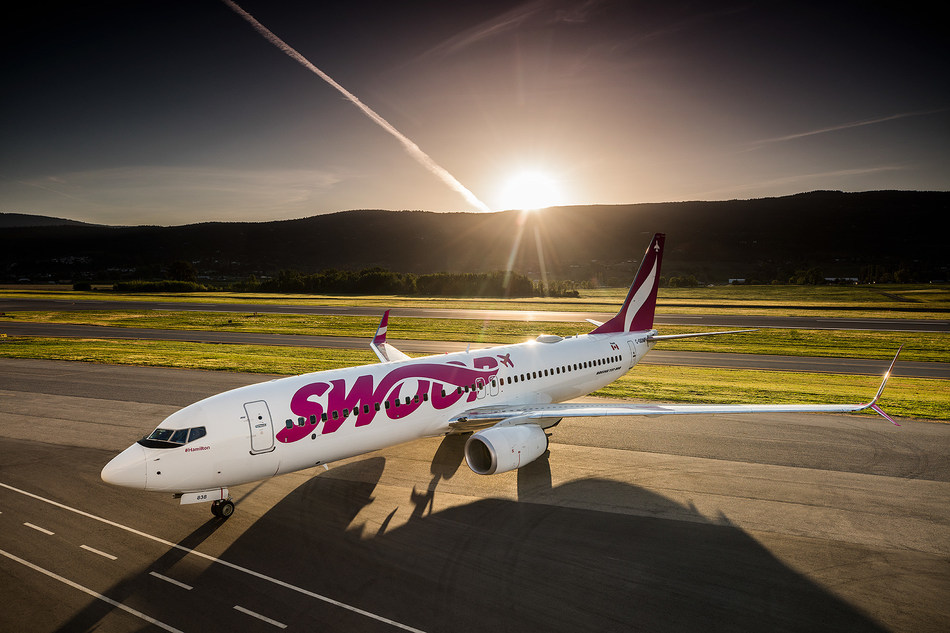 Today, Swoop, Canada's ultra-low-cost airline, announced an expansion to its summer schedule, bringing new routes and more ultra-low-fares to British Columbia. The airline's expanded summer operations will bring new service to Victoria and celebrates the return and addition of new routes from Kelowna.
The airline, which had previously postponed planned operations to Victoria in response to the COVID-19 pandemic, will now see an increase of flights and routes in three cities within British Columbia, ensuring that Canadians across the province have access to domestic air travel at an affordable price tag. Today's announcement is the first of several to come for the airline as they intend to bring even more ultra-low-fares coast-to-coast.
Swoop's new service to Victoria will include flights from Toronto, ON and Edmonton, AB. In addition, beginning June 20, 2021, service to Kelowna will now be available from Hamilton, ON and once again from Winnipeg, MB. Full details of Swoop's expanded service in British Columbia can be found below.
As we continue to plan for recovery, our focus remains on ensuring the safe reopening of air travel within Canada," continued Duncan. "When the time comes for a safe resumption of travel, it will be critical to ensure access to affordable travel exists within our borders and Swoop is strategically positioned to meet that need in British Columbia and across the country."
As the economy begins to reopen, we are pleased that Swoop recognizes Victoria as a destination that travellers will look forward to returning to or discovering the beauty and culture that Victoria and Vancouver Island has to offer for the first time, said Geoff Dickson, Victoria Airport Authority President and CEO.