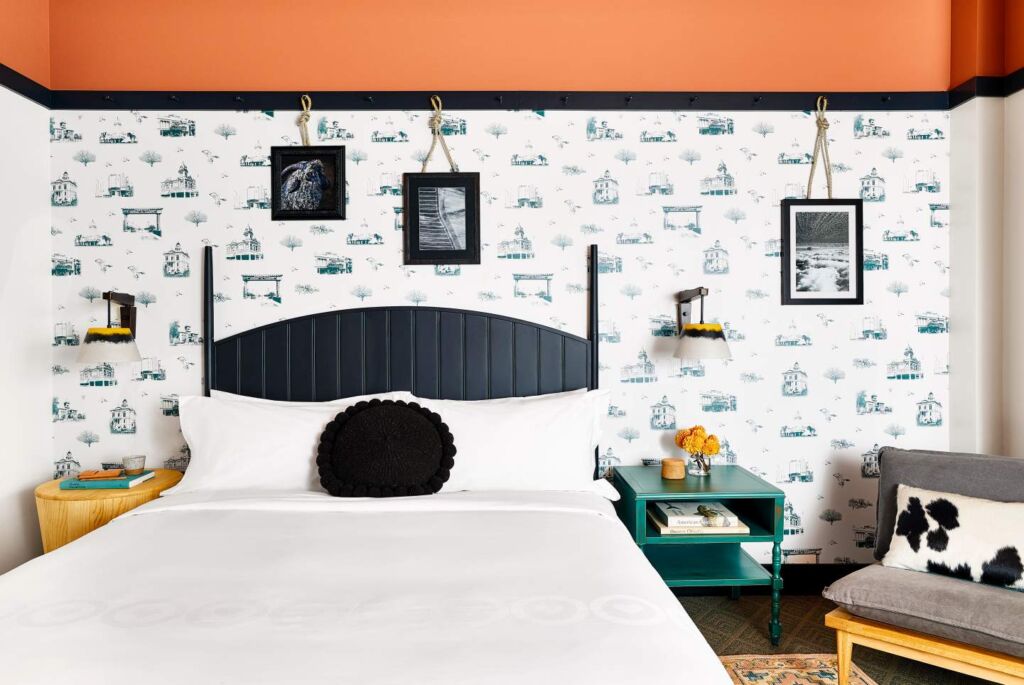 El Capitan, a JdV by Hyatt hotel, opened today in Merced, Calif., the heart of the state's lush Central Valley. The hotel represents a Golden State original, reborn with approachable sophistication and modern comfort in a historic turn-of-the-century property of the same name. Originally built to serve train passengers and guests traveling to Yosemite National Park, the new 114-guestroom El Capitan honors that spirit of exploration and adventure with three locally driven dining options, unique entertainment at the restored historic Mainzer theatre, and access to a rediscovered downtown, abundant local farms and wide-open spaces.
To mark the occasion, El Capitan is encouraging guests to tune into the vibrant aspects and sounds of Merced with its Pick Your Label Package. The package includes stylish accommodations in one of El Capitan's restored Arbor Lane rooms, complete with an in-room record player and access to the hotel's extensive vinyl library. To complete the adventure, guests will receive a $40 gift certificate to downtown Merced's local and independently owned, Tigers & Daggers Records and a Classic Vinyl cocktail from El Capitan's Native Son. Package rates start at $239 per night.
El Capitan's 114-guestrooms, including three one-bedroom suites and nine junior suites, are spread across the restored Arbor Lane Wing and newly constructed Main Street Wing. The frontier spirit of early California and the American West come to life in the relaxed elegance of the property's eclectic design. Inspired by the golden warmth of the Central Valley, the guestrooms use natural, hand-crafted materials and textures to evoke the surrounding landscape and draw the outside in.
Architectural and design elements throughout the property are inspired by the nearby 19th century train depot underscoring the history of Merced as a transportation hub. Following the JdV by Hyatt brand's intent to celebrate locals and guests alike, artwork celebrating the agricultural and cultural traditions of the region adds the finishing touches to accommodations. El Capitan's Arbor Lane guestrooms offer whimsical elements including custom wallpaper highlighting local historic landmarks and record players in each room. In the spirit of connecting guests to the local neighborhood, the hotel also offers a continually updated library of vinyl sourced from a local Merced record store, complete with new selections and classics.
El Capitan offers three distinct dining experiences that all call upon the bounty of the Central Valley, a region famous for producing more than a quarter of the nation's food. The casually chic Native Son, named for the famed climbing route in Yosemite National Park, is a casual 30-seat outlet that transitions from a café during the day to a free-spirited, community bar in the evening. The open-air Courtyard entices guests with a relaxed dining and drinking experience centered around a custom bar set in a retrofitted horse trailer. Bathed in the California sunshine, The Courtyard is perfect for an afternoon cocktail or light bite. Rainbird, the property's signature restaurant, will debut in summer 2021 with destination-worthy dining from Chef Quentin Garcia highlighting Merced's agricultural abundance to produce meals that reflect the unique flavors of the location.
Bobby's Market, located in El Capitan, will open in late-spring 2021 with a curated Central Valley artisan experience and a tastefully updated version of the classic mercantile. Featuring a selection of locally made products, travel essentials and handmade goods the market will also include a "build-your-own" trail mix bar with locally grown nuts and fruits.
El Capitan offers more than 3,000 square feet of dedicated meeting and event spaces, spread across three indoor and one outdoor space. The Courtyard is a unique and flexible outdoor venue for weddings and social events in the California sunshine.
El Capitan's restored iconic sign stands sentry above the town's historic Main Street where visitors can explore the town's homegrown artistic scene and downtown connections to the agricultural community. Just steps from the hotel, Mainzer, a recently renovated and reopened theatre dating back to the early 1920s, offers live performances, movies and entertainment coupled with a lively bar and restaurant. Mainzer's restored performance space provides an intimate location for guests to enjoy world-class entertainment from local, regional and national acts. Mainzer is one of three performance and movie spaces in downtown Merced, with additional multicultural spaces showcasing local artists. Merced's quaint downtown also offers a plethora of locally-owned shops and restaurants as well as California's only year-round farmer's market certified by the state to be run by member-growers who sell directly to the public.