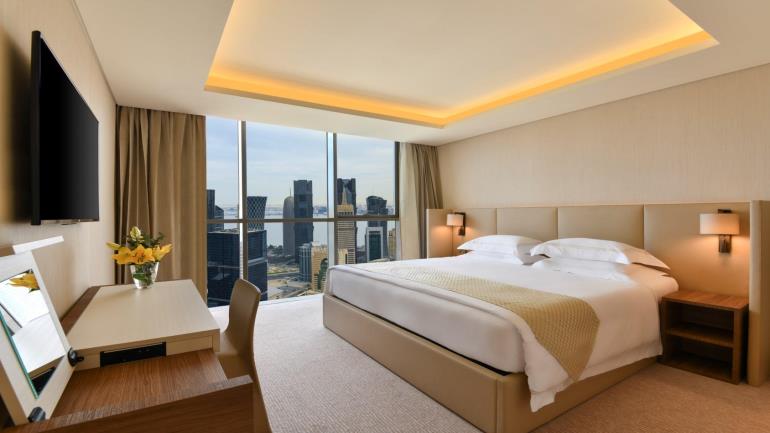 IHG Hotels & Resorts' premium voco Hotels brand has officially reached the milestone of 50 signed and open hotels in more than 20 countries across the globe – marking IHG's fastest ever global expansion.
After debuting with its first signing and opening in Australia in 2018, voco Hotels entered IHG's largest markets in the US and China in late 2020, with new properties now open in New York and Hangzhou. Its milestone 50th signing, voco Brisbane City Centre in Australia, which is set to open its doors later this year, will join a growing list of voco hotels now open in iconic locations around the globe from Paris and New York, to Dubai and Riyadh.
Thanks in part to its ease of conversion, the voco brand is attracting widespread interest from owners looking to convert hotels, maximise returns and quickly benefit from IHG's global scale, technology platforms and one of the world's largest hotel loyalty programmes, IHG® Rewards. Amidst the pandemic, in 2020, IHG reported an increase in conversion activity with 25% of the company's signings reported as conversions – and 13% of those for the voco brand. The brand's versatility also continues to evolve, with the first all-suites property signed in Doha and the brand's first new-build properties: one now open in Edinburgh, Scotland, and another opening in Nanjing, China, later this year.
Not just appealing to owners, guests love the high quality and uniqueness of the voco brand too. Designed to stand out from the crowd, every voco hotel has its own sense of style thanks to its commitment to being reliably different. When guests arrive, they can expect the brand's signature 'Come on in' warm welcome, promising a swift and simple check-in, a locally inspired welcome treat and dedicated voco hosts to ensure guests make the most of their stay. With each property offering a different playful experience, guests can feel right at home with social spaces to re-energise and restaurants and bars to celebrate joyful moments. When it's time to relax, they can cozy up in one of the serene guestrooms and enjoy moments to themselves with plush bedding, spa-like showers, luxurious bath products and tempting room service.
Thanks to the reliability, surprising individuality and quality of the voco brand, combined with the charm and comfort of each hotel, voco hotels around the globe have reported increased guest satisfaction post-conversion into the IHG system.
Jane Mackie, Senior Vice President, Global Marketing, Luxury & Upscale Brands, IHG, commented: "With the ability to hold onto the informality and charm of an independent hotel, paired with the quality and reassurance of a respected global brand, our voco Hotels brand has seen extraordinary growth since launching in Australia only two and a half years ago. With its entry into the US and China last year, we anticipate significant growth potential for the voco brand and its unique offer for owners and guests. By focusing on and celebrating each hotel's individual spirit and character, we make it easier and faster for owners to move from signing to opening, providing a real advantage in today's market."
As the global expansion of voco continues, we are tracking well against our growth goal of 200 voco hotels in attractive urban and leisure locations around the globe within 10 years.