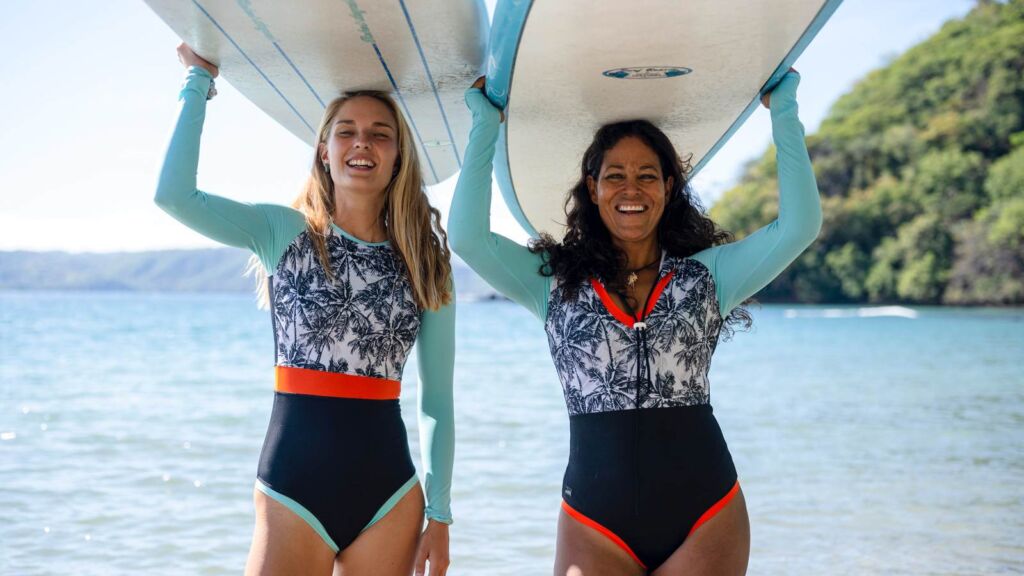 Connecting with the power of the waves is a great way to connect to one's inner strength. That's the promise of the upcoming SurfX Goddess Weekend, March 6 to 8, 2021, at Four Seasons Resort Costa Rica at Peninsula Papagayo.
Planned in celebration of International Women's Day on Monday, March 8, 2021, the weekend provides the perfect reason to book a girls' trip with a close family member or a group of friends – sharing new experiences, challenging oneself and each other, and creating memories to last a lifetime.
The inspiration for the SurfX Goddess Weekend comes from the fact that the Resort's SurfX luxury surf school is run by two strong, independent women who are both passionate advocates of surfing.
Originally from San Jose, Costa Rica, Andrea Diaz Coto remembers the first time she went surfing. "I was 16 years old and borrowed a friend's board," she recalls. "I immediately knew that surfing would be my life." After years travelling the world on the pro surf tour, the mother of three continues to devote her life to her passion – as a surf instructor and guide at Four Seasons.
Hanna Storrosten, who hails from Oslo, Norway, discovered her love of surfing while studying marine biology at San Diego State University. "I quickly knew it was my calling, just from how alive it made me feel," she says. For Hanna, life in Costa Rica offers the perfect balance and the opportunity to pursue her passion for the ocean.
"Surfing can feel like a boy's club sometimes," Storrosten says. "Often you find yourself being the only female out in the water, but that has fuelled my motivation to introduce more women to surfing. It also makes it all the more special to be working alongside someone like Andrea, who is so highly respected among the local surf community here in Costa Rica where the majority of surfers are male."
The two women will be hands-on in leading the SurfX Goddess Weekend activities. All skill levels are welcome and guests can use the school's own collection of top-quality boards. The three sessions may be booked à la carte, in advance through the Four Seasons Concierge.
On Saturday, March 6, join the Surf Fitness and Breathwork Class, a complimentary, one-hour session focusing on mobility and connecting with one's inner goddess through breathing. It's a fun and energetic ritual before heading into the ocean.
On Sunday, March 7, come to the Women's Surf, Sunset and Sangria, an all-female beginners' surf lesson at Peninsula Papagayo's own Playa Prieta, followed by a bonfire, cocktails and appetisers at Prieta Beach Club. The session runs from 2:30 to 6:00 pm (sunset) and is priced at USD 100.
To mark International Women's Day on Monday, March 8, embark on a personal adventure with the Goddess Surf Trip to Witch's Rock. Perfect for intermediate and advanced surfers, this world-class location (Roca Bruja to locals) features a massive rock monolith rising from the waves offshore at nearby Santa Rosa National Park. This four-hour excursion is priced at USD 250.
Throughout the year, the SurfX luxury surf school is an ideal learning location for all ages and abilities. Whether they be kids who are first-timers or pros who want to refine their skills, guests can choose from some of Costa Rica's most famous surfing locations. Experience the nearby waves at Playa Prieta, Playa Iguanita and Witch's Rock, or take a one- or two-hour shuttle to Playa Grande, Playa Tamarindo and Playa Avellanas. These one- to eight-hour sessions always include personalised coaching from Diaz Coto and Storrosten. Another important benefit is that with Costa Rica's year-round warm waters, no wetsuit is ever required.