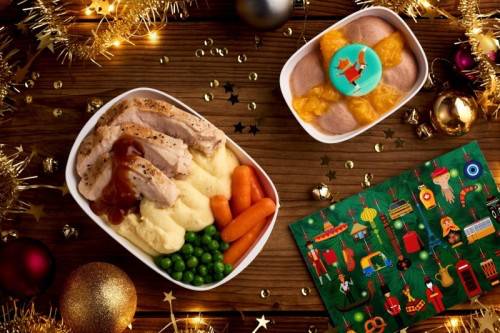 Emirates is getting into the festive spirit. The airline always ends the year with extra trimmings for the holiday season and 2020 is no different. Travellers can look forward to special touches both on board and on the ground from today until 31 December to make travels extra sweet as they reunite with family and friends.
Customers can kick off their travels in the Emirates lounge in Dubai International airport with a range of traditional Christmas dishes including roasted turkey, and a wide selection of festive sweets like stollen cake.
On board, the signature festive menu is making a comeback. Customers travelling from Dubai to select routes in Australia, New Zealand, the United Kingdom, Europe, the United States, Brazil, South Africa and the Philippines, can enjoy a taste of Christmas on board.
Passengers in Economy Class will be able to indulge in a festive meal of roasted turkey with mashed potatoes, green peas, baby carrots and cranberry jus lié prepared by Emirates' award-winning chefs. For dessert, Emirates will serve chocolate mousse with a Mandarin orange compote.
Customers in First and Business Class can enjoy roasted turkey breast and apricot stuffing, roast potatoes with creamy brussels sprouts with turkey bacon and cranberry jus lié. For dessert, passengers will be served festive sweets such as a Santa inspired chocolate cranberry cake or a chocolate gingerbread cake.
Young travellers across all classes can also pre-order a specially prepared turkey dinner over the festive period.
Emirates is also adding a special touch on board for those who may have missed Christmas markets this year. From 23-25 December, customers travelling in First and Business Class can enjoy mulled wine served with garnishes like cinnamon sticks, red currants and orange slices. In premium classes, customers can also enjoy a hot chocolate with special trimmings to customise as they wish like marshmallows, white and dark chocolate, strawberries and raspberries. The hot beverage is served with fresh Christmas bakes including cranberry, pistachio & white chocolate cookies, spiced gingerbread snowflake cookies and gingerbread houses.
Throughout the festive season and across all classes, passengers will be able to take advantage of Emirates' wide beverage selection to complement their Christmas meals on board. Travellers can enjoy some of the finest wines and spirits served in the skies.
On Christmas eve and Christmas day, Santa's helpers – Emirates' very own cabin crew – will be giving away edible holiday gifts in all classes to put everyone in a festive mood. In First Class, customers can savour a special holiday cupcake and in Business Class customers will receive a gingerbread Christmas tree cookie with marzipan cane. In Economy, customers can munch on chocolate truffles.
Emirates' ice, the award-winning inflight entertainment system, aims to create a better-than-home viewing experience this Christmas with the latest and best movies, great television and an extensive music selection. Customers can settle back to cosy Christmas favourites like Home Alone, Miracle on 34th Street and A Christmas Miracle, along with TV specials like the Christmas Episodes from the Big Bang Theory and Friends and Modern Family: The Last Christmas. The holiday specials on ice are part of an entertainment catalogue of over 4,500 channels.
Customers can choose to do their holiday gifting on board with EmiratesRED inflight retail, currently offered on select routes, and pick up gifts from famous brands like Tom Ford, Bang & Olufsen, watches from Lacoste, jewellery from Aigner and more. For the whole month of December, there is a 15% discount on almost the entire EmiratesRED range.