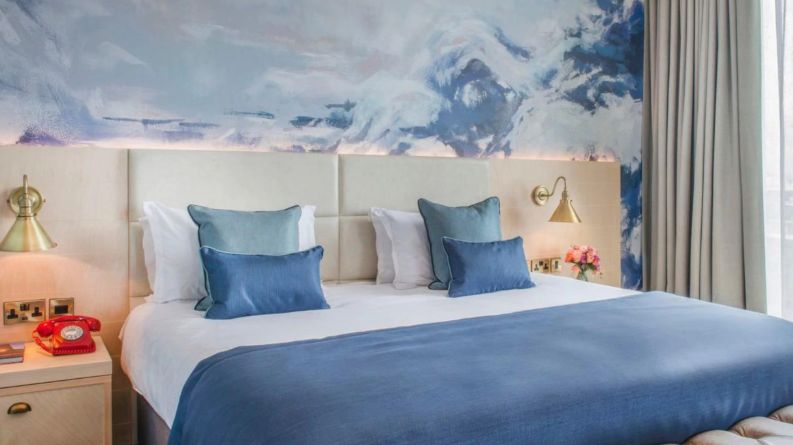 IHG Hotels & Resorts has announced the opening of the first voco hotel in the Americas – voco – The Franklin New York. Following an extensive renovation, the 50-room hotel, originally built in 1930, is now a reimagined classic with contemporary touches. Located in Manhattan's Upper East Side, the hotel is near top attractions like Museum Mile, Central Park and Madison Avenue shopping.
The voco brand, launched in 2018, combines brand reliability and comfort with the charm and playfulness of a boutique hotel to create a completely unique experience. The name voco has Latin origins and means 'to invite' and 'call together,' – a perfect representation of the brand's effortless, friendly vibes. Every guest will experience voco's signature 'come on in' welcome, a regionally inspired welcome treat and dedicated voco hosts to serve as local experts during their stay.
The cozy guestrooms at voco – The Franklin New York highlight the hotel's historic features while providing modern amenities such as a spa-like shower and fast Wi-Fi. Like all voco hotels, voco – The Franklin New York will promote sustainability through luxurious bedding that's made from 100 percent recycled materials, bulk amenity bath products and aerated shower heads to decrease water usage. voco hotels also reduce, on average, 300 plastic bottles per guest room every year by providing micro-filtered water in-room instead of single-use bottles.
Owned by Flintlock Construction and managed by Aimbridge Hospitality, voco – The Franklin New York demonstrates IHG's ability to convert properties efficiently, allowing owners to leverage existing assets while taking advantage of IHG's global enterprise global enterprise and scale, including the world's largest hotel loyalty program. voco will also enter the St Augustine, Florida, and Columbia, Missouri, US markets soon with openings expected in early 2021.
Ginger Taggart, vice president, global Crowne Plaza and voco Americas, IHG, commented: "We're thrilled to bring the voco brand to the critical American market. The historic design, modern upgrades and inviting ambience are a perfect blend of old and new. Our guests will love the fresh, modern design that still honors the iconic heritage property, and also will appreciate the cleanliness and sustainability measures that ensure a responsible stay. Whether you travel for work or pleasure, voco – The Franklin New York celebrates everything we love about New York City while giving guests the confidence and comfort they need for a world-class stay in an exciting new brand."
Flintlock Construction founders Andrew and Stephen "Chip" Weiss Jr. added: "It has been our privilege to restore and enhance this historic property. The hotel has been reimagined as a modern classic. The renovation is an artful blend of restoration and original modern touches and state of the art electronics in the rooms. Our goal was to create a world class hotel for the Upper East Side, and by partnering with IHG to launch the first voco in the Americas, we're making that goal a reality."
While visiting an IHG hotel, guests and hotel staff can be reassured that cleanliness is top of mind throughout each step of the on-property experience. The company's longstanding commitment to rigorous cleaning procedures includes the IHG Way of Clean program developed with Ecolab and Diversey, both world leaders in hygiene and cleaning technologies. The program, initially launched in 2015, features deep cleaning with disinfectants coupled with enhanced COVID-19-specific protocols and best practices, developed with experts from the Cleveland Clinic. Additionally, as a part of the IHG family of brands, voco properties offer guests additional peace of mind with the IHG Clean Promise. Guests can be reassured that their room will meet IHG's high standards of cleanliness, and if not, the hotel will make it right.
voco – The Franklin New York is the 16th property worldwide to open under the brand. There are currently 23 additional voco properties in the global pipeline, and the brand is on track to open 200 hotels in popular urban and leisure locations during the next 10 years.