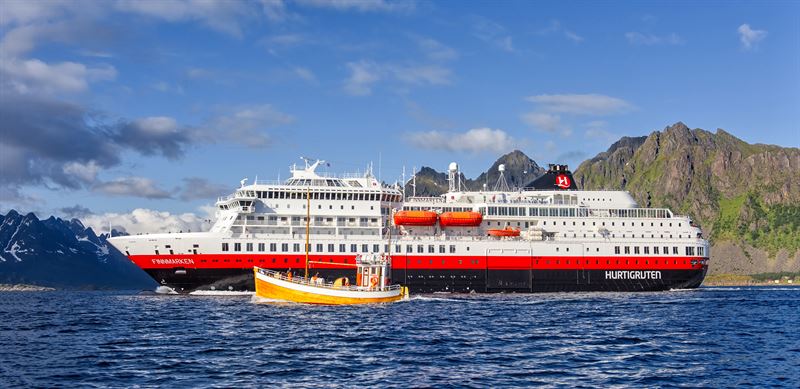 Hurtigruten is giving customers the chance to look ahead and book future travel while staying closer to home. Through November 15th, travel agents can offer travelers a buy one, get one at half off discount to experience Alaska. Using code BOGOHO at the time of booking, travel agents can offer a limited time promotion that gives travelers a tailored experience while exploring the areas of the last frontier that larger ships cannot access. Buy one, get one at half off discount only applies to the cruise portion of the package, including taxes, feed, and port expenses.
Travelers to Alaska can expect to visit smaller ports, providing a unique and exclusive experience. The last frontier also offers a selection of small towns to explore off the beaten path including Wrangell, Petersburg, Misty Fjords, and more. Clients can choose from a variety of itinerary lengths including longer voyages that take "the scenic route," offering a first-hand look at the natural surroundings and beauty, including the southbound option through British Columbia, a route not accessible for many ships.
Travel agents can use code BOGOHO and book through the Hurtigruten Agent Portal. Alaska-bound guests can feel confident booking now thanks to Hurtigruten's Book With Confidence cancellation policy. Itineraries booked by October 31, 2020 may be cancelled for any reason in the future with a full refund – including the deposit – within 14 days of cancellation.
"We know travelers are looking for domestic travel options that still take them to destinations that make them feel like they are a world away," said John Downey, president of Hurtigruten Americas. "Providing our travel agents with new promotions like the buy one, get one half off discount allows us to deliver options that benefit both our partners and customers."