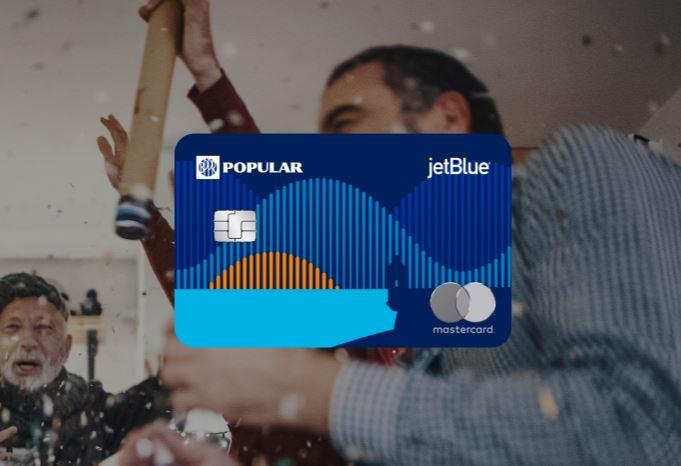 Popular and JetBlue today unveiled their new partnership with the launch of two new credit cards for customers in Puerto Rico. As trusted brands on the island, both remain committed to the growth of Puerto Rico. With the new JetBlue Mastercard and the JetBlue Mastercard Eleva from Popular, every dollar gets cardmembers closer to traveling to the destination of their choice. Both cards provide an opportunity for customers to earn TrueBlue points – which never expire – even faster and on everyday purchases.
As an added benefit, both products offer a welcome bonus of either 5,000 or 25,000 TrueBlue points by meeting the purchase requirement during the first 90 days of opening the credit account. Both cards feature contactless technology that allows the customer to pay by bringing the credit card close to the Contactless Symbol of a payment terminal.
"Nowadays people like to travel, visit new places and meet up with friends and family. Connecting the dreams of our customers to financial solutions is an important part of Popular's culture, which is why we partnered with JetBlue to create these two new products that offer great benefits," said Solimar Cedeño, vice president of Retail Lending for Popular. "Although the pandemic has modified our behaviors, clients can plan for the future and eventually travel when they decide to do so", Cedeño added.
"As the largest airline in Puerto Rico, we want to reward our loyal customers in the region. Popular also has strong roots in Puerto Rico, and as a likeminded partner is dedicated to the island's success. We're excited to launch our partnership with Popular by offering two new credit card options presenting our customers with even more benefits," said Don Uselmann, vice president, loyalty and personalization, JetBlue. "The JetBlue Mastercard and the JetBlue Mastercard Eleva cards from Popular provide our customers in Puerto Rico with value and flexibility to earn points on their everyday purchases. With each purchase, cardmembers are one step closer to traveling to see loved ones, when the time is right."
With this launch, the JetBlue Mastercard becomes the only travel card in Puerto Rico without an annual fee that allows customers to earn points for each purchase. JetBlue purchases will accumulate two TrueBlue points per $1 spent. All other purchases—groceries, restaurants, gasoline, etc.—accumulate one point per $1 spent.
The JetBlue Mastercard Eleva card, with a $99 annual fee, allows cardmembers to earn three TrueBlue points per $1 spent on JetBlue purchases and one point per $1 spent on all other purchases. This card also has additional benefits, such as a free checked bag for the cardmember and up to three travel companions when the card is used to purchase flights operated by JetBlue. It also provides a $100 annual statement credit on the purchase of a JetBlue Vacations package.
The national carrier Oman Air and Bank Muscat, the flagship financial services provider in the Sultanate, have announced upgrading of their unique co-branded credit card to the Platinium level.