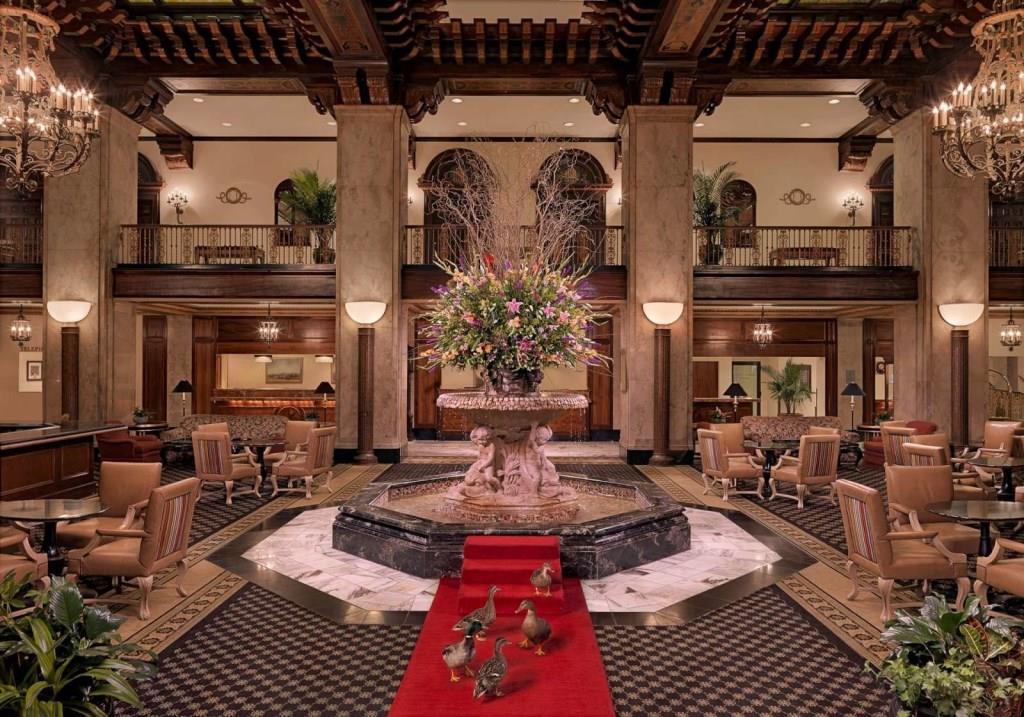 Duck March at The Peabody Memphis
In today's travel landscape dotted with sparkling new resorts and ultra-modern skyscraper hotels, a bit of history is often welcome. Each of these classic lodgings, nominated for the title of Best Historic Hotel by a panel of hotel experts, has witnessed a great deal of history, and each has held true to its historic roots and unique sense of place.
The Peabody Memphis has been named 'Best Historic Hotel' in USA TODAY's 10Best 2020 Readers' Choice Awards. This is the third consecutive year that the "South's Grand Hotel" has taken the top spot in the contest.
A Forbes 4-Star, AAA 4-Diamond property, The Peabody has also been named 'Best Historic Hotel' by Historic Hotels of America and #1 Historic Hotel by Southern Living. Opened in 1869, The Peabody and has been listed on the National Register of Historic Places since 1977.
Today The Peabody is best known for its five resident North American mallard ducks that march through the Grand Lobby in a quirky tradition dating back to the 1930s. The Peabody Duck March takes place at 11AM and 5PM daily as the Duckmaster leads the ducks down a red carpet to the lobby fountain to the tune of John Philip Sousa's "King Cotton March."
The top 10 winners in the category Best Historic Hotel are as follows:
The Peabody Memphis – Memphis
Historic Hotel Bethlehem – Bethlehem, Penn.
Grand Hotel Golf Resort & Spa – Point Clear, Ala.
Mission Inn Hotel & Spa – Riverside, Calif.
The Francis House – Calistoga, Calif.
Deer Path Inn – Lake Forest, Ill.
Grand Hotel – Mackinac Island, Mich.
The Hermitage Hotel – Nashville
Congress Hall – Cape May, N.J.
The Langham, Huntington – Pasadena, Calif.
A panel of experts partnered with 10Best editors to pick the initial nominees, and the top 10 winners were determined by popular vote.