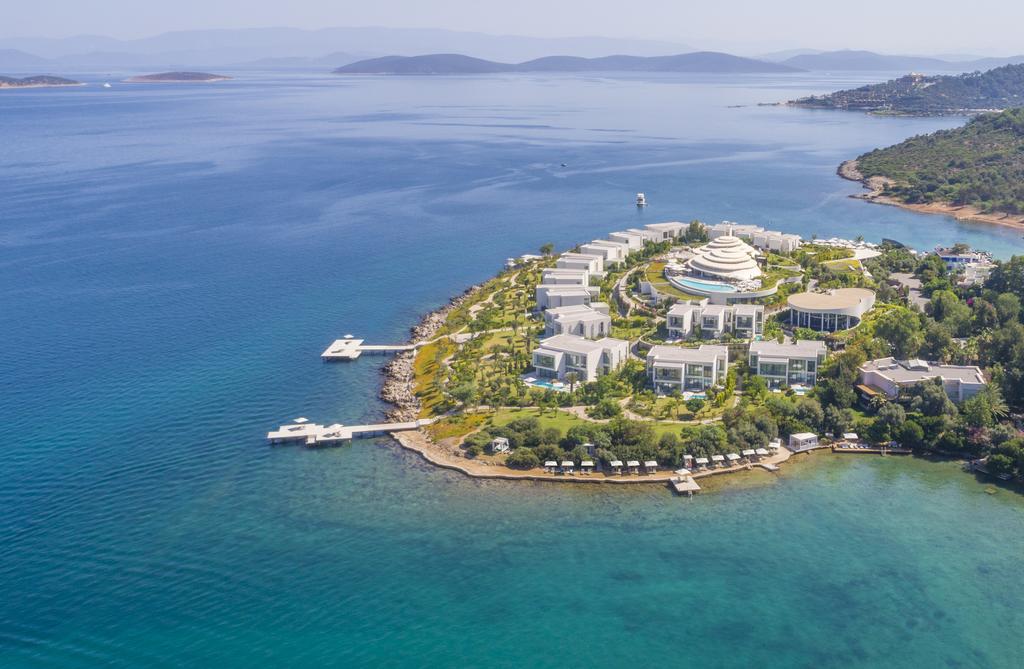 The first hotel in Turkey under LXR Hotels & Resorts, Susona Bodrum boasts a private beach, world-class spa, and gourmet dining experiences, offering guests the ultimate place to find their balance and serenity.
Every element of the hotel is connected to its sense of place with a focus on protecting and preserving the local environment. Named after the mystical Susona, a legendary aquatic creature in Turkish mythology, Susona Bodrum is set in Torba Bay, a peaceful hideaway surrounded by turquoise waters. Each of the 76 guest rooms, suites, and villas features panoramic sea views and interiors inspired by the sea. In the bathrooms, guests will be treated to indulgent amenities from Atelier Rebul's Mandarine Collection, made from the fruity and citrus fragrance of Bodrum mandarines, blended with aromatic flowers and musk. Guests can also enjoy dipping into a private pool at each of the hotel's 10 standalone villas.
The resort's five jetties offer a myriad of opportunities for guests to enjoy the azure waters of the Aegean Sea, with a host of seaside venues to choose from. These include Frankie Beach Club and Malva Restaurant, concepts created exclusively for Susona Bodrum by Kaya Demirer and the team behind the famed Frankie Istanbul, taking guests on a gastronomic journey while allowing them to soak in the coastal town's breathtaking seascapes.
Susona Bodrum stays true to LXR Hotels & Resorts' promise of offering guests a singular travel experience native to its place, history, and tradition. The resort's gracious hosts not only delight guests by scouting out the best relaxation spots on-property and preparing perfect settings for sunset viewing, but also by delivering locally immersive experiences. Hosts at Susona Bodrum can curate personalised local trips, encompassing visits to Bodrum's famous hand-crafted leather sandal workshops, local wine tasting at nearby vineyards, and a journey into the world of Turkish carpet making at Etrim village. With Susona Bodrum hosts working to create the perfect itinerary, guests are free to relax and absorb all that the hotel and its surroundings have to offer.
"Each hotel selected to join the LXR collection is handpicked for its ability to offer a truly profound travel experience and a unique window into a world-class destination," said Feisal Jaffer, Global Head, LXR Hotels & Resorts. "With its tranquil location, commitment to personalised service, and exciting dining venues, the Susona Bodrum is ideal for travellers seeking a luxurious getaway."
Diners can savour gourmet food and immerse themselves in the coastal surroundings at the resort's five restaurants and bars:
Frankie Beach Club Bodrum builds on the success of the celebrated Turkish hotspot Frankie Istanbul and brings its culinary experience to Susona Bodrum. Guests can indulge in a range of delectable cuisine prepared with fresh and local ingredients, as well as world-class cocktails and fine wines, against the beautiful backdrop of the Aegean Sea. Diners can also enjoy a Power Lunch, which features magnificent food presentations paired with magnum wines, all the while listening to the club's resident DJ play uplifting beats warming up to live music entertainment in the afternoon.
Brought to you by Frankie, Malva Restaurant is a boho-chic culinary, microlocal destination that offers a mouth-watering range of succulent slow-cooked dishes that feature a fusion of handpicked ingredients. After finishing dinner, guests can enjoy relaxing live tunes, including international and Turkish covers of jazz, soft funk, and soul.
At Malva Cocktail Bar, guests can savour light bites alongside artisanal cocktails, a rich selection of Spritz, and the finest local and international wine, all the while enjoying breathtaking views of the beautiful coastal sunset.
Located next to the rooftop infinity pool, Ezi offers panoramic views of the peninsula. Offering tranquillity in a comfortable and elegant setting, Ezi is the perfect alternative for those who want to disconnect. Begin your day with a hearty breakfast, filled with homemade artisanal baked delicacies, a variety of smoothies, and third-wave coffee. Here, guests can also enjoy local comfort food throughout the day while listening to relaxing poolside beats.
Guests can also unwind at the resort's Family Beach, where they can sip on fresh juices and a thirst-quenching selection of homemade infused iced tea.