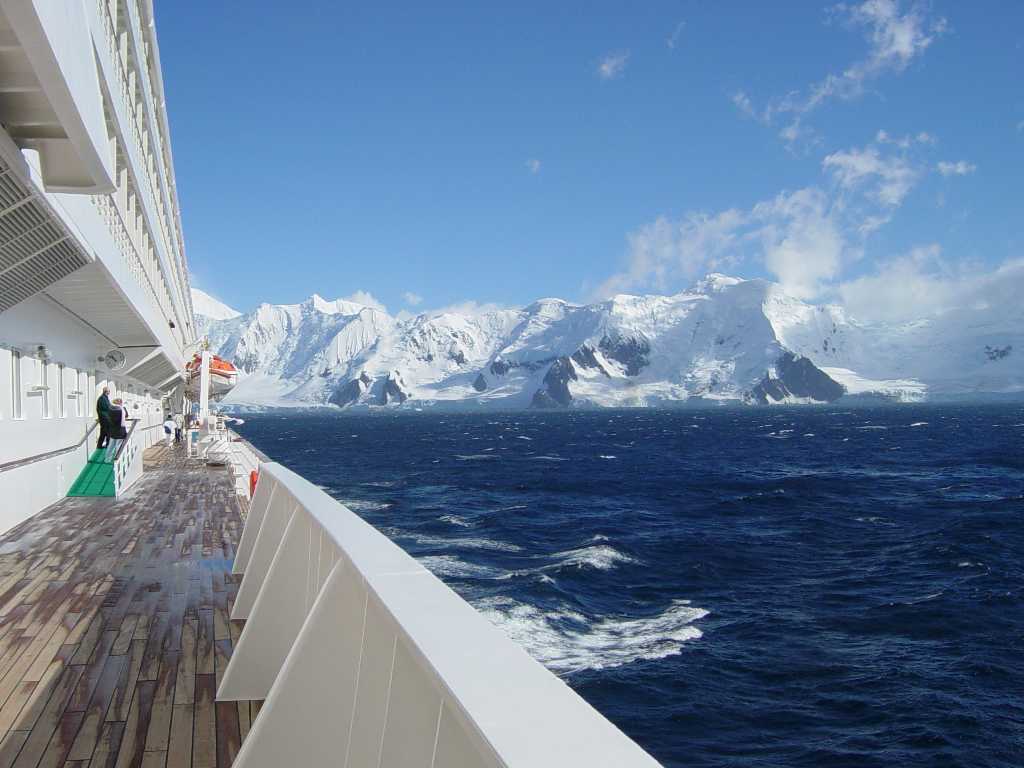 Atlas Ocean Voyages today announced that it will unveil its inaugural winter 2021/22 Antarctica season in early-May 2020. The Luxe-AdventureSM travel brand will launch sales of its Antarctica season ahead of schedule to provide Travel Advisors more opportunities to take advantage of the most immediate and generous program called GET PAID NOW. GET PAID NOW immediately assists Travel Advisors with up to $750 per deposited booking, and their clients receive up to $2,000 savings and more on an exhilarating Luxe-Adventure journey aboard World Navigator. World Navigator, Atlas Ocean Voyages' first expedition ship launching in mid-2021, will embark on her maiden Antarctica LuxpeditionSM in November 2021 and bring adventurers and like-spirited travelers to the southernmost, most isolated continent for towering icebergs, waddling penguins, playful seals, breaching whales and more.
"Travel Advisors have always been an indispensable partner for cruise lines and now, they need our support more than ever," said Alberto Aliberti, President of Atlas Ocean Voyages. "Atlas Ocean Voyages created GET PAID NOW to support our valued Travel Advisor community as we navigate these unprecedented times. And we're opening up our 2021/22 Antarctica season sales early, on May 4, so Travel Advisors can offer more destinations – and more choices – when discussing future travels with their clients. We will all travel again and small, safe, luxury expedition ships like World Navigator will help lead the cruise industry's recovery."
"We know Travel Advisors are working extra hard these days planning future dream vacations and travel experiences for their clients," said Brandon Townsley, Vice President of Sales and Trade Partnerships for Atlas Ocean Voyages. "To support them and recognize their efforts, we want Travel Advisors to GET PAID NOW for selling a Luxe-Adventure journey to the end of the earth aboard one of World Navigator's 2021/2022 Antarctica voyages."
Atlas Ocean Voyages' GET PAID NOW recognizes Travel Advisors for their critical role in fulfilling their clients' curiosities and dreams. GET PAID NOW is applicable for all Atlas Ocean Voyages' itineraries, including the inaugural 2021/22 Antarctica season, and is combinable with all current Atlas Ocean Voyages promotions. For every booking with deposit, Travel Advisors will receive:
A

$750

gift card per suite NOW
A

$500

gift card per Horizon and Veranda stateroom NOW
15% commission
Adventurers and like-spirited travelers enjoy:
$1,000

savings plus FREE business-class air travel per suite guest

$500 savings

plus FREE economy-class air travel per Horizon- or Veranda-stateroom guest
Free changes to any itinerary, departing before

March 31, 2022

.
Atlas Ocean Voyages is a member of the International Association of Antarctica Tour Operators (IAATO), a member organization founded in 1991 to advocate and promote the practice of safe and environmentally responsible private-sector travel to the Antarctic. Safety is the basic building block of World Navigator and the ship is rated Polar Category C and Ice Class 1B and utilizes underwater forward-looking radar to confidently ply icy polar waters.
Additionally, the ship's exclusive, alternate hydrojet propulsion system helps World Navigator quietly cruise into wildlife-rich Antarctic harbors and calderas without disturbing marine animals. Guests will be able to see Antarctic wildlife closer from World Navigator's Water's Edge Lookout, the lowest expedition ship's bow observation area in the industry and the only one with heated benches for extended marine-life spotting and admiring the pristine Antarctic scenery. Atlas Ocean Voyages' ships are also among the first to employ the latest conservation and sustainability technologies – leaving nothing behind but footprints in the snow – to help preserve the breathtaking locales and waters they ply for future generations to enjoy.
Atlas Ocean Voyages is an all-inclusive, luxury travel brand that will be defined by simple elegance and will deliver authentic, thrilling, and once-in-a-lifetime Luxe-AdventureSM experiences in the world's most sought-after and remote destinations. Adventurers and like-spirited travelers will find community aboard Atlas Ocean Voyages' small, expedition ships and come together in welcoming and lively venues to share their day's exploits. Guests stay in one of 98 luxe suites and staterooms, all with an ocean view and most with a private balcony.