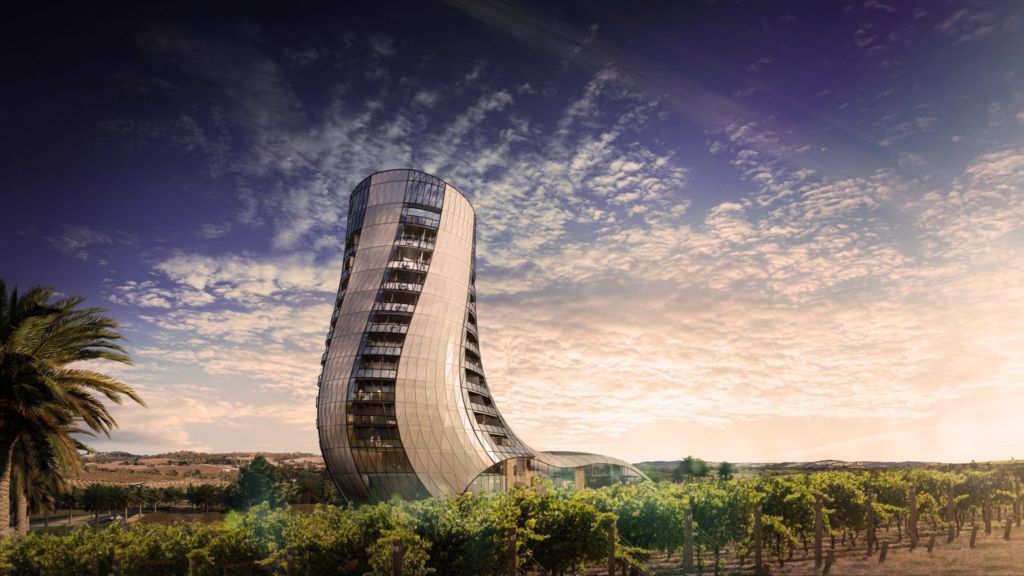 An iconic $50 million six-star luxury hotel project is being proposed at Seppeltsfield to drive luxury tourism in the Barossa wine region.
Designed by Adelaide-based practice Intro Architecture, the Oscar Seppeltsfield hotel will rise to 12 storeys and contain approximately 70 rooms, each with a balcony. The top level will comprise a "sky bar" and the building will also be home to a day spa, restaurant and boardroom.
The six-star hotel has been named after vintner Oscar Benno Seppelt. The design philosophy was borne watching the experienced craftsmen wield their tools, as they contort and convex each timber stave into an iconic, recognisable form – the Barrel. This icon represents the many facets and complexities of Seppeltsfield's history.
In a statement, Seppeltsfield owner Warren Randall said, "Oscar will complete the grand vision of our tourism master plan for Seppeltsfield to become the most desirable epicurean destination for tourists worldwide. We wanted to create a national icon for South Australia – a Sydney Opera House for the Barossa."
The Barossa Valley is a renowned wine-producing region northeast of Adelaide, in South Australia. The area encompasses towns such as Tanunda, Angaston and Nuriootpa, and an array of high-profile wineries offering tours and cellar-door tastings. Shiraz grapes are the local speciality. The stone cottages and Lutheran churches throughout the region are testament to a 19th-century wave of German settlers.