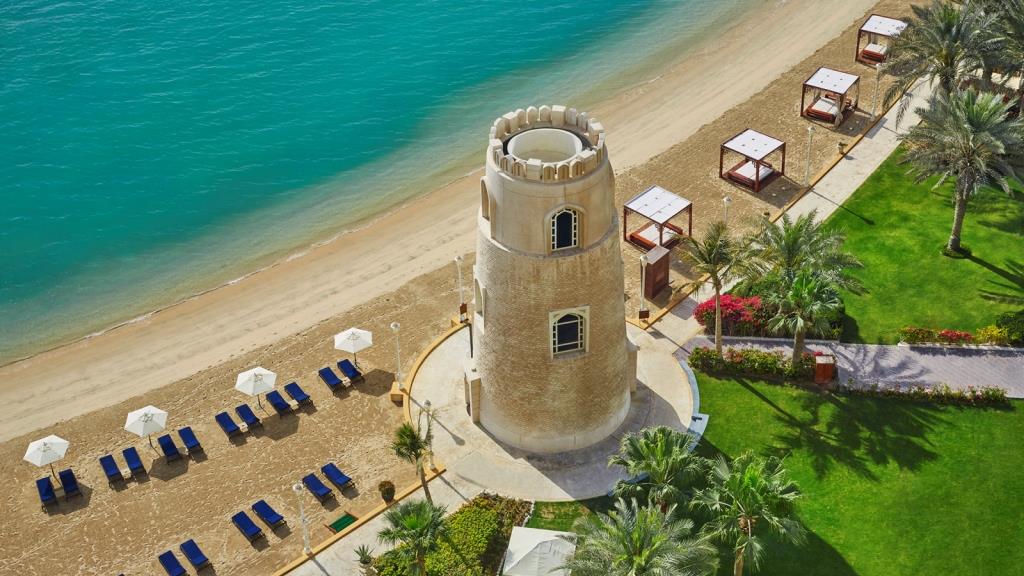 A leader of Qatar's luxury hospitality scene, Four Seasons Hotel Doha is now open and welcoming its first guests following extensive renovations and a complete redesign by Pierre-Yves Rochon. The world-renowned interior designer has reshaped the property into an unmatched luxury destination at the centre of Qatar's capital city, with residential warmth and comfort that is further enhanced by the friendly and intuitive service that is reflective of Four Seasons hospitality.
The entrance has been enhanced with a grandiose door, reminiscent of grande dame entrances, and the Lobby has been redesigned as an open-plan space, allowing light to flood through the foyer as well as boasting views of the Arabian Gulf. The Lobby boasts an array of handmade and bespoke Italian furnishings, including a hand-blown glass chandelier that takes centre stage and adorns the Lobby's ceiling.
Set along the picturesque beachfront of the Arabian Gulf, and in close proximity to the cultural landmarks of Doha, the vast renovations span an entire redesign of the Hotel's bedrooms, suites, guest floors, Lobby and dining outlets. The public areas have adopted a range of greens to evoke the feeling of a garden and new life.
In addition to offering Hermès amenities in all suites, and state-of-the-art technology, the Hotel will continue to pay homage to Qatari heritage with features such as mother of pearl inlay, while complementing a contemporary rejuvenation. Pierre-Yves Rochon's inspiration was the capital city itself, where the world of man and the beauty of nature meet. The redesigned rooms follow a soothing spectrum of blues and beiges reflecting the colours of Doha, where the sky, sea, sand and earth come together and impart a more residential feeling. The rooms are equipped with energy-efficient technologies, featuring automated curtains and lighting systems as well as temperature management preservation technology within the newly installed windows.
"PYR has transformed this glorious seafront property into a refreshed and vibrant hotspot, while keeping true to its Qatari roots," states Jeff Rednour, General Manager. "Four Seasons Hotel Doha has been at the forefront of Qatari hospitality since its inception, and the complete regeneration of this beloved property highlights the history and heritage behind it, while adapting to today's guest expectations."
As well as a complete redesign of the interiors, the Hotel introduces the expansion, as well as the redevelopment, of its diverse dining and lounge concepts. Arabica, located on the ground floor of the Hotel, returns with a contemporary new look and coffee and dessert bar. Bold and neutral in its colour scheme, the space houses marble furniture that echoes the octagonal shape of the conservatory. This will be the destination of bespoke coffee, specialising in single origin beans and a selection of reimagined takes on childhood favourites, including an ever-changing variety of doughnuts and cupcakes.
Also refurbished is the Seasons Tea Lounge, which is luxuriously comfortable and exudes Parisian chic by blending classical and modern forms. Featuring a French Winter Garden that opens up into a terrace, Seasons Tea Lounge brings the outdoors inside with strong shades of green that are highlighted by a commanding hand-blown glass chandelier. Seasons Tea Lounge serves a carefully-crafted menu of French delicacies with tableside service that evokes the grandeur of a Parisian café.
The re-opening of the Hotel also welcomes The Study, an outdoor bar and lounge concept, on a terrace adjoining the Library and Cigar Lounge – a city favourite that maintains its beloved classic features while also serving a selection of cocktails, each with their own story to tell. The Study is inspired by that of Ernest Hemingway as a place of thought and reflection, and reflects the palm trees and the sea outdoors. This outdoor space is yet another addition to the Hotel's unique variety of dining outlets.
The completion of further enhancements will be announced later in 2020, and will include the refurbishment of a space previously held by Il Teatro, which will relaunch with a brand new concept by a celebrated Michelin star chef.
Doha: A Dynamic Cultural Destination
The Hotel reopens as Qatar continues to establish itself as a major player in the world of contemporary art. At the end of 2018, Al Riwaq Art Space hosted the single largest show of Damien Hirst's works. Furthermore, Qatar's already rich cultural offering was further enhanced in 2019 with the opening of the hotly anticipated National Museum of Qatar, designed by French architect Jean Nouvel. Meanwhile, the new Doha Metro system is shaping up to be a modern marvel and will connect Hamad International Airport to key cultural locations across Doha and beyond.
In addition to the city's burgeoning arts scene, Doha will continue to host the Qatar International Food Festival taking place from March 20 to 30, 2020. The multicultural festival celebrates the country's diverse food, beverage and hospitality offerings as well as invites visitors to enjoy special culinary experiences in scenic outdoor spaces. Four Seasons Hotel Doha will host its very own celebration, World of Nobu, on March 25 and 26, 2020. Celebrating Chef Nobu's long and personal journey to becoming a global sensation, nine head chefs from Nobu restaurants around the world, including Nobu Matsuhisa himself, will unite for two days of gastronomic events.
Special Savings
Be among the first to experience the reimagined Four Seasons Hotel Doha, now accepting reservations. Guests can enjoy 25 percent off the Hotel's Room Rate when booking stays at least 21 days in advance.