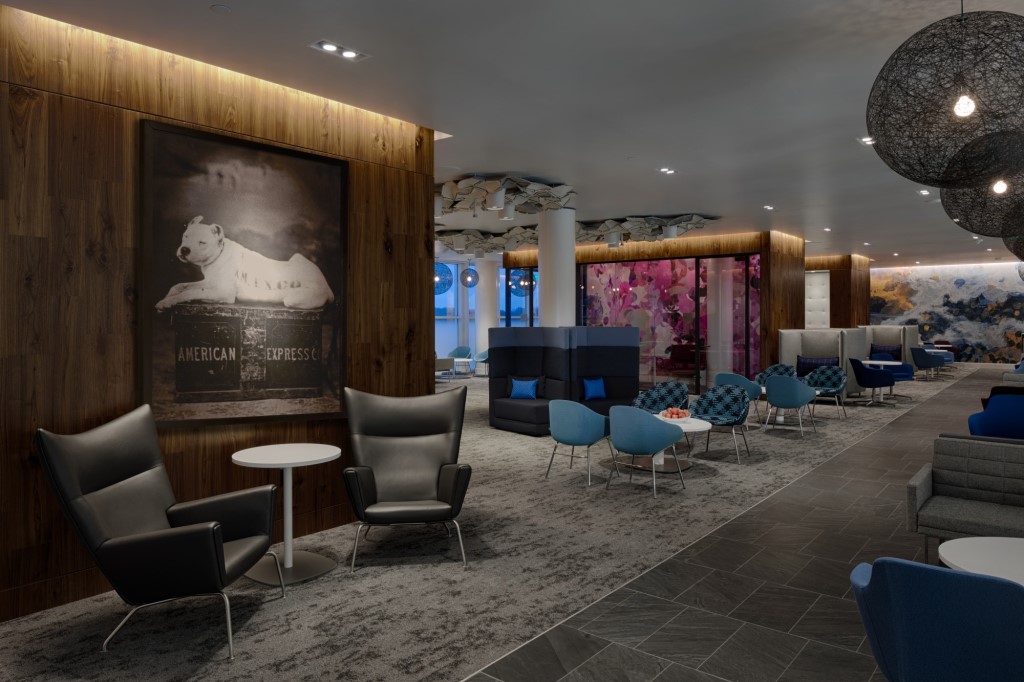 American Express has announced that The Centurion Lounge at Charlotte Douglas International Airport (CLT) will open on Monday, Feb. 24, 2020, marking the company's 11th location within its iconic Centurion Lounge network.
As the seventh busiest airport in the world and with more than 46 million travelers passing through, Charlotte Douglas International Airport will host one of the largest Centurion Lounges to date spanning more than 13,000 square feet. The new Centurion Lounge location will welcome Platinum Card, Centurion and Delta Reserve Card Members and their guests to redefine their pre-flight experience with top of the line amenities and a premium dining menu curated by James Beard semifinalist and local Charlotte Chef, Joe Kindred. The new location will be located post-security on the top floor of the airport's newly expanded area called The Plaza, situated between Concourses D and E.
"As lounge access is one of the most important benefits to our Card Members, we are excited to continue enhancing their airport experiences with premium travel benefits such as our Centurion Lounges," said Alexander Lee, vice president of loyalty and benefits at American Express.
"The new Centurion Lounge in Charlotte builds on the ongoing expansion of our airport lounge offerings, marking our second new Centurion Lounge to open this year, and 11th Centurion Lounge globally," he said. "From premium amenities, to a taste of some of the region's best culinary offerings, we're excited to bring this new location to Card Members traveling through Charlotte."
As the executive chef of the new Centurion Lounge, Chef Joe Kindred brings his local flair to the food menu for Card Members to enjoy. A James Beard semifinalist, Kindred is the chef owner of Kindred in Davidson, N.C., and Hello, Sailor in Cornelius, N.C., with his wife, Katy Kindred. Kindred's menu will be inspired by his experience and memories growing up in North Carolina and will include a range of dishes such as buttermilk fried chicken with a fresh and tangy Carolina slaw, grilled cauliflower steak topped with a pistou sauce, milk bread french toast using Kindred's infamous milk bread, and country ham biscuits spread with a red eye sorghum butter.
"I'm thrilled to partner with American Express to bring some of our southern hospitality to Charlotte Douglas International Airport," Kindred said. "The Centurion Lounge menu is inspired by our restaurants Kindred and Hello, Sailor, as well as our local North Carolina cuisine, to give travelers visiting the Centurion Lounge a look into what they can experience in the evolving Charlotte restaurant scene."
In addition to the locally inspired food menu from Chef Kindred, the new Charlotte Centurion Lounge will offer Platinum Card, Centurion and Delta Reserve Card Members, along with their guests, access to premium amenities and services including:
A complimentary full bar with custom cocktails created by renowned mixologist Jim Meehan and wines selected by wine authority, Anthony Giglio
A custom mural by local artist Amanda Moody
Shower suites to keep travelers refreshed while on the go
Family rooms designed as a respite for parents and kids alike
Floor-to-ceiling windows with sweeping airfield and downtown skyline views
Essentials for business and leisure travelers alike, including dedicated workspaces, power outlets, private phone areas, comfortable seating and access to high-speed Wi-Fi