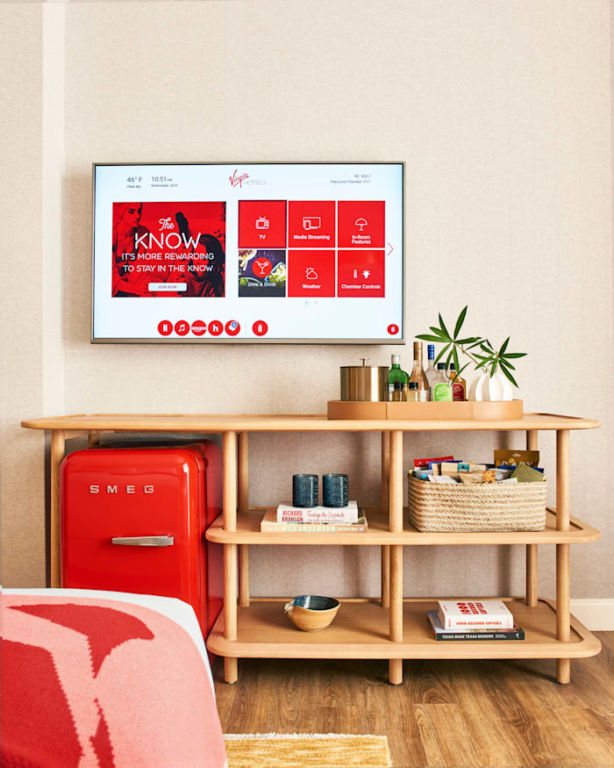 The highly anticipated third Virgin Hotels property is located in the Dallas Design District on 1445 Turtle Creek Boulevard. It features 268 Chambers, including two penthouse suites, The Pool Club – a fourth-floor rooftop terrace with pool – as well as multiple dining and drinking outlets.
"I've always had so much fun visiting Dallas, so I'm thrilled that Virgin will have a home in this exciting city. Our hotel in the Dallas Design District will have all the signature features of a Virgin Hotels including the Commons Club, our beautiful Chambers and my personal favorite, the Yes button. But I think I'm most excited to take a dip in our wonderful rooftop pool," said Richard Branson, founder of the Virgin Group.
Virgin Hotels Dallas is the first hotel in the booming Design District, which includes a vast array of furniture shops, interior design studios, art galleries, museums and restaurants.
Chambers at Virgin Hotels Dallas offer a bright and airy space, with warm textiles and Design District-sourced accessories and lighting. The Dressing Room includes a full vanity tucked between two white oak closet systems, a makeup desk with an illuminated mirro and an extra-large shower with a bench. A sliding wooden door separates it from The Lounge, which features Virgin's patented bed with a channel-tufted headboard, a red Smeg mini-fridge stocked with snacks and a yoga mat.
There's three dining and drinking options at Virgin Hotels Dallas: Commons Club, Funny Library Coffee Shop and The Pool Club.
Commons Club includes The Kitchen by Matt McCallister, where the celebrated chef showcases a refined, seasonally-driven menu with French influence. The Bar at Commons Club offers a cocktail menu rooted in classics and features specially curated live entertainment. The ground-level restaurant serves breakfast, lunch and dinner and there's even a dog-friendly patio so man's best friend doesn't need to miss out.
Funny Library Coffee Shop is a communal workspace with an assortment of books and games. They serve Laughing Man coffee, the brand co-founded by Hugh Jackman, which gives back to people in need.