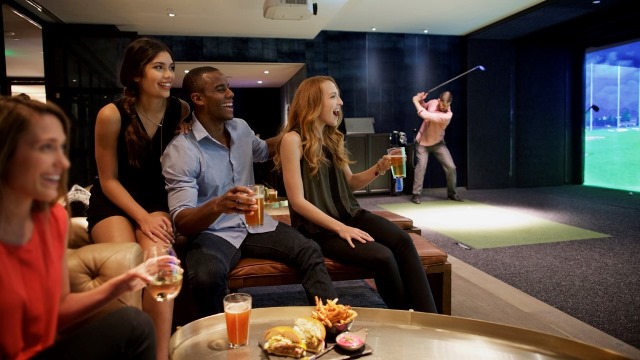 Four Seasons Hotel St. Louis announces the addition of Topgolf Swing Suite, further enhancing on-property entertainment options at the Hotel and Lumiere entertainment complex.
The Suite will feature two simulator bays and a variety of virtual games – including the popular Topgolf target game, Zombie Dodgeball, Hockey Shots, Baseball Pitching Carnival Classic and more – paired with comfortable lounge seating, and food and beverage service overseen by James Beard Award winning Chef Gerard Craft of Cinder House Restaurant and Bar.
"We are thrilled to expand our entertainment offerings on-property with the only Topgolf Swing Suite available in downtown St. Louis. Guests, locals and groups of all ages can participate in team building events, a fun date night or games with friends," says General Manager Alper Oztok.
Up to eight people can play, eat, drink and hang out in each bay. The space will be available to rent for business and social gatherings, including birthday and bachelorette/bachelor parties, team building events, corporate meetings and more.
"We are proud to team up with Four Seasons Hotel St. Louis to provide a new kind of interactive social experience that will entertain visitors of all ages and skill levels in downtown St. Louis," said Topgolf Swing Suite President Ron Powers. "Powered by industry-leading Full Swing simulators, games are designed for both non-golfers and golfers alike, so everyone can have a great time."
In conjunction with this exciting addition, Four Seasons Hotel St. Louis will also be undertaking a refurbishment of the 8th floor lobby and 1st floor arrival lobby- led by local design team S. Aleksandr Malinich, Co-Founder and Design Principal of R|5 DESIGN AGENCY (a subsidiary company of CASCO Corporation).
The Topgolf Swing Suite and lobby renovation will be completed at Four Seasons Hotel St. Louis in the spring of 2020. The Topgolf Swing Suite will be located on the 8th floor of the Hotel.