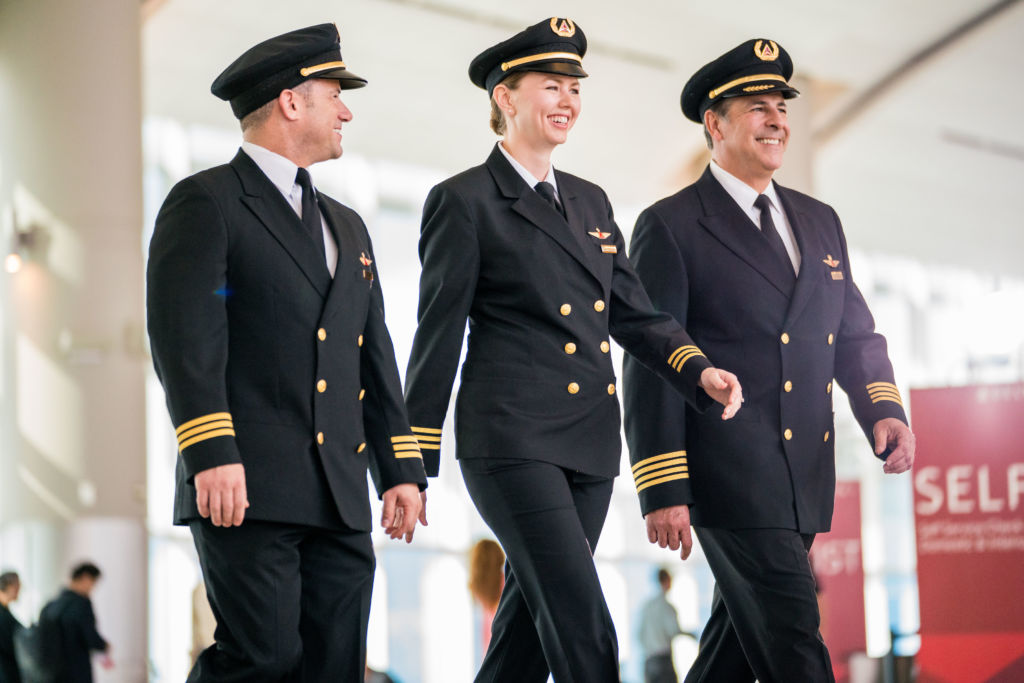 Delta AIr Lines International flight crew unveils their new uniforms in Atlanta, Ga. on Thursday, February 22, 2018. (Taylor Zorzi/Rank Studios)
Delta is launching the Delta Propel Pilot Career Path Program to identify, select and develop the next generation of pilots. This industry leading program complements the traditional, existing paths to becoming a Delta pilot and has three main areas of focus — college, company and community. This three-pronged approach will help Delta support future aviators as well as current Delta employees who have a passion for aviation and strong interest in becoming a Delta pilot.
"Delta conducted several years of research to create a pilot outreach and pathway program that will inspire and attract the next generations of high-quality talent," said Steve Dickson, Senior Vice President – Flight Operations. "As a global industry leader, we are taking a holistic approach to expanding the opportunities available to aspiring pilots. We listened to feedback from students, parents, faculty, administrators and Delta employees to help overcome barriers for potential pilot candidates such as career path uncertainty and the Certificated Flight Instructor shortage. We then rolled up our sleeves and developed the Propel program that will provide a defined, accelerated career path for these future aviators."
During the next decade, Delta expects to hire more than 8,000 pilots to staff the thousands of daily flights it operates around the world as other pilots approach mandatory retirement age. The Propel program will supplement the airline's current recruiting structure, which includes recruiting and hiring pilots currently flying in the airline, military and corporate sectors.
Regardless of the path, any pilot participating in the program will meet all of the qualification requirements and testing aspects of Delta's current pilot hiring model, which will be metered over the course of their development.
In addition to the financial options currently available to students at flight training providers and our collegiate partners, Delta is exploring whether other potential financing opportunities might be available for employees and students.
The program builds on Delta's long-standing investments in the future of aviation professionals and the communities it serves worldwide.
College Path
Delta is initially partnering with eight universities with accredited aviation programs to interview collegiate aviation students. Successful candidates will be provided a Qualified Job Offer (QJO), detailing a defined path and an accelerated timeline to become a Delta pilot. The airline plans to add additional university partners in the future.
Students with a QJO will receive an advanced engagement opportunity that will immerse them in the Delta culture on and off campus including a Delta pilot as a mentor for the duration of their training and career.
Initial partner universities include:
The Propel program is the first in the U.S. to offer students their choice of three unique career routes and an accelerated timeline to progress to Delta, in 42 months or less, after:
Flying for one of the Delta Connection Carriers
A job-share flying for Delta Private Jets and instructing for one of Delta's partner collegiate aviation institutions, or
Flying military aircraft for the Air National Guard or Reserves.
The Collegiate Pilot Career Path will begin accepting applications in August 2018.
Company Path
The internal career path is a highly selective program to provide current Delta employees a career transition opportunity and the support to pursue a pilot career. This program will allow Delta to continue to invest in its people, tapping into their passion for aviation and the strength of the Delta culture.
A limited number of candidates will be chosen each year and will be provided with a Qualified Job Offer (QJO) detailing a defined path and timeline to become a Delta pilot. The QJO will include a path and timeline back to Delta as a new hire pilot, an advanced engagement commitment, including mentoring from an active Delta pilot, and a Leave of Absence program.
Selected employees participating in the Propel Company Pilot Career Path will:
Earn their remaining certificates and ratings at one of the nation's leading flight training providers, including:

ATP Flight School
FlightSafety Academy

Build their time as a Certificated Flight Instructor at the program they trained at
Work for a Delta Connection carrier for 42 months or less before returning to Delta as a new hire pilot
The Company Pilot Career Path will begin accepting applications August 2018.
Community Outreach
Delta is leveraging current relationships with aviation organizations and establishing new ones to identify and support aspiring pilots, including engagement with kindergarten through high school students. Key partnerships include Aviation Career Enrichment, Civil Air Patrol, Conyers Middle School – Center for Technology and Engineering, National Gay Pilots Association, National Flight Academy, the National Intercollegiate Flying Association, Organization of Black Aerospace Professionals, West Michigan Aviation Academy and Women in Aviation International.
Delta pilots will continue to teach students about aviation and familiarize them with pilot career opportunities through the Propel Community Outreach. Scholarships, consistent engagement and a robust mentoring program will help the airline enhance the diversity of the candidate pool and support a more inclusive selection process.
As part of its annual giving, Delta is committed to invest one percent of its net income into the communities where employees live, work and serve. The airline's giving is guided by its key pillars of education, global health and wellness, and supporting armed service members and veterans. In 2017, the airline invested more than $45 million into worldwide communities.