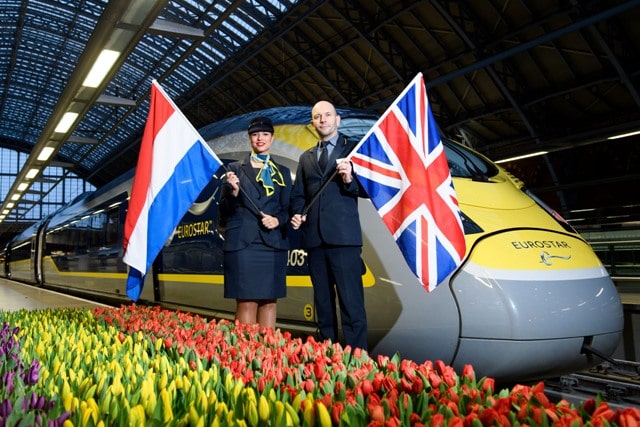 Eurostar has launched its new sustainable holidays' collection, recommending eco-friendly hotels in combination with the most environmentally-friendly choice for short-haul European travel.
The exclusive collection covers a range of hand-picked and environmentally-friendly holidays across several European destinations, including London, Paris, Brussels, Lille, Amsterdam, Rotterdam and more.
Designed to offer leisure passengers an effortless experience when booking their trip, Eurostar customers can quickly and easily identify their preferred sustainable holiday by filtering their preferences across a range of price points and locations.
Eurostar Holidays collection covers a range of eco-hotels for different budgets, including five-star options such as the Pulitzer in Amsterdam, the Ritz in London and the Sofitel Baltimore Tour Eiffel in Paris.
With each Eurostar journey emitting up to 90% less greenhouse gas emissions than the equivalent short-haul flight, and less carbon emitted per passenger than a single car journey from central London to Heathrow airport, the environmental benefits of high-speed rail are significant. The new sustainable holiday collection follows a series of environmental commitments by Eurostar to mark its 25th anniversary earlier this month.
Planting a tree for every train
Eurostar reinforced its environmental credentials by committing to plant a tree for every train travelled across all its routes from 1st January 2020. Working in partnership with the Woodland Trust, ReforestAction and Trees for All, 20,000 additional trees will be planted every year in woodlands across Eurostar's markets of the UK, France, Belgium and the Netherlands.
Third star from the Sustainable Restaurant Association
To mark its commitment to provide sustainable and responsibly sourced food on board, Eurostar has recently been awarded the highest rating of three stars from the Sustainable Restaurant Association (SRA).
The SRA three-star accreditation demands a very high standard of sustainability with ingredients that are seasonal, Fairtrade or organic, not air-freighted and sourced from farmers with high environmental and welfare standards.
Ease of travel
With quick and convenient check-in, a seamless city-centre to city-centre journey, and a generous baggage allowance, Eurostar is the ideal way to travel between London and mainland Europe.