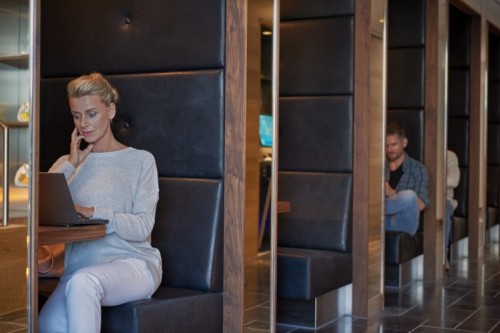 KLM's non-Schengen Crown Lounge, the lounge's official name, is located between the E and F piers at Schiphol. The "KLM House" is immediately noticeable by its illuminated glass wall adorned with some five thousand Delft blue miniature houses. Visitors to the lounge take the escalator to the top and embark on a journey back in time past these iconic World Business Class gifts. Personal lounge assistants welcome them into the house. They can gain quick access by scanning their boarding pass at the self-service machines. The white marble lounge desk takes the shape of a giant KLM logo and the lounge offers a great view of the runways, piers, and the KLM fleet in the background.
Double Crown
KLM's non-Schengen Crown Lounge capacity has doubled in size.
"The lounge now covers an area of 6,800 square metres with about a thousand full-free-service seats. What's more, there are about two hundred exclusive seats in the Blue Bar and Restaurant with equally exclusive levels of service. Customers can pay with their Flying Blue miles there. By doubling the capacity, KLM is taking our expected growth in visitor numbers into account. It's quite a great feat. We are offering our customers and those of our partner airlines an unforgettable experience – a crowning achievement to our hundredth anniversary," said Eelco van Asch, Senior Vice President, KLM Ground Services
KLM's non-Schengen Crown Lounge reflects the airline's image: comfort, customer focus, and innovation. New food and beverage ideas, digital support such as self-service access, and the lounge staff service all contribute to the personal experience. The online Lounge Guide offers visitors a constant digital assistant to help them find their way around, book services, check flight details, or request personal assistance from one of the Personal Lounge Assistants.
Concept
KLM wants to offer customers a completely new experience through its innovative service concepts. Working with the architectural firm 'concrete', the airline has designed five different "Dutch landscapes" to meet the varied wishes and needs of its customers, whether they want to work, relax, refresh, eat, drink, find entertainment, or engage in fine dining. The 5 landscapes are:
In the Polder landscape, customers can work ideally and relax at the same time. The carpet, decorated in varying shades of green, is reminiscent of the Netherlands' vast pastureland. And a 110-metre LED light wall simulates the Dutch sky. The lighting adapts to the time of day and includes a beautiful sunset.
In the lively City landscape, customers can enjoy "live" cooking, a Heineken Bar, specially designed by Heineken, and a coffee bar with a barista. The new food and beverage concept – characterised by stylish, high-quality, and fresh seasonal products – comes from KLM's partner Vermaat. Reducing waste is an important pillar for both companies to lounge catering.
The Sea offers everything customers need to recharge their batteries during their journey. The area has twenty free showers, which customers can reserve in advance at the lounge's self-service kiosks. The luxury sleeping cabins offer privacy, tranquillity, and comfort – for a fee – using Flying Blue miles, or three hours for EUR 49,50. It's the perfect place to close your eyes and rest during a transfer or a long journey. In the future the showers and sleeping cabins will be equipped with digital allocation systems using QR codes.
The striking Dutch Mountain zone offers visitors a variety of options for working and having fun, from a TV room to a DJ stand for special events. It devotes attention to Dutch design and offers historical attributes from KLM's heritage.
Sky is an exclusive and original area on the second floor. At the explicit request of KLM customers, Sky's high-end setting offers a terrace with a beautiful view of Schiphol Airport. You can enjoy excellent meals and a wide range of drinks in Blue by KLM, a restaurant and adjacent bar for an extra fee. Blue's menu is compiled by Joris Bijdendijk of RIJKS®, the Rijksmuseum's Michelin-starred restaurant. Blue offers a fantastic gastronomic experience, carefully considering individual timing and personal needs.
The lounge is open daily from 04:45 until the last KLM flight departs.