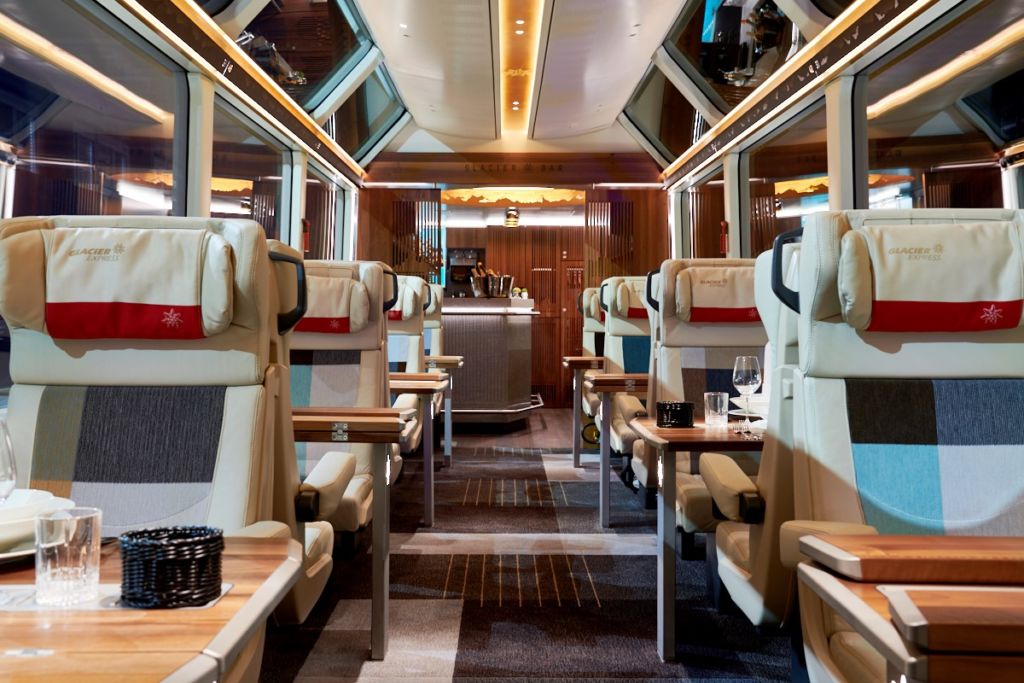 Back in 1930, the founding railway companies were already providing their best carriages for the journey between the Engadine and the Matterhorn. Since then, the Glacier Express has been offering one of the most popular scenic railway experiences in the world. "Nevertheless, the new challenges presented by digitalisation, fewer bookings through traditional channels and the abolition of the flat rate tax subsidy meant that we at the Matterhorn Gotthard Bahn (MGB) and Rhaetian Railway (RhB) had to give serious consideration to making the Glacier Express fit for the future," says Isidor Baumann, chairman of Glacier Express AG. Founding the independent company in 2017 was the first step. Now Excellence Class is setting new standards in experience, service and quality.
The new Excellence Class offers passengers a five-star service and fabulous views courtesy of guaranteed window seats. The journey between St. Moritz and Zermatt takes eight hours. The two Excellence Class carriages run once a day in each direction from 2 March to 13 October 2019 and from 15 December 2019 to 11 October 2020. The Excellence Class experience requires a regular 1st class ticket as well as the supplement of CHF 420 – the Swiss Federal Railways Half-Fare, GA and Swiss Travel Pass travelcards are valid.
Included in the price are refinements such as the guaranteed window seat, a welcome aperitif, a five-course meal with wine accompaniment, tea time plus soft drinks and coffee. The gastronomy makes a feature of local ingredients sourced from the regions through which the train passes. Although by Swiss standards Excellence Class represents a whole new league, it is pitched just right for the international premium market, as Helmut Biner, long-serving head of markets at MGB, knows only too well: "The supplement corresponds to an overnight stay in a good Alpine hotel – a valid comparison."
Personal Concierge
Matching the luxurious interior is the refined service: a concierge ensures the well-being of up to 20 passengers – from the moment they board, to serving the meal and refreshments and pouring drinks at the bar.
The concierge is also familiar with the highlights of the route, with the assistance of an on-board infotainment system, which passengers can access via personal tablets at their seat. Reminiscent of the style of the gilded wagon-lits years, the concierge's livery hints at the revival of on-rail luxury between Zermatt and St. Moritz.