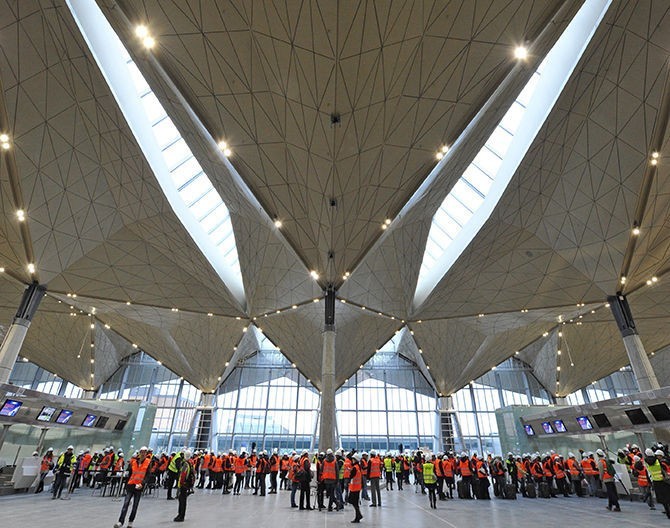 On December 28, Pulkovo St. Petersburg Airport welcomed its 18 millionth passenger in 2018, marking the airport's historic record in traffic figures for one calendar year. The previous highest number was 16.1 million, a mark that Pulkovo Airport reached in 2017. Thus, the result for 2018 has demonstrated the increase of 11.8% year-on-year.
Vladimir Yakushev, Chief Executive Officer of Pulkovo International Airport operator Northern Capital Gateway LLC, noted:
"The year of 2018 was full of firsts and achievements for Pulkovo. We opened 19 new routes and welcomed four new foreign airlines. For the first time, the St. Petersburg air harbor welcomed the world's largest passenger aircraft Airbus A380, as well as one of the newest types of narrow-body aircraft Boeing 737 MAX 8. Serving 18 million people in one year is a historical record for St. Petersburg airport. We are grateful to our passengers for their trust choosing Pulkovo as a starting point for their journey and a gateway to Russia."
The record passenger of Pulkovo in 2018 was Lyudmila Bembeeva departing for Volgograd with Pobeda flight DP517. Vladimir Yakushev congratulated the traveler and presented her with a set of exclusive gifts from the airport and a certificate for visiting the business lounge. In addition, Lyudmila received a set of branded souvenirs from Pobeda. Mimes and Pulkovo Airport mascot Yellow Cat, greeted passengers in the departures hall. The festive atmosphere was complemented by saxophone music and exquisite treats, including handmade truffle candies, Christmas desserts and tangerines.
Expanding its flight geography from Pulkovo Airport in the winter season2018/2019, Pobeda launched four new destinations: Kirov, Sochi, Istanbul (Sabiha Gokcen Airport, Turkey), and Cheboksary. In addition, Pobeda operates flights from St. Petersburg to Russian and foreign cities: Vladikavkaz, Volgograd, Bergamo (Italy), Yekaterinburg, Kaliningrad, Cologne (Germany), London (Stansted Airport, United Kingdom), Makhachkala, Mineralnye Vody, Moscow, Nizhnekamsk, Pisa (Italy), Rostov-on-Don, and Tbilisi (Georgia).