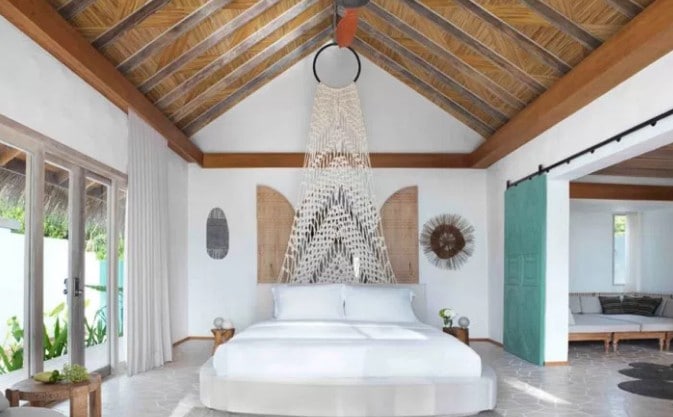 A new luxurious getaway operated by Fairmont Hotels and Resorts has opened in the idyllic setting of the Maldives.
Fairmont's latest offering is the pinnacle of luxury and isolation, located on the island of Gaakoshibee, Maldives, this new resort is made up exclusively of 120 luxurious villas on their own private lagoon resort, one of the biggest in the area. The resort opened this month and has been lauded for its tasteful design that will no doubt have high-class travelers flocking to the island in their droves. The architecture and design is typical of this exotic paradise, with the tastefully designed private water villas taking full advantage of the stunning location. Thatched roofs sit atop whitewashed walls, and the villas are erected on posts that let them hover over the crystal blue waters of the Indian Ocean, with private jetties offering panoramic views out over the sea. The villas are designed with personal deck areas that are furnished with sun loungers that surround individual plunge pools so guests have the utmost privacy on their vacation. The outdoor areas of the villas are orientated towards the sea, so residents are completely isolated from the other villas.
Fairmont Maldives. Spa, sunsets and seclusion
Sirru Fen Fushi translates to "secret water island", and this is exactly what guests can expect when they stay at the new Fairmont hotel. Guests can avail of the state of the art spa facilities, which allow holidaymakers to relax, revive and rejuvenate in one of the most idyllic locations on the planet. The Willow Stream spa draws on the hotel's natural surroundings to craft a contemplative and calm oasis, where treatments use local herbs and plants which connect back to the local culture of the island. The spa also boasts a 50m long serenity pool that is a treat for the senses, as the air is fragranced with aromatherapy scents. The hotel aims to enchant its guests, and claims the unusual offering of a submerged sculpture garden. Their website says, "With nature and art as your guides, dive into the resort's unique, mesmerising underwater sculpture park, explore the gently sloping 9 km house reef, castaway for a day, shoeless and carefree, and dine on gourmet cuisine by the light of the moon." The new hotel typifies Fairmont's mission to connect its guests with the best experiences that each destination has to offer.