Curio Collection by Hilton today welcomes The Porter Portland as its 50th property in its upper upscale portfolio of one-of-a-kind hotels and resorts handpicked for their unique character. Inspired by the independence and natural beauty of Portland, the hotel resonates the city's ambiance through its rich and textured aesthetic, with a name that personifies the tradition of personalized, anticipatory service.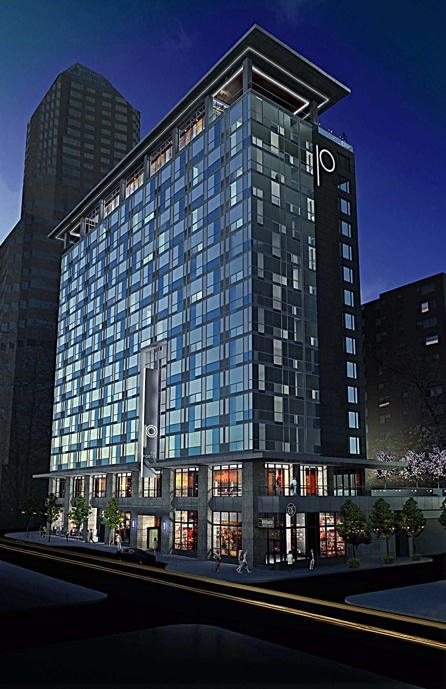 The Porter is home to 297 guest rooms, an expansive library, a heated indoor pool with Jacuzzi, as well as a sauna room, steam room, meditation spa, locker rooms and a 24-hour fitness center. Each guest room offers a touch of home, complete with complimentary Wi-Fi, imperial bath products, a mini bar stocked with local products and a complimentary selection of coffee and tea to enjoy in the comfort of Frette robes and slippers.
"We are proud to reach the milestone of 50 Curio Collection properties in our portfolio with a hotel as authentic and beautiful as The Porter Portland," said Mark Nogal, global head, Curio Collection by Hilton. "With service and a location that reflect the spirit of Portland, we know our guests will appreciate this valuable addition to our global portfolio of hotels and resorts."
Merely a 20-minute ride from the airport, the hotel rises 16 stories above the thriving Fountain District in the heart of downtown Portland. Guests arriving to the Pacific Northwest can enjoy premier shops, popular restaurants, the Keller Auditorium and the Tom McCall Waterfront Park just a short distance away from The Porter. While Portland is known as one of America's most walkable cities, the MAX Light Rail station is a quick stroll away for those looking to explore Greater Portland.
After a day of sightseeing, guests can unwind at the heated indoor swimming pool and sauna room or visit the 24-hour fitness center. With four new distinguished dining options, the hotel restaurants blend indulgence with Portland's love for the outdoors. The rooftop restaurant and lounge features outdoor dining decks, cozy fire pits and stunning views of the mountains.
Additional hotel features include:
DINING: Executive Chef AJ Voytko, who was awarded the Youngest and Brightest Chef by Anthony Dias Blue and the Rising Star from James Beard Foundation, oversees The Porter's four new dining options, all with seasonal cuisine inspired by the fresh and local ingredients of Oregon:
Terrane Italian Kitchen + Bar features soulful Italian cuisine complemented by the endless bounty of the Pacific Northwest, and with an open kitchen and grill that take center stage.
Xport Bar & Lounge offers globally inspired small plates and crafted cocktails for guests to enjoy while perched high above the bustle of Portland on the hotel's 16th floor. With two outdoor dining decks offering sweeping views of both the city and the Cascade Range, the lounge will take you, figuratively, to any place you wish to go.
Chiosco Pizza Window provides a taste of Terrane, serving Romano style pizza to people on-the-move.
The Portland Exchange Grocer & Goods is an ideal stop for guests heading out to explore Portland, serving a wide array of delicious offerings, from Italian-inspired breakfast sandwiches to fresh pastas prepared to go, with retail selections boasting local favorites.
MEETINGS & EVENTS: The property features more than 10,000 square feet of indoor and outdoor space. All meeting rooms bask in natural light with city views and are fitted with blackout blinds, if needed. Ballrooms boast expansive private patio spaces for exclusive outdoor experiences. There is even a restaurant-style patio bar depicting the Oregon landscape, creating a unique conversation starter. Unexpected finishes, such as shagreen textures and mirror-like surfaces, along with organic topographical shapes, create a unique yet familiar space perfect for corporate and leisure travelers looking to host a great event.
"With the wide array of unique food and beverage offerings and the thoughtful attention we have given to the hotel's services and amenities, we are confident that The Porter is poised to become a destination within the vibrant city of Portland," said Robert Spoto, vice president of operations for Widewaters Hotels.
The Porter is also part of Hilton Honors, the award-winning guest-loyalty program for Hilton's 14 distinct hotel brands. Members who book directly have access to instant benefits, including a flexible payment slider that allows members to choose nearly any combination of Points and money to book a stay, an exclusive member discount, free standard Wi-Fi and access to the Hilton Honors mobile app. Guests who book and stay during the first 90 days of the hotel's opening can earn 1,000 bonus Honors Points per night. Gold members will receive a complimentary breakfast at Terrane Italian Kitchen + Bar or choice of Bonus Points, while Diamond members will receive both.
Owned by Union Investment and managed by Widewaters Group, The Porter is located at 1355 SW 2nd Ave., Portland, Ore., 97201.