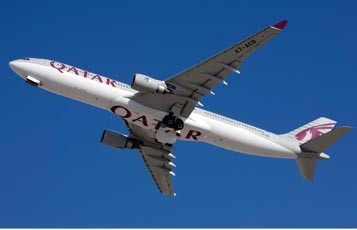 Qatar Airways, the Doha-based carrier, has upgraded its capacity on its Istanbul – Doha route, with an Airbus A330 aircraft.
As of 1 July, the introduction of the new wide-body aircraft results in an increased capacity on flights to Istanbul by 166 seats per day, a nearly 50% increase.
All flights on the Doha – Istanbul routes will be operated with a modern Airbus A330, featuring a two-class configuration, including up to 24 seats in Business Class and up to 258 seats in Economy Class.  The aircraft offers seatback TV screens providing passengers with the next generation interactive onboard entertainment system and a choice of more than 1000 audio and video on demand options.
Qatar Airways Flies An A330 To Istanbul
The Blue Mosque In Istanbul
Qatar Airways Chief Executive Officer Akbar Al Baker said: "After more than 10 successful years of operations in Turkey, we are absolutely delighted to introduce a wide body aircraft on our Istanbul route, which will provide our passengers extra capacity and an optimised level of service and comfort."
Istanbul is a popular route for leisure and business traffic and the additional flights will provide greater options for travellers in the midst of the holiday period.
"The route to Istanbul was initially introduced with 3 weekly flights and has now increased to a 10 flights-weekly flights due to strong passenger demand from the Turkish market," said Ian Lovelock, Qatar Airways Senior Manager Eastern Europe.
Qatar Airways has seen rapid growth in just 16 years of operations, currently flying a modern fleet of 127 aircraft to 128 key business and leisure destinations across Europe, Middle East, Africa, Asia Pacific and The Americas.
Qatar Airways has so far launched six destinations this year – Gassim (Saudi Arabia), Salalah (Oman), Najaf and Basra (Iraq), Phnom Penh (Cambodia) and Chicago (USA).Over the next few months, the network will grow further with Sulaymaniyah, Iraq (August 20), Chengdu, China (September 3) and recently-announced new routes of Addis Ababa, Ethiopia (September 18), Clark International Airport, Philippines (October 27) and Philadelphia, USA (2 April 2014).
ISTANBUL SCHEDULES
DOHA – ISTANBUL (Sundays and Thursdays)
Depart Doha on QR 482 at 0750hrs, arrive in Istanbul at 1220hrs
Depart Doha on QR 480 at 1400hrs, arrive in Istanbul at 1830hrs
DOHA – ISTANBUL (Mondays)
Depart Doha on QR 482 at 0750hrs, arrive in Istanbul at 1220hrs
Depart Doha on QR 480 at 1350hrs, arrive in Istanbul at 1820hrs
DOHA – ISTANBUL (Tuesdays and Saturdays)
Depart Doha on QR 480 at 1400hrs, arrive in Istanbul at 1830hrs
DOHA – ISTANBUL (Wednesdays and Fridays)
Depart Doha on QR 482 at 0750, arrive in Istanbul at 1220hrs
ISTANBUL – DOHA (Sundays and Thursdays)
Depart Istanbul on QR483 at 1320hrs, arrive in Doha at 1730hrs
Depart Istanbul on QR481 at 1930hrs, arrive in Doha at 2340hrs
ISTANBUL – DOHA (Mondays)
Depart Istanbul on QR483 at 1325hrs, arrive in Doha at 1735hrs
Depart Istanbul on QR481 at 1930hrs, arrive in Doha at 2340hrs
ISTANBUL – DOHA (Tuesdays)
Depart Istanbul on QR481 at 1935hrs, arrive in Doha at 2345hrs
ISTANBUL – DOHA (Wednesdays)
Depart Istanbul on QR483 at 1325hrs, arrive in Doha at 1735hrs
ISTANBUL – DOHA (Fridays)
Depart Istanbul on QR483 at 1320hrs, arrive in Doha at 1730hrs
ISTANBUL – DOHA (Saturdays)
Depart Istanbul on QR481 at 1930hrs, arrive in Doha at 2340hrs