Passengers flying British Airways will be among the first to be able to check their email and call their loved ones to let them know they've arrived soon after their plane lands.
The new relaxed rules regarding the use of electronic devices will take effect July 1 and apply to all British Airways flights around the world. It's welcome news for those passengers who routinely flout the rules regarding the use of electronic devices and turn their phones on as soon as the plane lands.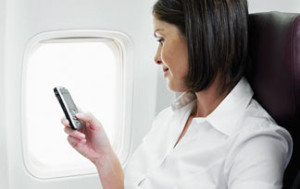 The move also makes British Airways the first European carrier to relax the rules which up to now restricted the use of mobile phones until the plane came to a full stop and reached the gate. As of next month, soon after the plane has landed and left the runway, passengers will be able to make use of their mobile devices. The use of electronic devices during take-off and landing, however, remain unchanged: they cannot be used.
"Customers will no longer have the frustration of having to wait until their plane has arrived at the terminal building before being able to use their mobile phone and other handheld electronic devices," said British Airways' flight training manager, Ian Pringle. "Now they'll have that extra time to phone ahead for that important business meeting, check their emails, or make sure someone is there to meet them at the airport."
The Civil Aviation Authority approved the new policy after being satisfied that the new move posed no safety implications. Similarly, the Federal Aviation Administration (FAA) is likewise considering easing restrictions on the use of electronic devices in the US. Their conclusions are due in September. In 2008, Dubai-based Emirates became the first airline to allow passengers to use their personal cell phones.
Meanwhile, a survey out of the US confirmed anecdotal evidence that passengers regularly flout aviation rules, as 30 percent of flyers admitted to accidentally leaving their device on during flight.