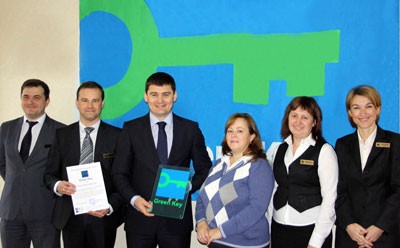 The Dnister Premier Hotel has recently received the prestigious international "Green Key" designation to certify its proactive stance towards the environment and the positive effects the company is having on responsible tourism.
The hotel was inspected by members of an NGO called "Ecological Initiative", the official representative of Green Key in Ukraine.
Ms. Victoria Radchenko, the Green Key representative in Ukraine, said, "We want to mark several major initiatives of the Dnister Hotel that have benefited the environment: usage of energy-efficient bulbs (over 50% of all bulbs used in hotel), light switches that turn off automatically after the guest leaves the room; water flow regulators and an energy-efficient heating system: these things all help to save energy".
The Dnister Premier Hotel also tries to involve its guests in such eco-friendly initiatives by not requesting a change of towels and bed linens on a daily basis and reducing air pollution by hiring a bicycle or using public transportation for travel within the city.
"We will continue to work on these environmental initiatives; they are the next step of the Happy World CSR program implemented by Premier Hotels, of which we are a part", said Andrey Balagura, Dnister Premier Hotel General Manager.
Green Key is an eco-friendly label that has been awarded to more than 1,800 establishments in 36 countries worldwide. It aims to raise the awareness of leisure establishment staff and clients, increase the use of sustainable business methods and technologies, and to run ecologically sound and responsible businesses in order to reduce the use of scarce resources and energy.