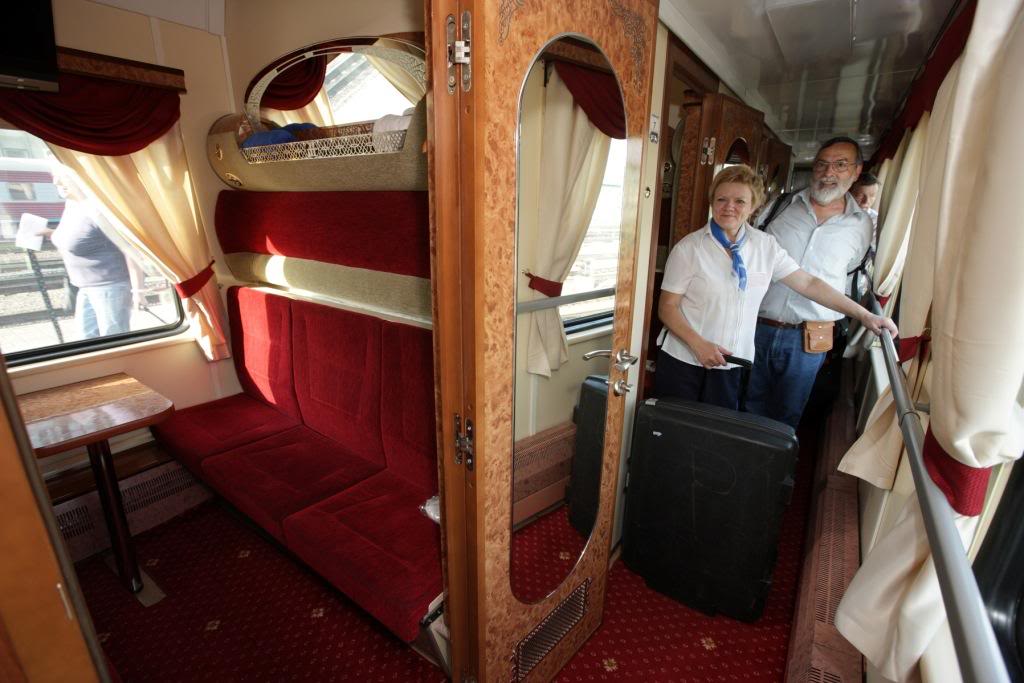 On 15 August, Russian Railways launched its new international Trans Siberian Moscow – Beijing train. The new tourist train on this route is an important step in the development of international railway tourism. Tourist trains differ from ordinary long-distance trains in that passengers are not simply conveyed from one point to another, but take part in a tourist programme during the journey.
The Moscow – Beijing train, which departed on 15 August 2011 and will arrive in Beijing on 29 August, is carrying travellers from 20 countries of four continents: Latin America, Asia, Australia, and Europe.
The Moscow – Beijing train has 21 carriages.
The carriages are of the following categories:
– "coupe" cars (with four-bed compartments)
– "SV" cars (with one or two-passenger compartments)
– "lux" cars (with one or two-passenger compartments)
The train has two restaurant carriages, one bar carriage, one canteen carriage, and a special carriage with shower cubicles. The shower carriage is for the use of passengers travelling in "coupe" and "SV". Passengers in "lyuks" class have showers in their own compartments.
Passengers on the Moscow – Beijing train are offered guided tour programmes at the following city stops: Kazan, Yekaterinburg, Novosibirsk, Krasnoyarsk, Irkutsk, Ulan-Ude, Ulan-Bator, and Erenhot. The tour programme will also include a trip to Lake Baikal. During the trip, passengers will be offered local cuisines and will be able to try various delicacies. Tour participants will also be able to take part in various entertainment programmes and musical evenings, watch films, and try learning the Russian language.
Passenger service will be available in seven languages.
A tourist train in the opposite direction, Beijing – Moscow, will be launched on 20 August, arriving on 4 September.
The Moscow – Beijing Trans Siberian train is a joint project of two tour operators – Russian Railways Tour and Intourist.
Russian Railways Tour was created in 2005, and is a specialized subsidiary of Russian Railways working in tourism. The company provides various services to corporate and private clients, and organizes tours in Russia and abroad. Russian Railways Tour is part of the Russian Railways Travel holding, of which a 51% stake was bought this summer by the Federal Passenger Company, a subsidiary of Russian Railways.