Not everyone is a heat lover. With low temperatures scaring away those who only want sun and sand, the coldest places are perfect to get away from the summer tourist masses. But if you're going to visit these wonderland's during the winter, be sure to pack your thermal undies and a hot water bottle.
10 Coldest Places on the Earth:
1. Astana (Kazakhstan) -52C

Kazakhstan's capital, one of the coldest places in the world, is renowned for its futuristic architecture; a tour of the 'Palace of Peace,' the Ak Orda Presidential Palace, or the Nur-Astana Mosque should be on the itinerary of any visitor. Bayterek, a 105m monument and observation tower is a symbol of the city and is said to embody a folk story about a tree of life, a magic bird of happiness and an egg. The Borat-style mankini is not recommended attire during the winter months.
2. Ulaanbaatar (Mongolia) -49C

Located on the bank of the Tuul River, Mongolia's capital is surrounded by four sacred mountains with dense pine forests on the northern slopes and grassy steppes on the south. Summers bring warm weather to the city, but winters are harsh so don some camel hair clothing like the locals do, which is renowned for its wonderful warmth.
3. Minsk (Belarus) -40C

Renowned for friendly locals, clean streets and leafy parks, Minsk benefits from a lack of tourists clogging the streets, yet there is plenty on offer for cultured visitors. The Minsk Circus is well worth a visit and is especially good for children. Adults can catch an opera or ballet, a ticket for which will cost far less than in most other cities in Europe. And the Belarusians like to boogie, so be sure to visit a nightclub or two and bring your dancing shoes.
4. Ottawa (Canada) -37C

Canadians are used to the cold, making the most of the frozen weather to play their national sport: ice hockey. Catch a game at Scotiabank Place, home of the Ottawa Senators – Ottawa's professional ice hockey team. If you're really keen, take to the ice yourself on the Rideau Canal, Ontario's first UNESO World Heritage Site, which winds its way through the city and is the world's largest naturally frozen skating rink come winter.
5. Helsinki (Finland) -33C

Finland's cool capital is surrounded by sea and a vast archipelago, creating a city that blends Nordic urban chic with outstanding natural beauty. The Baltic gets so Baltic that it freezes over during mid-winter, and you can even go ice skating on it. If you prefer snow to ice, pick up a pair of cross country skis and take to the city's Central Park ski trails. And if you're really feeling brave, join the winter swimming teams at Rastila campsite for a very refreshing dip indeed.
6. Bucharest (Romania) -32C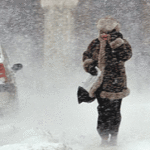 Bucharest may be pretty chilly in winter, but come spring, the city has thawed making it a popular destination with city-breakers. Known as "The Little Paris", you'll certainly find that prices are much smaller than in the French capital, yet Bucharest offers an intriguing mix of neoclassic architecture, old town romance and imposing communist-era buildings that mark Romania's time under communist control.
7. Vilnius (Lithuania) -30C

The Lithuanian capital has seen a welcome publicity boost following its reign as the 2009 Capital of Culture, and the city is well geared up for winter weekends. A short drive outside of the capital you can take a high-speed snowmobile ride across snowy fields and forest paths. Stop at the frozen lake to go ice fishing for your supper, which can be cooked by your hotel chef, and then explore the nightlife and meet the locals at one of the old town's many nightclubs.
Tallinn (Estonia) -30C
Tallinn welcomes winter visitors with its medieval old town becoming a magical white wonderland at this time of year. Grab your skates and glide around the outdoor ice rink before warming up with a hot spiced wine at one of Tallinn's cosy cafes. Visit Tallinn in winter and you'll avoid the stag groups which are drawn to the city for its cheap beer during the summer months.
9. Nuuk (Greenland) -29.5C

With fantastic ice scenery on its doorstep, Nuuk is one of the world's most unique capitals. Visitors can take a helicopter ride over Greenland's vast ice sheet, visit Norse ruins or take a wildlife boat safari to see whales cavorting around the coastline. The National Museum, situated in the Nuuk's old quarter near the fjord, is the place to learn more about Greenland's frozen past and its fascinating present.
10. Warsaw (Poland) -29C

A favourite of Europe's culture vultures, Warsaw has all the class at half the cost, when compared to other European cities. Praised for its compact size, Warsaw has an excellent selection of museums, galleries and heritage sites; cultural highlights including the Palace of Culture and Science – Poland's tallest building and an imposing example of Stalinist architecture – and the Polish National Opera.
The coldest city on the Earth is Yakutsk in the Russian Far East, located about 4° (450 kilometres) south of the Arctic Circle. It is the capital of the Sakha (Yakutia) Republic, Russia and a major port on the Lena River. It is served by Yakutsk Airport as well as the smaller Magan Airport. The population of Yakutsk is 200000 people and the average temperature of January is – 50°C. One of the coldest places in Yakutia is Ojmjakon village (population 4000) located at an altitude of 700 m above sea level in the Oymyakonsky basin of Yakutia. In 1933, the temperature here dropped to -67.7 ° C.
One of the coldest places on Earth is Vostok Station, record low temperature at the surface of the earth -89.2 ° C was registered there on 21 July 1983.