William Carrick (1827-1878) was an Edinburgh-born artist, who established himself as a professional photographer in St Petersburg in 1859 and left a remarkable collection of images of Russian life.
In 1844, his family moved to Saint Petersburg, where William became a student at the Saint Petersburg Academy of Arts, studying architecture under the renowned Alexander Brullov. By 1853 he had completed his studies there, moving to Rome to undertake further studies. Although his family's business collapsed during the Crimean War, in 1856 William Carrick returned to Saint Petersburg to become a photographer.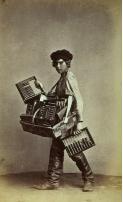 Working with his partner John MacGregor, William Carrick produced a rich series of 'Russian Types', street-sellers, tradesmen and other inhabitants of the capital – the Englishman W. R. S. Ralston wrote that 'whenever a particularly Russian representative passed underneath their windows they immediately rushed out and secured his portrait for their gallery', thus providing an irreplaceable record of Russian men and women in the 1860s and 70s.
He also made two lengthy visits to Simbirsk province on the Volga in eastern Russia and returned with a collection of highly evocative images of provincial and rural life in the area where the infant Lenin was then growing up. He amassed a large collection of photographs depicting the lives of Russian and Mordovian peasants.
Many of these images are held by the Scottish National Portrait Gallery in Edinburgh, and the SRF, in association with the Gallery, is delighted to be able to present a selection of them. The exhibition is jointly curated by Julie Lawson of the SNPG and Peter France of the SRF.
Carrick died of pneumonia, at Saint Petersburg, on 11 November 1878.