You may know these famous hotels by name, but do you know what they're famous for?
Adlon Kempinski Hotel, Berlin, Germany
The last tzar of Russia, Adolf Hitler, Marlene Dietrich, Josephine Baker—they were all guests—so were Einstein, Edison, and FDR. Barack Obama stayed at this famous hotel twice, so did Queen Elizabeth II and Prince Philip and Michael Jackson.
The Ritz Hotel, London
It is truly royal hotel for the royal guests; there have stayed only celebrities and members of royal families: a well-known suite of Marie Antoinette (Marie Antoinette Suite) served as a place of meeting for Winston Churchill, Charles de Gaulle, and Dwight Eisenhower.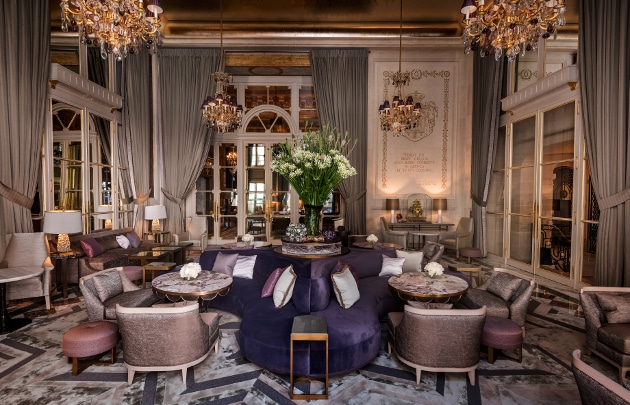 Hilton Hotel in Amsterdam
This hotel is known for his "deadly" history: Herman Brud committed suicide here, and it is here, at the front door of the hotel one of the leaders of drug trafficking was shot and killed.
Watergate Hotel in Washington DC, USA
This hotel is synonymous with the USA biggest political scandal. Its glamorous reputation was eclipsed with political scandal on June 17, 1972, when five intruders were caught in the headquarters of the Democratic National Committee, leading to Richard Nixon's resignation from the presidency.
The Pierre Hotel in New York, USA
For over 85 years, The Pierre has set the standard for timeless elegance and unrivaled hospitality in New York city. The Pierre was the scene of the Pierre Hotel robbery in 1972, organized by the Lucchese crime family. This robbery of $27 million would later be listed in the Guinness Book of World Records as the largest, most successful hotel robbery in history.
Relexa Schloss Cecilienhof in Potsdam, Germany
The Cecilienhof is known worldwide as the place of the "Potsdam Conference" in 1945 where Truman, Churchill, Atlee and Stalin signed the famous Postdam treaty.
Hotel De Crillon, Paris, France
The Hôtel de Crillon is a historic luxury hotel in Paris which opened in 1909. On 6 February 1778, the building was the venue where the newly founded United States and France signed their first treaties. The Hôtel de Crillon, one of the most famous hotels, housed members of the American delegation to the Paris Peace Conference after World War I, including President Wilson's key advisor, Edward House.
Roosevelt Hotel, Hollywood, USA
Named for President Theodore Roosevelt, the Hollywood Roosevelt officially welcomed its first guests on May 15, 1927. The Roosevelt Hotel has appeared in several major motion pictures, including The Boiler Room, Wall Street, Quiz Show, Presumed Innocent, Malcolm X, Monday Night Mayhem, The French Connection, Hanky Panky, Maid in Manhattan, The Hoax, and 1408. Marilyn Monroe lived at the hotel for two years early in her career.
The Hotel Sacher, Vienna, Austria
The Hotel Sacher is a five-star hotel located in the Innere Stadt first district of Vienna, Austria, facing the Vienna State Opera. It is famous for the specialty of the house, the Sachertorte, a chocolate cake with apricot filling.