New year in Russia
According to the head of the National Center for Public Opinion Research, Valery Fyodorov, 91% of Russians are going to celebrate the New Year. No matter how things are changing in the country, people will continue to cook a huge amount of delicious meal and choose gifts for friends and family.
According to the research, the favourite place to celebrate the holiday is at home, it's preferred by 75% of respondents, and 15% of survey participants plan to celebrate New Year's Eve abroad or in another city.
HeadHunter polled travel lovers and found that 47% of respondents plan to go abroad to celebtare, while 53% are going to celebrate New Year in another city or region of Russia. 66% participated in the survey find Europe as the best place to go for New Year holidays, while Asia, Africa and the Middle East are not so popular: 11, 9 and 6% respectively.
Finland occupies a leading position (14%).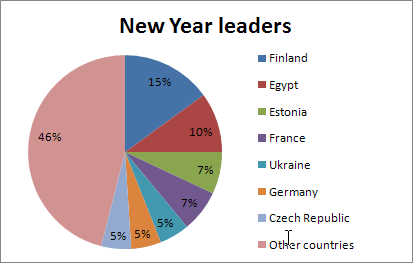 Among the favourite Russian places to celebrate New Year, 1 st and 2 nd places divided between St. Petersburg (9%) and Moscow (8%), while the Krasnodar region chosen by only 5% of the respondents. 4% got Moscow, Murmansk and Altai Region. 60% of respondents, however, intend to celebrate New Year in other regions of Russia.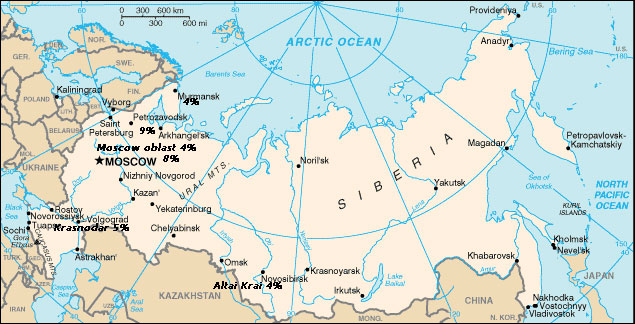 According to tour operators, the majority of Russians prefer to travel to a visa-free country, to the beach destination, or to the European ski resorts on New Year's holidays.
"After January, 6 room rates are reduced by 30%, while airfares – an average of 50%. The overwhelming majority of Russians will travel to the beach destinations so that they are lacking in Russia," noted in the company" Megapolyus Tours".
This year due to the crisis and the lack of money, many Russians have turned their attention toward the neighbouring Belarus, where prices are lower.
According to tour operators, the busiest dates for travel will be on 31 December and 2-3 January.