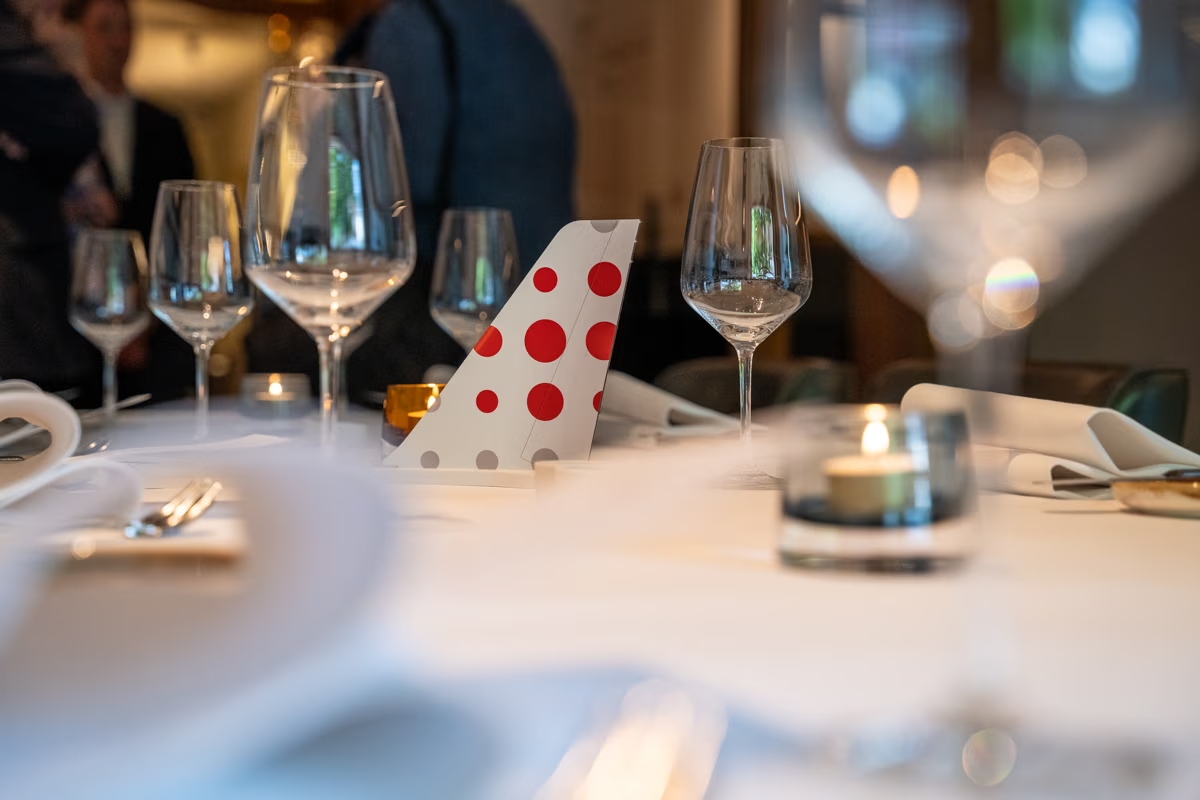 Starting from October 1st, 2023, Business Class travelers on Brussels Airlines' long-haul flights are in for a gourmet treat courtesy of Michelin-starred chef Michaël Vrijmoed, of the renowned Ghent restaurant Vrijmoed. Vrijmoed joins the esteemed ranks of Belgian top chefs who have been tantalizing the palates of airline passengers with exceptional cuisine since 2013. The spotlight for the upcoming year will be on Belgian vegetables, as Vrijmoed takes the reins from Chef Mario Elias.
What began a decade ago with the introduction of gourmet menus by Michelin-starred chef Geert Van Hecke has evolved into a cherished tradition for intercontinental travelers with Brussels Airlines in 2023. Each year, a Belgian Star Chef creates a delectable three-course menu inspired by typical Belgian recipes and ingredients. Starting in October, these menus will bear the signature of Michelin-starred chef Michaël Vrijmoed and will change every three months. As in previous years, the accompanying Belgian wines are meticulously curated by Master of Wine Jan De Clercq, while beer sommelier Sofie Vanrafelghem selects the finest Belgian local beers.
"As a Michelin-starred chef, it is a privilege to be allowed to cook for the business class travelers of Brussels Airlines. I am following in the footsteps of Peter Goossens, one of my mentors. He served as a star chef for the airline in 2015. Through my creations for Brussels Airlines, I will introduce the world, among other things, to the deliciousness of Belgian vegetables, accompanied by some East Flemish regional beers and cheeses from cheese refiner Van Tricht."

Michaël Vrijmoed, Chef of the East Flemish restaurant Vrijmoed**
Second East Flanders Star Chef Vrijmoed embarked on his culinary journey as a sous-chef at Hof van Cleve, where he worked alongside top chef Peter Goossens. In 2013, he ventured to establish his own restaurant in Ghent, which has since evolved into one of the world's premier vegetable-centric dining destinations. Following Peter Goossens, Michaël Vrijmoed is the second East Flanders chef to collaborate with Brussels Airlines.
"Brussels Airlines is the flying ambassador of the best Belgium has to offer. As an airline, we introduce the world to delicacies originating from our country. We are delighted that, with Michaël Vrijmoed, we can once again showcase our local products and recipes. In addition to the food, our passengers also get to savor regional beers like Steenuilke, Liefmans Goudenband, and Adriaen Brouwer Oaked. All three are brewed by traditional Belgian breweries such as De Ryck, Liefmans, and Roman."

Philip Mortier, Inflight Product Manager, Brussels Airlines
Celebrating Belgian Vegetables The acclaim bestowed upon restaurant Vrijmoed as one of the finest vegetable-focused eateries in the world is mirrored in the menus that Michaël Vrijmoed has crafted for Brussels Airlines. Business Class travelers on long-haul flights will have the choice of a fish or meat dish or a vegetarian alternative for both the appetizer and main course. The menu will change every three months to showcase seasonal produce.
"Passengers can choose from two starters, one of them being my signature dish: beetroot (with Doyenné du Comice pear, mustard seed, and horseradish sauce). As a main course, we serve a celeriac variation (with soil-grown chicory and crispy Jerusalem artichoke) as a vegetarian choice. There is also a choice between Pheasant (with soil-grown chicory, wild mushrooms, cranberries, pearl onions, Jerusalem artichoke, fine champagne sauce, and Jerusalem artichoke puree) or Eel in Green (with herb salad and chateau potatoes). To conclude, passengers can choose from a cheese platter with East Flanders classics like Belgian Wittekop or Biloete, two cheeses from East Flanders' Lotenhulle, or Hazelnut chocolate cake with a vanilla-coffee sauce for dessert."
In conclusion, Brussels Airlines continues its commitment to elevating the in-flight dining experience with the addition of Michelin-starred chef Michaël Vrijmoed to its roster of culinary talents. Travelers can look forward to savoring the richness of Belgian cuisine, particularly the spotlight on flavorful Belgian vegetables, all while enjoying the comfort and luxury of Business Class. This culinary journey promises to delight the senses and add an extra layer of enjoyment to the travel experience with Brussels Airlines.