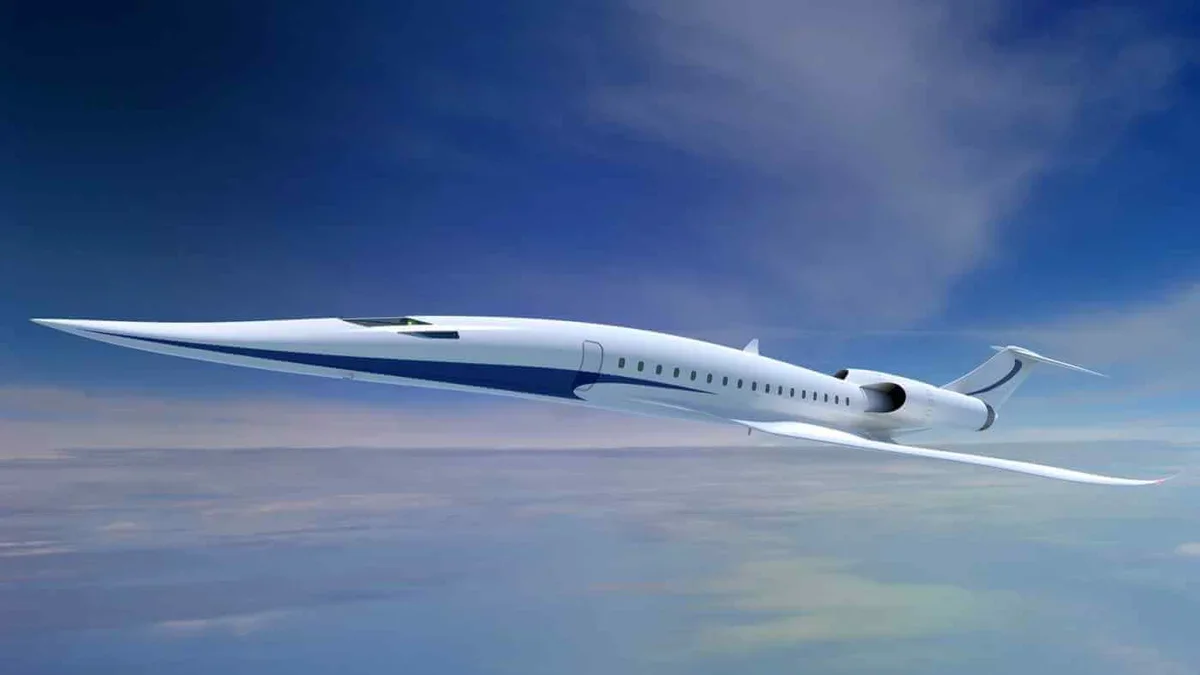 Seventy-five years ago, a significant milestone was achieved when a human first broke the sound barrier. More than five decades later, the Concorde made supersonic travel a reality for tourists. Today, no modern airliner can match the Concorde's speed, leaving us to wonder if supersonic travel will make a comeback in the future. While there are currently no plans for any such aircraft to begin commercial operations in 2023, experts believe that advancements in technology will eventually make supersonic flights comfortable and safe for passengers and those on the ground. In this article, we delve into some of the most interesting and viable projects in supersonic aviation, based on data from Aero Time magazine.
Eon Aerospace
Founded in 2021 by South African billionaire and tech entrepreneur Priven Reddy, Eon Aerospace aims to revolutionize supersonic travel with its first project, the nxt-1 aircraft. Boasting an impressive top speed of 1.9 Mach (2,300 km/h) and designed to break the sound barrier silently, the aircraft is set to accommodate 65 to 88 passengers, making it commercially viable for airlines. Test flights are scheduled for 2029.
Russia's No Name Project
Russia has long been involved in several projects aimed at developing small supersonic commercial jets. The journey began in the early 1960s when there was a proposal to convert the MiG-25 into a passenger-carrying aircraft. Currently, there are several concepts under consideration, including an eight-seat business jet and a 30-seat airliner, both capable of flying at speeds of 1.8 Mach (2,200 km/h) over distances of up to 8,000 km. Potential collaboration with the UAE has also been speculated.
China's Strides in Hypersonic Travel
China has presented numerous intriguing aircraft concepts inspired by science fiction. Among these is a proposal to develop a six-seat hypersonic commercial aircraft by 2035. Hypersonic speed refers to a speed greater than 5 Mach (6,125 km/h). While the details of this project are tightly guarded, experts suggest that China's government-backed funding could lead to remarkable achievements driven by scientific ambitions rather than commercial profit.
Virgin Galactic
Billionaire Richard Branson's Virgin Galactic made a splash in August 2020 when it announced its entry into the supersonic aviation market. The prospective aircraft, designed to carry 19 passengers at an altitude of 18,000 meters and a speed of 3 Mach (3,675 km/h), remains in development, with no specified timeline or investment disclosed.
QSTA Project
Lockheed Martin unveiled its supersonic airliner project, the QSTA, in 2019. This aircraft, featuring a V-shaped tail and seating for 40 passengers, is designed to fly at a speed of 1.8 Mach (2,200 km/h) with a range of up to 9,600 km. The company anticipates significant progress by 2023, as it completes tests on the prototype and moves forward with the QSTA's design.
Japan's Pursuit of Quieter Supersonic Travel
The Japan Aerospace Exploration Agency (JAXA) established the Supersonic Transport Research Council in June 2021, enlisting technological giants such as Mitsubishi, Kawasaki, and Subaru. Together, they are working on a 50-seat supersonic aircraft designed to consume at least 13% less fuel and produce 50% less noise during supersonic transitions than the Concorde.
Exosonic
In September 2020, Exosonic signed a contract with the US Air Force, aiming to obtain certification for its supersonic aircraft fleet by 2029. The aircraft is projected to carry up to 70 passengers at a speed of 1.8 Mach (2,200 km/h).
Spike Aerospace
Spike Aerospace has been one of the most prominent projects in the field since its inception in 2014, showcasing a small-scale prototype in 2017. Although little is known about the commercial version, the aircraft is envisioned to reach a speed of 1.6 Mach (1,960 km/h) and accommodate 12 to 18 passengers. Its standout feature is a windowless cabin with LCD screens along the walls.
Boom Overture's Promise
With a target speed of 1.7 Mach (2,000 km/h) and no advanced noise reduction technologies, Boom Overture offers a more straightforward concept than its competitors. This also means the aircraft will only be permitted to fly over oceans. With numerous orders from major airlines, Boom Overture aims to begin testing a full-scale prototype by 2026, with mass production slated for the late 2020s.
The dream of supersonic travel appears to be making a resurgence, with a multitude of ambitious projects on the horizon. While challenges and uncertainties remain, the technological advancements and determination exhibited by these ventures offer hope for a new era of high-speed aviation. As these projects progress, the future may indeed witness the triumphant return of supersonic travel.