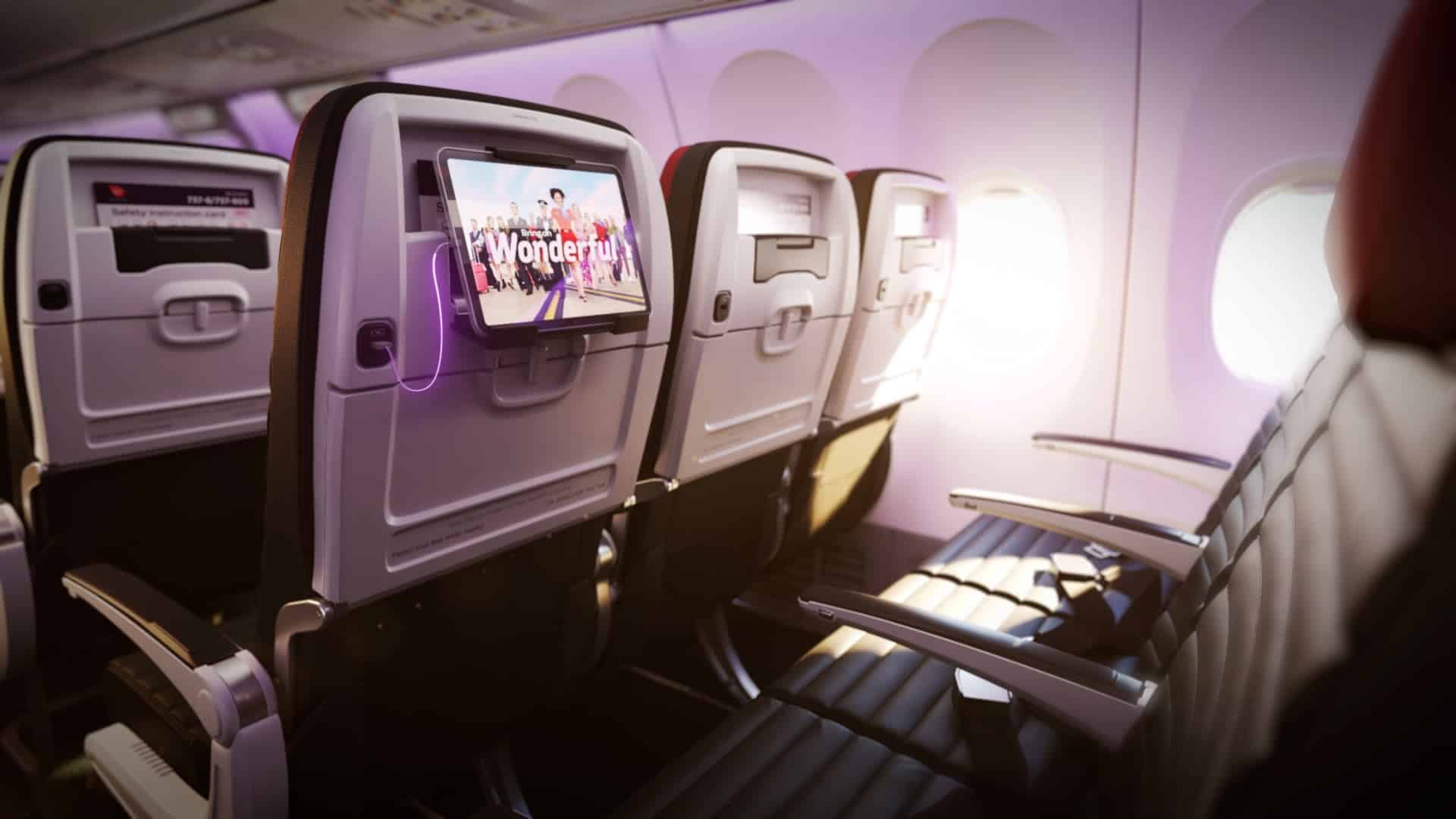 Virgin Australia is proud to unveil its latest cabin design, fresh from the Boeing factory in Seattle, promising a delightful new aircraft experience. The debut of the Boeing 737-8 marks a significant milestone in Virgin Australia's fleet renewal program, as they strive to achieve their net zero emissions target by 2050. This state-of-the-art aircraft is just the beginning, with a total of 33 dual-efficient Boeing 737-8 and 737-10 planes on order, set to be delivered in the coming months.
Prepare to be amazed by the highlights of the new Boeing 737-8 cabin interior:
In-seat power available for all Business Class and Economy seats, ensuring you stay connected throughout your journey.
Spacious overhead lockers designed to accommodate up to 50% more carry-on baggage, providing extra convenience without compromising individual guest carry-on limits.
Wider and more comfortable Business Class seats featuring leg rests with extendable footrests, ample storage compartments, tablet/device holders, and water bottle holders for added convenience.
A fresh design for Economy seats, featuring ribbed backings to enhance comfort and ergonomics.
Personal tablet/device holders for all Economy seats, making it effortless to enjoy Virgin Australia's in-flight entertainment, movies, and TV shows.
But that's not all! Later this year, Virgin Australia's entire Boeing fleet will undergo a cabin refresh, elevating the onboard experience with the following upgrades:
Installation of in-seat power for all Business Class and Economy seats across the fleet.
Introduction of new Business Class seats, aligning with the superior design of the Boeing 737-8 aircraft.
Implementation of new or refreshed Economy seats, featuring the same enhanced design found on the Boeing 737-8 aircraft.
Introduction of in-flight Wi-Fi and complimentary in-flight entertainment via personal devices for the majority of the remaining fleet.
Virgin Australia Group CEO Jayne Hrdlicka expressed her excitement, stating, "Today signifies an important milestone for Virgin Australia as we expand and revitalize our fleet, continuously investing in our passengers' onboard experience."
Get ready to embark on a new era of air travel with Virgin Australia, where comfort, innovation, and guest satisfaction take flight.