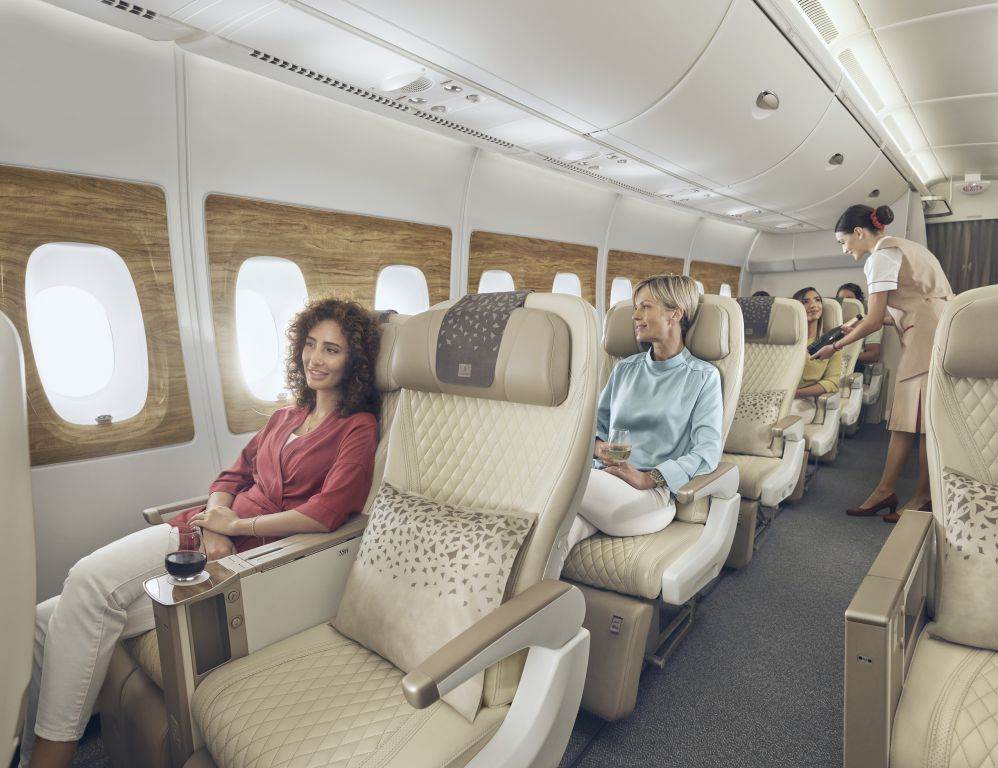 Emirates is expanding its Premium Economy Class offering to more destinations, including New York JFK, San Francisco, London Heathrow, Sydney, Auckland, Christchurch, and Melbourne. Passengers flying in Premium Economy can now enjoy a unique and exclusive sparkling wine onboard, Chandon Vintage Brut 2016, which is not available on any other airline.
3 Airlines That Serve The Most Expensive Champagne
Emirates Premium Economy provides passengers with luxurious seats, ample legroom, elegant cabin design, and world-class inflight entertainment. Alongside these features, the airline offers an enhanced food and beverage experience. As part of its extensive beverage selection, Emirates has chosen an exceptional Australian sparkling wine, Chandon Vintage Brut 2016, as a global exclusive for its passengers, allowing them to savor the refreshing bubbles during their flight.
Crafted with precision and elegance, Chandon Vintage Brut 2016 is a premium sparkling wine made using the traditional method. The grapes are sourced from the Strathbogie and King Valley vineyards in the Victorian Mountains of Australia, where they thrive in rich loamy soils and mild summer weather. Experienced winemakers then transform the grapes into a wine that embodies the perfect balance of acidity, freshness, and a distinctive regional style. With six years of lees aging, Chandon Vintage Brut 2016 exudes freshness, energy, and refinement, offering Emirates Premium Economy passengers a truly luxurious and exclusive wine experience.
Chandon Vintage Brut 2016 is a delightful wine with a soft, fresh, and creamy profile. It is a blend of 50% Pinot Noir, 45% Chardonnay, and 5% Meunier, showcasing the aromas of lime, green apple, pomegranate, and pink grapefruit. The wine also features hints of white flowers, hazelnut praline, biscuit, and fresh dough. Its crisp acidity makes it a versatile wine that pairs perfectly with inflight meals and is equally enjoyable on its own. This vintage is the first wine produced by Chandon Australia since its establishment in 1986, and the winery holds Sustainability Australia accreditation.
In addition to the exclusive Chandon Vintage Brut 2016, Emirates Premium Economy passengers can indulge in gourmet, regionally inspired menus with generous portions. The menus, curated by Emirates expert chefs, are updated monthly, ensuring a variety of options for frequent travelers. The dining experience in Premium Economy is refined, with meals served on fine Royal Doulton china, accompanied by stainless-steel cutlery, linen napkins, and a selection of liqueurs, chocolates, coffee, and tea to complete the meal. The complimentary drinks menu features a range of spirits, beers, soft drinks, and fine wines, carefully chosen by Emirates as the best-in-class beverages for passengers, as part of the airline's ongoing investment in its wine program since 2006, amounting to 1 billion USD.