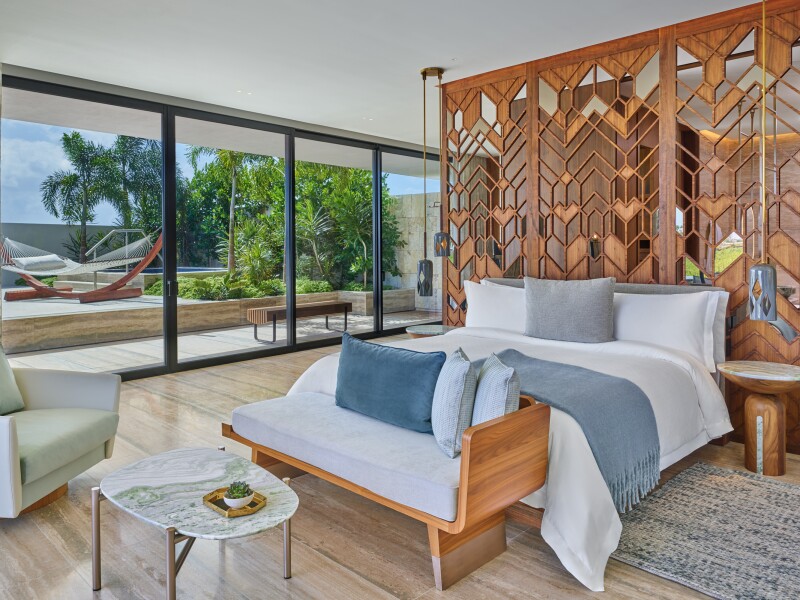 The St. Regis Kanai Resort, Riviera Maya is a new luxury resort located in the Kanai region, close to Cancun and Playa Del Carmen. The resort draws inspiration from the neighboring Sian Ka'an Reserve, a UNESCO World Heritage Site, and features avant-garde architecture and inviting interiors. The resort is owned by Grupo Alhel and offers bespoke service to its guests. The location provides easy access to the natural parks, cenotes, ocean, and archaeological sites of the region, making it an ideal destination for travelers seeking both luxury and adventure.
The St. Regis Kanai Resort, Riviera Maya has a unique avant-garde architecture designed by Mexican architectural firm Edmonds International. The circular exterior design was inspired by the constellation Pleiades and offers breathtaking views of the ocean from almost every angle. The resort is built with a minimal construction footprint to preserve the natural reserve and is suspended above a mangrove forest connected by elevated walkways.
The interior design was done by Chapi Chapo Design, and it is inspired by ancient Mayan artistic and ceremonial manifestations, with a rich palette of limestone, walnut, and layered textiles. The resort features 124 guestrooms and 19 suites, each with private terraces or plunge pools and design elements that evoke the surrounding nature, from the mangrove trees to the stars above. Guests can enjoy bespoke elements such as custom furniture and artwork from local artisans, and all rooms come with St. Regis Signature Butler Service.
"We look forward to offering guests exceptional experiences that are a reflection of both the history of the destination and the celebrated traditions and rituals of St. Regis," said David Cayuela, Multi Property General Manager, The St. Regis Kanai Resort, Riviera Maya. "The St. Regis Kanai Resort, Riviera Maya will provide our guests with a sense of exquisite ease, enlivened by the brand's signature Butler Service, which is purposefully tailored for each of our global luminaries."